Word Polygon
Word Polygon is a word-making game. It has 300 missions in total. Complete each mission by making the required number of words of specific numbers of letters, e.g., 6 words of 4 letters, using each of the letters given not more than once.

Features
========
- 100 levels in 5 worlds with 20 levels each
- the number of letters given varies with worlds
- the 3rd mission always asks for the word that uses all the letters
- backspace and shuffle buttons available
- every next 4 levels are unlocked for every 500 marks earned
- stickers are given as rewards of certain achievements

Rules
=====
In this game, there are some rules in making words:
(a) each of the letters given may be used once only in making a word;
(b) the words made cannot include plurals, contractions or written abbreviations; and
(c) some levels have an extra rule of using specific letters in making words.

Marks
=====
Each correct answer of missions 1, 2 and 3 carries 10, 20 and 30 marks respectively. When the game begins, all levels are locked except levels 1 to 4 of world 1. The next 4 levels are unlocked for every extra 500 points gained.

Rewards
=======
A dialog box pops up to show the new sticker is earned as a reward for an achievement:
(1) correct answer: the 1st, the 10th, the 50th, the 100th, the 500th and the 1000th;
(2) mission completed: the 1st, the 10th, the 50th, the 100th, the 200th and the 300th;
(3) level completed: the 1st, the 5th, the 10th, the 50th and the 100th; or
(4) worlds completed: the 1st, the 2nd, the 3rd, the 4th and the 5th.

Buttons
=======
There are some function buttons:
(1) Back button: to go back to the previous page;
(2) Backspace button: to remove the letter(s) used;
(3) Shuffle button: to put the letters given in a random sequence; and
(4) Info button: to show the rules of the game and the missions of the current level.


==============
PRIVACY POLICY
==============
Word Polygon ("this app" hereafter), developed by Joyce's Studio with package name com.joycechan.www.wordpolygon, contains banner ads so that this app requires controlling the phone to access the Internet. The banner ads shown in the app are provided by AdMob by Google. The permission requested to control the phone by the app is merely for the advertising purpose. This app does not request access to any user or device information from any electronic devices in which this app is installed. To the best of the knowledge of the designer of this app, no user or device information is collected by the app or is given to any third parties in the process. The design of the app does not intend to request any other sensitive permissions (e.g. camera, microphone, accounts, or contacts) or user data. Users of this app bear full responsibilities for any loss in any form caused by performing any activities involving this app, including but not limited to installing, using and uninstalling. The designer of this app will try her best to avoid any invasion of privacy of any users of this app. This privacy policy may be revised without giving any prior notification to any users. Queries concerning user privacy issues while using this app can be sent to [email protected]
Sours: https://play.google.com/
Word Polygon Game
Games
Word Polygon is a game that exercises our memory of words and create as many words as we can using the letters that are provided. There is one condition that the central letter must be contained in every word.
Here are the rules of this game:
1. Make words that are not proper nouns (as in, names of people, places, companies, and so on)
2. Repetition of letters is allowed.
3. The minimum length of each word is four letters.
4. The games has 1 point for small words, and bonus points for longer words.
5. You can only play the puzzle on the day it is released. We do not repeat puzzles and there is no way to go back to finish past puzzles.
6. There is an extra bonus for making a "pangram" or a word that contains all of the given letters.
---
---
Sours: https://www.shabdkosh.com/archives/help/word-polygon-game
Word games are often designed to challenge your ability of language and serve an educational and entertaining purpose. That mixture of concentrated learning and creative puzzling casts a spell over many people. Based on that great demand you can find and play word games nearly everywhere. Not only on your mobile device, the internet or as a classic bard game for family evenings, but also in your daily newspaper. One famous newspaper word game is the word polygon puzzle.
Word Polygon Puzzle Definition
A word polygon is a word puzzle consisting of nine or less letters. The term polygon describes the shape in which all letters are arranged. It is a figure, especially a closed plane figure that has three or more, usually straight, sides. Most commonly used is a grid of nine squares. Another possibility is an octagon, an eight-sided figure, a septagon, a seven-sided figure or a hexagon, a six-sided figure, each with an additional letter in the center of the the figure.
Word Polygon Puzzle Rules
The aim of a word polygon puzzle is to create as many words as possible out of the given nine or less letters. Often, one of these letters is a mandatory inclusion. In most cases the letter in the center.
A word a player creates usually should not be less than 3 or 4 letters of length. Additionally, each letter may only be used once in each word. However, in most cases there is a word that can be formed out of all letters using all available letters once. Sometimes there are restrictions which words are allowed to create: no plurals ending in S, no foreign words, no words with initial capital, no hyphenated words. Each word polygon puzzle comes with a guide that allows you to judge your word polygon skills. Depending on how many words you got there are the rating categories: good, very good and excellent.
Famous publishers of word polygon puzzles are the Australian The Advertiser or The Times. The Advertiser produces a puzzle called target. Whereas The Times word polygon puzzle is called polygon. The number of letters in the puzzle varies over the course of the week from between 7 and 9 with corresponding changes to the minimum word length. Another possibility to play a word polygon puzzle is to play it online on WordCube.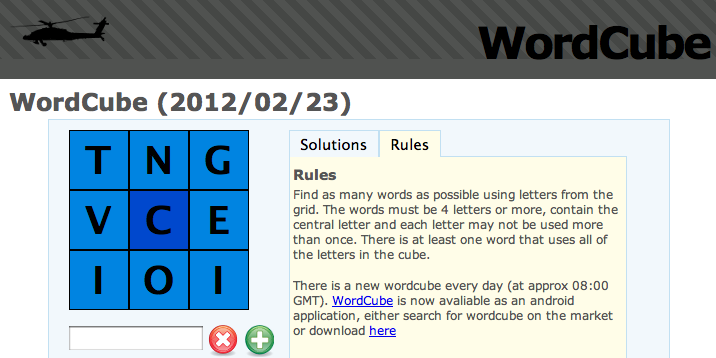 Word Polygon Puzzle Solver
For meticulous word polygon puzzle solver word-grabber.com offers the opportunity to check the correctness of words that already have been found. But you can also check which words you did not think of and missed in your solution list. Just use our word-grabber and type in the given letters of your word polygon puzzle. You will get a list of all possible words that can be created out of these letters. Make sure you only use the solver as a help after you did your best in finding all possible words by yourself. This is to ensure that you train your ability of language use and to remain the educational and entertaining purpose of that word game.
Tags:Tips & Tricks, Word Polygon
More like this
Not only a Scrabble helper
Words With Friends FAQs
Printable Word Games Selection
Sours: https://www.word-grabber.com/printable-word-games/word-polygon-puzzle
How to Design Word Search Puzzle Using Textbox Linking Feature in Microsoft Word
Screenshots
Description
WordBrain is a free word puzzle for all ages. Our game combines the best parts of word scramble and crossword games. Connect the tiles and transform random letters into words. If you do it in the correct order, you can move on to the next level!

- WordBrain keeps your mind sharp with thousands of challenging levels
- Train your brain as you play!
- WordBrain is available in 15 languages. For all you multilingual Brainiacs out there, you can play word puzzles in every language you know!
- Play daily word search puzzles to keep the streak going!

WordBrain starts easy, but becomes challenging fast! As you progress through the game, chances are you will meet your match. Don't panic — when the time comes, remember this…
1. There are no unsolvable levels (trust us, we built this baby, we know it inside and out).
2. You can use hints! Tap on the lightbulb for a little help.

WordBrain has been lovingly created by MAG Interactive, where we take fun seriously.
Good Times!
Take a dive with Brainy in the Ocean event to save as much coral as possible. 

The more coral you save the more rewards you can get.
Enjoy the coral reefs!
Ratings and Reviews
4.6 out of 5
38.6K Ratings
Take my word for it.
I really enjoy word-brain. I think the levels are staggered perfectly as you progress.
The small changes, for example, when the words found are retained work really well. The added bonus words give an extra incentive.
I love how you can start and stop according to your own personal schedule and of course ability.
One change I would make because I always play with the sound off is to keep the sound off with adverts too.
Thank you, I enjoy word brain and hope to continue to do so.
One niggling point
Sufficient to say, I do like this game and have advanced nicely through the levels. However, there is one point which is now especially relevant on the more difficult levels. There is no consistency of alerting you to an error where you choose the right word, but not using the right letters. You don't realise this until several words have been found, then you have too many variables to choose from to correct the situation. Come on, it can't be that difficult to sort.

Why have you responded by mentioning hint packs and ads. You have missed my point entirely!
Hi Barney the black and white cat,

Thank you for your feedback.
As WordBrain is a Free to Play game it includes ads to maintain and sustain the continuous development of the game. A purchase of any hint pack, available in-game will convert the game to an Ad-free version.

Thanks for playing.
MAG Support
WordBrain
WordBrain is an excellent game. It is very challenging. At times impossibly difficult, but very rewarding as you work through the levels. A great improvement was made when words achieved stayed printed, so pencil and paper was no longer needed. Familiar words appear again and again, which is a help...eg bedroom, bathroom, aerial, flag,toilet,silo etc. Free hints awarded by watching advertising videos are a help too.
Also you can keep boosting your feel good factor by keeping an eye on the diminishing number of people who stay with it and carry on undefeated!
The developer, MAG Interactive, indicated that the app's privacy practices may include handling of data as described below. For more information, see the developer's privacy policy.
Data Used to Track You
The following data may be used to track you across apps and websites owned by other companies:
Data Linked to You
The following data may be collected and linked to your identity:
Purchases
User Content
Identifiers
Usage Data
Data Not Linked to You
The following data may be collected but it is not linked to your identity:
Privacy practices may vary based on, for example, the features you use or your age. Learn More
Information
Provider

Mobile Access Group AB

Size

536.2 MB

Category

Games

Compatibility

iPhone

Requires iOS 10.0 or later.

iPad

Requires iPadOS 10.0 or later.

iPod touch

Requires iOS 10.0 or later.

Mac

Requires macOS 11.0 or later and a Mac with the Apple M1 chip.

Languages

English, Danish, Dutch, Finnish, French, German, Greek, Italian, Norwegian Bokmål, Polish, Portuguese, Russian, Spanish, Swedish, Turkish

Age Rating

4+

Copyright

© 2019 MAG Interactive AB

Price

Free

In-App Purchases

New Hints (S)£0.89
New Hints (M)£3.49
Small Hint Pack (Sale)£0.89
Supports
Family Sharing

Up to six family members will be able to use this app with Family Sharing enabled.
More By This Developer
You Might Also Like
Sours: https://apps.apple.com/gb/app/wordbrain-classic-word-puzzle/id708600202
Polygon puzzles word
Need To Unjumble Words?
Our Jumble Solver Engine
The word jumble solver is a fast anagram solving engine, using the latest in high-speed analytics technology. It is a high speed dictionary search; it can be used for word jumble puzzles, scrabble, various puzzles from newspapers / magazines, and other word games.
To use the jumble solver engine for another English word puzzle, use the letter box to enter the jumbled word tool. It will take your jumbled letters and unjumble word ideas from them, sorting jumbled letters into the right order.
Our word generator does have some limits (mainly due to being designed to unjumble words). It is designed to solve a jumble word puzzle, where all of the possible letters are known but the order / selection is not. If you are trying to guess a missing letter, you will need a crossword solver. The same goes for multiple word solvers (this type of word generator often gives too many answers - you need a clue or idea to narrow the phrases down to a good answer). We're also not filtering by definition, meaning, or topic. While we've got a powerful online dictionary behind the scenes, there are limits.
But outside of that unjumble example, our word unjumble tool is ready to help you unjumble word idea. It doesn't matter if it is a verb, has few vowels, or your teacher or another person asked it as a vocabulary learning question. We can sort the letters into the right order so you can figure out a jumbled sentence. Timely word jumble help, when you need it to unjumble words....
Finding (and sharing) Words You Can Unjumble
Another cool feature we added was the ability to share lists of words you can unjumble with your friends. For bragging rights or helpful jumble solver aid. All you need to do is send the link:

https://jumblesolver.us/unjumble/yourword
This generates a list of the words you can make from those letters in the word unjumble tool.
Need more unjumble options? We customized this jumble solver into a word maker, word scramble solver, and a regular word solver.
Sours: https://jumblesolver.us/unjumble/polygon
WORD NUT -- PUZZLE GAMES AND CROSSWORDS -- LEVEL 1-15
Game designer Sam Von Ehren has a problem: He knows he's always going to play second fiddle.
"We live in the shadow of the crossword," Von Ehren told Polygon in a recent phone interview.
The crossword in question isn't any old crossword; it's the New York Times crossword puzzle, which is an institution so renowned and revered that its longtime editor is a minor celebrity who was the focus of a 2006 documentary. In addition to the daily puzzle, and a crossword archive that goes back to 1993, the Times' crossword section offers three daily logic puzzles — sudoku, KenKen, and Set — that are free for everyone.
In May 2018, the Times expanded the section — which requires a fee separate from that of a subscription to the newspaper itself, and is available on the web as well as on Android and iOS devices — with a subscriber-exclusive word game, Spelling Bee. The company soft-launched another one, Letter Boxed, in mid-January. Von Ehren said it is currently doing "better than we had hoped," especially considering that so far, people have heard of the game primarily through word of mouth.
At the same time, putting something on the Times' crossword page means it will get plenty of eyeballs. A month after debuting Spelling Bee, the company announced that it had topped 400,000 subscribers to the crossword section — twice as many as there were two years prior. (A crossword subscription costs $6.95 per month or $39.95 annually; there's a half-price discount for people who are already print or digital Times subscribers.)
Spelling Bee and Letter Boxed are part of an effort to attract more crossword subscribers. A Times representative did not specifically respond to a question about whether any complaints about the subscription cost led the company to introduce games to the package. And in fairness, the aforementioned subscribership figure indicates that a lot of people were willing to pay for the crosswords alone. Instead, the digital games are meant to bring in a different audience by being more accessible than the crossword.
"We're trying to make these new games that anyone can kind of come in and really get their feet wet [with], and then maybe they'll also migrate to the crossword as they go," said Von Ehren, who leads the Times' internal Games Expansion team, which numbers about 30, as its only designer.
The two games feel like a good fit for the crossword section, which attracts a particular type of player: a well-read person looking for a mental challenge. Yet it's mostly a coincidence that the Times' first two games are both word games — that wasn't the plan, according to Von Ehren. The gaming team spent most of last year prototyping approximately one new title every month, including a physics puzzler featuring a golf ball, but has found that language and logic games are the ones that tend to resonate with the Times' audience.
It's important, then, that while Spelling Bee and Letter Boxed are both word games, they each offer a different kind of experience and a unique challenge.
Spelling Bee features a seven-cell honeycomb — one in the center and six around it, each with a letter inside — and asks players to make as many words as they can with those seven letters. Every word must be at least four letters long, and must use the center letter. Von Ehren described it as "kind of an all-day thing that you come back to maybe three or four or five times in a day, when you think of more words."
Letter Boxed takes place around, well, a box. There are three letters on each side, and players must connect them to make words at least three letters long. Letters on the same side cannot be used consecutively, and the final letter of each word becomes the first letter of the next word. The goal is to use all 12 letters in as few words as possible. "It's a lot faster, it's a much quicker hit, but you can kind of keep playing that too forever," said Von Ehren.
Unlike the crossword, which has specific conventions and language quirks that may frustrate newcomers, the Times' digital games rely only on the breadth of a player's vocabulary. And Letter Boxed, in particular, is the antithesis of a crossword puzzle in terms of its openness: There's only one correct letter for each box in a crossword, but the ingenious design of Letter Boxed allows for an endless variety of solutions that touch all 12 letters. Clicking on "Yesterday's Answers" reveals a box that the game pointedly calls "Our Solution," not the solution.
That said, there's one element of all this that doesn't quite add up. The Times wants to bring in new crossword subscribers by expanding the section with games that appeal to people who might not be interested in crosswords, which makes sense. But how can those people give Letter Boxed and Spelling Bee a shot if the games are locked behind the subscription?
This isn't lost on the gaming team. "There's definitely different avenues we've been pursuing," said Von Ehren, noting that the Times offered Spelling Bee to non-subscribers during the holiday season.
"As the future goes and we unveil more and more games, we'll probably be a little bit more explicit in our efforts to do that kind of thing," he continued. "But I think for now, we're kind of just taking it slow and steady, and getting everything in place."
Sure, the titular puzzle will always overshadow everything else in the Times' crossword section. But Spelling Bee and Letter Boxed are fantastic word games, and they won't be able to woo new players unless they get a chance to shine in the sun. Speaking of which: We solved the Letter Boxed puzzle above within four words — how about you?
Sours: https://www.polygon.com/2019/2/1/18205854/new-york-times-crossword-letter-boxed-puzzle-game
You will also like:
Player Registration
How to play
Recommended links:
Online dictionaries
For more challenging wordplay, try the Letterbox Word Game.
Make as many words as you can with the letters given, always using the central letter with the yellow background. Your words must have 4 letters* or more, you cannot generally use plurals and verb forms made by adding S to the end of a base word, and at least one word must use all the letters.
* In the 7-by-many puzzle each word must have at least 5 letters, but you can use the same letter many times.
Warning: By default, there is no censorship of words found in modern dictionaries. A few of the words accepted might be considered offensive by some players.
Click on a letter to use it in your word. When your word is finished, click on the arrow symbol
to the left of the word.
Put your name on the scoreboard and compete against the world! Or register your password (free) so you can sign in and continue your game on any computer.
There are new puzzles every day, and you can create your own puzzles, too.
To learn more about the Chihuahua puzzle, visit the Help Page or the Questions and Answers Page.
Visit the Lexigame Forum to chat with other players. Visit the Player Statistics page to see how you've played over time.
Sours: https://chi.lexigame.com
138
139
140
141
142