ʀᴇᴠɪᴇᴡ: BrickLoot LED Light Kits
Brick Loot is a quirky company which was founded by a 9-year old boy and his mother. Parker is now 13 years old, but he continues to literally "run" the company—as you can see in the photo of him racing through the warehouse to send the light kits to me!
CEO Parker Krex at BrickLoot HQ. (Photo by BrickLoot.)
Brick Loot offers two different lighting products:
'Original Light Kits by BrickLoot' include lights, cables, and instructions to add lighting to a specific LEGO set.
'Light Linx' is an a-la-carte offering, allowing you to buy individual lights, cables, and power supplies to add lighting to your custom LEGO creations. (It will be covered in a separate review.)
Having just lit my Cafe and 50's Diner using LED Christmas Lights, I was excited to add lights to my #10251 Brick Bank. I was expecting similar brightness and a similar installation procedure. I was pleasantly surprised by how much nicer these are!
BrickLoot Lighting Kit for Brick Bank.
The package included 4 bags of lights:
The first bag is for the roof and upper arch lights.
Bag two contains lights for the upper floor.
Bags three and four contain lights for the ground floor and the street light.
The package does not include instructions or a battery box or other power supply for the lights included. However, there is a business card that gives you a link to a PDF instruction set. The online instructions had few words, but lots of pics that made it clear how it went together. It was also nice to be able to zoom into the pictures to see more clearly what was being done.
Installing Bag 1 of the BrickLoot lighting kit in the roof of the Brick Bank.
Fortunately, I keep a pair of needle nose pliers, a small knife, and a pair of tweezers next to my brick separator while working with LEGO—this came in very handy trying to keep the wires in the right place until I could secure them using LEGO bricks.
First bag of lighting installed.
I completed the first set of the instructions and lit up that string. I was surprised at just how much light was coming from the building—it was ablaze with lights and I still had three more strings to place in the model!
Installing lights in the ceiling.
The second set of lights are used to light the main level of the bank and small lights for the lights on each of the desks upstairs, which is a nice touch. Throughout the model, they included lighting hung from the ceilings as well as the lights for the arches. There is so much light that it makes it harder to notice the lights on the two desk lamps!
Installing the third bag of lights.
The third string lit the arches which illuminated the stained-glass windows on the first level and includes LED's for the two entry lights. I was worried when I first started this that the wiring would be very visible and ugly. Thankfully, the instructions are very easy to follow to route the wires, and the wires are hardly visible from the front of the building. The only other challenge with installing the lights is getting the wire run to go properly for the street light. It's hard to get it into place and have the tiles for the sidewalk lay correctly but looks ok with a little bit of work.
Adding lighting to the Street Lamp.
I was very happy with how much light there was, how brilliant everything looked. However, there is so much light that you tend to get a fair bit of bleed-through from the lighting. There are 3 LED's per each arch on both facades. The upper white bricks have more of an issue with this than the lower grey bricks do, but both have this problem. I don't think this is because the lighting is inside the included non-LEGO arches that are pre-wired, but a problem with the ABS in general as there is bleed-through on the sides of the building from the ceiling mounted LEDs as well.
Bright lighting in #10251 Brick Bank.
I also learned that the instructions recommend building the model first, then dis-assembling part of the model to install the LED's (which are embedded in non-LEGO parts.) That's what I did, but I think the next time I install a light kit for a modular building, I would rather install the lighting as I build model.
Overall, this BrickLoot Lighting Kit earns our Highly Recommended (4/5 star) rating. If it came with a better way to manage all the USB plugs and a battery box for the same price, it would earn a 5/5 star rating!
Have you tried a BrickLoot Lighting Kit? Let us know what you thought by leaving a comment below.
BrickLoot provided this kit for the purposes of this review. The opinions in this article are strictly my own—providing products for review does not guarantee a positive review. Photos by Jeannie Jonas unless otherwise noted. Visit the About page for more info about our journalistic standards and affiliate programs.
Sours: https://brickarchitect.com/2019/review-brickloot-led-lighting-kit/
Review: LED Light Kit By Lightailing For LEGO 76161 Batwing
LIGHTAILING Light Set for (1989 Batwing)
Review


Recently, LEGO have been flooding us adult collectors with 18+ sets. They are generally for display, looking great on the shelf! Or in the Batwings case, the wall. Unlikely that these will get played with, collectors are more commonly accessorising their models. Popping some LED lights in there to bring them to life. There are becoming more and more LEGO-compatible LED lighting kits available, all seem the same but different, so how to find what works for you?
We were recently contacted by Lightailing, with an offer to review one of their kits. I had been wanting to light up my Batwing, so it was kind of perfect timing. I have used other brands before, so I can happily say I have a basis for comparison. Apart from getting the kit from Lightailing, I can tell you this is not a paid review and is honest based on my experience.
But, if you do want to try Lightailing, use coupon code 'BrickBanter' for a discount.
Our pleasure!
What's In The Box
It's a stupid bit of psychology, but we humans enjoy an 'unboxing experience'. If things are presented to us nicely, we perceive them as being good. Lightailing is no exception, it's a small, clean box, which contains the instructions, battery pack and LED lights. All nicely packed in. They have kept their product quite universal, with an FAQ booklet in six languages, with pictures to make it easy.
The LED Kit
Excuse the photos. I know this looks like a hot mess, but I assure you it's not as bad as it looks. Before you do anything, the instructions advise us to test the LED lights to ensure they are all working. A smart move by Lightailing. As the wires are quite thin for these kits, if you accidentally pull one off the light while assembling, that's on you. By testing prior, you can prove the light was busted before you start installing. They are just covering themselves.
Another thing you'll notice which I wasn't expecting, is it comes with LEGO bricks! The LED lights are installed within the parts, glued in place to make it easier. Not all lighting kits do this. I used a different brand for the '89 Batmobile, which has three LED lights on each side in the headlights. These were just LED lights by themself, on the end of a wire. Which meant I spent A LOT of time trying to get them to face forward. Honestly, it was a pain in the butt. So having the LED in place, facing the right way, is a big tick in my book.
The Instructions
It's worth noting, the Batwing is a pretty simple install. Unlike the Batmobile, there were fewer technical build techniques to work around when running the wires. Keeping the instructions universal once more, it's all just pictures. No words required. They are clear and I was able to follow them without issue. They do display where you are to put the pieces back in place, but I found you might have to take a mental note, especially if you are working on a more complex model.
The instructions are also included! Weird thing to say right? Not at all! The ones I have previously done have the instructions online. I would say there are pros and cons to both. If they are online, at least it's an easy fix if there is a mistake, plus their photo quality can be a much higher and detailed resolution. Coming with the model, it meant I didn't need to mess around with a website trying to find them. In saying this, Lightailing does online instructions including videos on YouTube available to assist you, if that's what you prefer.
The Verdict
As I mentioned earlier, the Batwing was a pretty simple install compared to the Batmobile. But it was made easier by Lightailing including LEGO bricks with the LED light glued in and in place. This saved me so much time trying to line up the LED to face the right direction. I have broken the LED previously when trying to achieve this, as I put it in place and removed it so many times, the little thin wires broke. Some other brands also come with adhesive strips to stick the lighting boards in place. For this particular set, this wasn't needed as it was all installed within the supplied bricks.
Take note of the 1x4 below. This particular piece connects to the underside of the Batwing. In the red cones however, a bit of glue did come down a little too low, meaning the brick couldn't get in 100% in place. I still got it on, but it was the tiniest gap and not a snug fit. Not a big deal.
This particular model comes with a 3x AA battery pack, which is quite large. If you are planning to hang it on the wall like mine below, this may mean you have no where to put the battery pack. Even if you have it on a shelf, same deal. But, it does have a USB connection. So it's not too hard to problem solve an alternative here.
Overall, I found Lightailing super easy to work with. I love the fact it comes with bricks that have the lights glued in place, the instructions being included, but also with the option of online. The battery pack is quite large, but it's not hard to get smaller ones if needed.
Price-wise, they are a little cheaper than some other brands, but lighting kits never seem to be cheap either. Check the prices for this particular kit via the links below, as per Amazon.
RRP AUD $86.03 - USA $39.99
(Prices may be subject to change by Amazon)
Lightailing can also be found at https://www.lightailing.com
For a Lightailing discount, use Coupon Code: BrickBanter


Follow Andrew on Instagram
@CheepJokes
If you enjoy our articles, photos and videos, please show your support by clicking below and buying your LEGO via the affiliate links below to show your support. Thank you!
Official LEGO® Shop
LEGO Australia - LEGO UK
LEGO USA - LEGO Canada
Check out the new book by LEGO Masters Australia Season 1 winners Henry and Cade!
Brick Dad is currently available for pre-order by clicking here.
FIND US ON SOCIALS
You can also find us on Facebook,YouTube and Instagram.
@CheepJokes
Review sets and new release announcements are provided by the
AFOL Engagement team of the LEGO Group for review purposes.
All opinions are my own.
Sours: https://www.brickbanter.com/post/review-led-light-kit-by-lightailing-for-lego-76161-batwing
Top positive review
All positive reviews›
4.0 out of 5 starsMissing installation instructions, but still a wonderful kit.
Reviewed in the United States on August 14, 2016
The kit arrived quickly and was well packaged and padded. The bags containing the lights had a sticker from brick loot with the gist of "these were working when we shipped them, if they are not now, you are on your own." So I immediately tested them to make sure they were working. All was well. Unfortunately, there were no instructions include on where to install the lights. Only the sticker said email them for a manual. That's lame. A google search turned up facebook pages that linked to this and other light kit instructions. If your building is already built, you will have to do some minor to major teardown to replace your legos with these light blocks. It may be easier to just add the light blocks as you build it.

Fit and feel was just okay. I am sure a lot of that has to do with these very small gauge wires that have to fit between legos. So locking them together is somewhat of a challenge. Be careful when hiding the wire run. I accidentally cut a wire just by severing it while hiding the wire run. A rough and dirty coupling later and all was well.

A great kit that needs to ship with instructions.
Sours: https://www.amazon.com/Brick-Loot-Bank-Lighting-10251/product-reviews/B01HSEC9C2?reviewerType=all_reviews
UCS Millennium Falcon is Lit! Light my Bricks Kit Review
Lighting kits are a hot item at the moment. So hot even, that now LEGO is exploring options to bring their own kits on the market. I've bought a kit for my recently reviewed10270-1 Bookshop to see what it's all about.
Contents:
Introduction
Lights in LEGO are not a new thing. The first I could find was introduced in 1957. That's almost at the time Edison discovered the light bulb. Okay, at least long before I was born. This was the x456c01 Electric Light Brick 4.5V 2 x 4 with Removable Bulb, appearing in 7 lighting kits and 1 'normal' set, the 088-1 - Super Set. It had a loose light bulb that could be replaced after it burned out.


Later on, around 1969, the 265 Electric Lightbrick 2 x 2 was introduced, working on 12V. I remember these well. I used them to light my first train. Unfortunately, my parents decided to give all my childhood LEGO to my oldest brother, 'because it is his probably'. I haven't talk to them in 5 years.


In the 80's, the first lights appeared that didn't need a wire. They could be powered by special conductive plates, and worked on 9V.


Later on, more lights were introduced, working on small batteries.


Most of these lights are meant as an extra play factor, like adding flashing lights to a firetruck. Only the 265-series were really used to light models, and those were still bulky, and hard to incorporate in a build.
The need for lighting models has always been there. Most AFOLs would create something themselves using electronics and soldering equipment. That required some expertise on its own, and was not useful for many people. Only in the past 5-10 years, more and more companies were creating components and kits specially targeted at AFOLs. The fact that LEDs were getting smaller and cheaper, played a big role in this. The market for kits is getting very large, with kits coming out very fast after the release of new sets. So it's obvious we need to take a look at one of these kits.
The kit I picked comes from Light My Bricks. The main reason is simple: The company sells in The Netherlands through a Dutch fender (BRiCKiZiMO Toys), making it easy and fast to obtain for me. Also, from what I could see on their website, the products seem to be of good quality. I could have gone for a kit for a Technic set, but currently all my models are broken down, and a lot of parts are used in a MOC I'm reviewing. I still have the 10270-1 Bookstore fully build in my photo booth.
It might be useful to know my background and initial opinion on the subject: I've (tried to) installed 1 kit before, meant for the 75192-1 UCS Millenium Falcon. It turned into a little nightmare, but that's probably because I'm cheap. I got the kit from a site who's name should not be mentioned, from a cheap knock-off brand. The kit came without any instructions, besides a few photos of the end result without any details. The material was very fragile, and I ended up killing 2 components, leaving my Falcon without the icon blue propulsion. I also quickly discovered the process requires a bit of finesse, handling tiny LEDs in tight spaces. Not a fan...
But it left me wondering: Do I suck at this? Or is there a reason the branded kits have a higher price rate? If the market is so large, there must be something I'm missing. To be honest, I'm going in a little sceptic, but I'm willing to change my mind.
The Kit
From the website of Light My Bricks:
The LEGO Bookshop is the 2020 release from the Modular Building lineup. With a return to its original European architecture roots, the Bookshop adds a little sophisticated retail flair to the fan favourite lineup. The Light My Bricks Bookshop light kit comes with 26 individual lights and comes with a host of features. Included are wireless connectors between each storey, allowing full access and playability of your modular. The light kit has also been designed so that the two side halves of the building can be separated from one another (meaning you can have another modular building between the two)! Finally, to create a sense of realism and ambience, flickering effects have been added to the fireplace and garden lights have been added for a nice external feature.
The kit comes in a nice, sturdy box. It closes using magnets, making sure nothing gets lost. Inside is a user guide, 10 sealed bags with components and a zip lock back with a lamppost. Not all bags are labeled, but with a bit of logic, it's easy to see which component you need during the installation.

The user guide explains the different types of components and how to handle them. There is no paper manual for installing the kit, but is all online. At first, I was a bit disappointed about this. But then I saw how extensive and detailed the manual is. It would kill a small forest to print this all out. You can see for yourself here.

The kit contains the following components:
13 x Bit Lights (Blue, Pink, White, Green)
6 x Strip Lights (Warm White)
4x Expansion Boards
1x Flicker Effects Board
7x Connecting Cables
1x Light My Bricks Lamp Post
3x Wireless Connector sets
4x Adhesive Squares
1x USB Power Cable
2x Assorted LEGO® pieces for assembly
The LEDs are very small. They fit on a stud. For instance, in this lamp the LED is hidden between the Tile with Clip and the 2 x 2 Round Dome. Next to the door, a LED is fit within a Trans-Clear brick.
The Install
We start with the house. The light post is placed, with the wire running under the tiles. In the flowerbed, 2 pink and 1 blue light is installed. To run the wires, a section of the wall needs to be demolished. The flowerbed was tricky, leading to frustration early on in the process. I couldn't get the LEDs to stay put under the leaves. Luckily I found out that the wires in this kit are more sturdy than the ones in the cheap knock-off. You can bend them, and they stay in that shape. I bend the wires and then secured them with a brick, keeping the LEDs in place. A quick test shows everything working.

An extension cable is run through the pin connecting the house with the Bookstore. The cable is long enough so another building can be put in between. On the right is the USB plug that powers the kit.


Next up is the first floor. In the lamps next to the door are 2 LEDs hidden. This also requires some demolition. The fireplace is also lit up, with an LED behind the flame. Between the Expansion Board and the LED, a Flicker Effects Board is placed, making the flame flicker. On top of one of the walls, a Wireless Connector is placed, supplying power to the floor above, without having to worry about cables when you take the floor off. Another quick test shows it all works. At this point I got the hang of it and I am actually enjoying the process.



Lastly, in and under the attic, a Strip Light is installed, lighting the entire first floor and attic. In the windows also come some white LEDs


And that finishes the house. It looks like the basement is considered a no-go area, storing most of the wires and boards. Some wires run on the outside of the wall. These should be covered up by other modular buildings.


On to the bookstore. Here, we start with adding green LEDs to the window arches, and a yellow LED to the lantern. This requires a large section of the front to be demolished. Luckily, the guide shows step by step which bricks to take out, and how to put them back, so no need to get the building instructions out of storage.

Under the second floor comes a Strip Light to light the bookstore. The reading lamp gets a white LED, with the wire being lead through the entire front under the tiles. The attic gets 3 Strip Lights: One to light the second floor, one in the facade of the building, and 1 in the attic itself.


Left-over parts:

Conclusion
I can be very short: I've seen the light ;-). I now get the appeal of lighting your models. The end result looks amazing and gives a lot of extra atmosphere to the model.
I was preparing myself for a struggle with a lot of frustration. But in contrast of the knock-off kit, this kit comes with very detailed and clear instructions. The material can be handled without directly breaking, and everything fits and works fine. After the first few lights I was actually enjoying the process! So yeah, I see now why people like to use lighting kits: It's fun to do, and it looks great.
Is it all perfect? Well, there are a few smudges:
First, and I hear this more often: The price. This kit was €89,- ex shipping, what is a lot on my budget. If I have to choose between a lighting kit or another 42108-1, my choice is easy made. But like I explained in my review of the 10270-1 Bookstore, I'm not really into display models. I prefer functioning Technic builds. If you do like to show off your builds, the lighting kit adds a lot of display value. Knock-off kits are cheaper, but you see that back in quality and functionality.
And for a single modular set, there is a lot of light coming off the model. I wouldn't mind a dimmer function to turn it down a nudge. I've contacted Light My Bricks, and there is an option to dim the lights. It requires getting the remote control kit. This way, you can turn the kit on/off and dim from a distance.
One thing I was worried about, were the wires. It's impossible to completely hide them, but I think they did a good job. A lot of the wires are run on the outside of the side walls, where other modular buildings will hide them. Wires inside the buildings are mostly run at the front wall, where they are hard to spot when you look inside from the front.

To recap:
If you like to display your models, and extra build time: Go get a kit.
If you're not: it's money you could also spend on a new set.
Disclaimer: Anything said in this post is the opinion of the author and not The LEGO Group or Light My Bricks.
Parts- and build photographs by Tobymac (© 2020 Rebrickable)
This LEGO Set is available now at the LEGO Shop in these locations:
US for $179.99 | GB for £149.99 | CA for CA$199.99
Sours: https://rebrickable.com/blog/256/review-lighting-kit-for-10270-1-bookstore/
Kit lego reviews light
Game of Bricks Light Kit Review
Posted By Adam White on Aug 9, 2019 |
A few weeks ago I was contacted by a company called Game of Bricks, who create a range of Light Kits for various LEGO® sets. They asked if I wanted to take a closer look at one of their kits, so I decided upon the Stranger Things Light Kit. The kit arrived a few weeks ago and I set about installing it onto my previously built The Upside Down set.
The kit comes well packaged in a nice little box, with the lighting and power components each packed in their own bags. Some are labeled, whereas others aren't. Although it can be easy enough to decipher what goes where, I think it would help to have all bags labeled.
There are no physical instructions included with the Light Kit, instead Game of Bricks, provide a link to a step-by-step YouTube video. Although this may feel a little different for those used to using paper instructions, the nature of the adding the lights to the set is best done with a visual guide. There are various different forms of lights, these include stick on strips and elements with the lights added into them. The elements included in the kit are not genuine LEGO pieces, which is a little disappointing.
The light are added to each of the trees, with the real world being lit in red LEDs and The Upside Down in blue. They flash and light up in various sequences. The famous Christmas lights can be switched out with light-up versions. Each of the Minifigures torches can be changed to light-up version. But my favourite bit has to be Hopper's Police 4×4. This can be changed to feature working lights, an interior light and best of all, flashing emergency lights.
There was another piece in the kit I was a little unsure as to what it was for, I thought it may have been included by mistake or I had the wrong kit as I couldn't match it to anything in the set. But it turns out Game of Bricks do deluxe versions of their Light Kits, which also includes sounds. That little dish-like piece is a small speaker system. Little it may be, but it's mighty loud and plays the Stranger Things theme, along with some Demogorgon sound FX. It's a cool addition to the kit and really helps to bring the set to life a little more. Perfect for those who like to display sets at shows.
Overall
I've always been intrigued by lighting kits for LEGO sets, but have never attempted to light-up any of my builds. When I opened the box, I was a little overwhelmed, there were so many wires and connectors. Once I'm got my head around where they were for, thanks to the video, it was easy enough to add them. Admittedly a little fiddly in places, but the end result is quite cool. It certainly looks better in the dark, not only because that's how lights work, but because the wires are less visible. That being said they are quite thin wires so they aren't that bad to look at. The worst offenders are the ones added to the Minifigures as the wires come out the back of the handle elements, but a little creative positioning can make them a little less messy. My first experience of lighting up LEGO has been a good one and after looking through the Game of Bricks website, there are a few other light kits which look rather cool, even one for the new LEGO Ideas Treehouse.
Game of Bricks provided this kit for the purpose of review, the thoughts within this review our that of BricksFanz and do not reflect that of Game of Bricks. These kits are not official LEGO products.
Sours: http://bricksfanz.com/game-of-bricks-light-kit-review/
Game of Bricks Lego light kits review
LEGO has exploded in popularity in recent years, with licensed sets and inspiring build ranges bringing millions more eager fans into the fold. With so many more sets on the market, bespoke builds have never been easier and, with legions of iconic minifigures now available, LEGO fans have been looking to push the boundaries of their builds even further. With smartphone cameras a standard commodity and the likes of YouTube providing the potential of a worldwide audience, home-made LEGO movies are one way of breathing new life into your builds.
Looking to make your own mini masterpiece in LEGO brick form? While it's tempting to simply reach for your smartphone and get started, you'll want to take some time to ensure you've a few key ingredients to make your movie the best it can be. A colourful set of characters and a bundle of bricks and builds should be the core of your project, but investing in some technical equipment is also advisable. One area worth investing in is lighting. To help you make a good investment in this area, we've put together a brief guide on what to consider when shopping for LED kits for your LEGO movie creations.
Your Shooting Space
Your LEGO builds and movie scenes might seem small fully built, but you'll need to account for extra square footage to accommodate your lighting and camera arrangements. If you've room to play with, you can easily add LED lights with adjustable stands and umbrellas. However, if you're limited to a simple desktop or dining room table, you may be best to opt for a collapsible softbox tent that dramatically reduces the amount of space required to set-up your movie-making kit and can be packed away for storage once you're done recording.
It can be hard to find a space to shoot in with conditions best suited to movie-making. In an ideal world, you'll want a windowless space where you can build layers of light artificially. At the very least, you want to be able to block out sunlight and other unwanted light sources sufficiently. A pair of blackout curtains or a thick.
Shadows and Softboxes
If you're new to the world of photography and video lighting, you'll probably encounter some trouble with shadows. When you're looking to light busy builds with multiple characters, you'll have countless small shadows cast in all directions. If you're hoping for a more natural aesthetic, you'll want to limit these as much as possible. A softbox is an incredibly useful tool to help minimise the appearance of shadows produced by artificial light sources. Most LED lighting kits available on the market will include some version of a softbox, but make sure you're buying something of decent quality as this is one lighting accessory you don't want to compromise on.
Don't Forget the Dimmer
You want to be able to make minor adjustments to lighting output when shooting LEGO movies. It's not practical to move lights back and forth in a room to reduce or increase output levels when shooting something as small as LEGO builds and Minifigures, so getting your hands on a dimmer adapter is a must. This way, you can make small refinements to lighting output quickly and easily without disturbing your carefully constructed scenes. Buying lights with integrated dimmers makes life even easier.
Essential Lighting Extras
Nowadays, decent LED lighting kit is very affordable. Lighting accessories are even more budget-friendly, so it's worth building an inventory of indispensable extras to ensure you're well-prepared for every lighting eventuality. Gel filters are one such extra worth looking into. These can be used to change the warmth and tone of light output with next to no effort. Another affordable accessory worth buying is a handheld reflector. These can be used to focus light onto smaller areas and individual subjects without having to add further lights to your setup.
LEGO Lights Buying Guide – Product Reviews
Now we've discussed some key things to look out for when purchasing your lighting equipment, let's delve deep into what's available on the market. Below, you'll find a selection of some great value sets we think could really raise your LEGO movie lighting game.
Led Video Light, Switti 3200k-5600k Bi-Color Dimmable Camera Panel Light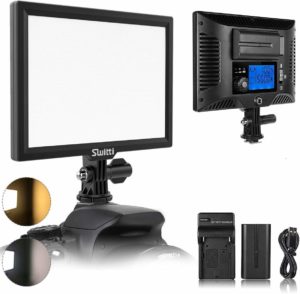 This LED video light kit is both comprehensive in its contents and incredibly user-friendly. The bi-colour high brightness light is particularly handy, with no need for you to swap out filters thanks to easy colour temperature adjustment. The LED light panel is also dimmable, with a natural light output and a gradual dimming effect. You've a power adapter and 4440 mAh battery included, providing you with two different power modes. Choose to go with battery power and you can expect a 3-hour operation after a full charge. The HD LCD display also scores top marks, displaying current brightness levels, colour temperature and battery power in an intuitive manner. If you're relatively new to the world of video and lighting principals, this LED lighting kit is definitely worth the investment.
Andoer Lighting Kit, Photography Studio Softbox Light Kit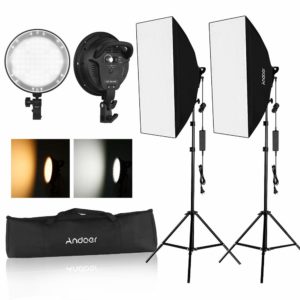 Here's another great value LED light set to add some real atmosphere to your LEGO movies. The heart of this set is a 45W high power light head, but there's plenty more to get excited about. There's two 20 inch by 28 inch softboxes included that can be used to ensure light emitted from your LED is both even and diffused. This is particularly handy if you're looking for a softer light character and to remove unwanted shadows from your LEGO scenes with minimal effort. There's also an adjustable light stand included, with a max height of two metres possible. A sturdy 3-leg design ensures lighting setups remain stable and consistent once finalised, which means continuity isn't something you'll have to worry about when shooting mini LEGO movie masterpieces.
EMART 60 LED Continuous Portable Photography Lighting Kit for Table Top Photo Video Studio Light Lamp with Color Filters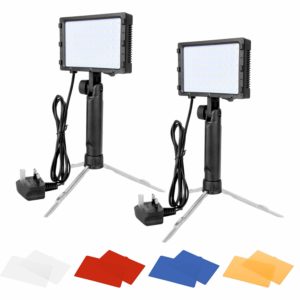 Here's an incredibly budget-friendly option you'll have no trouble getting to grips with. Included in this portable lighting kit are a pair of 15W high output photography lights with stands. You'll also have no need to stock up on gel filters, with two each of orange, white, red and blue. This set is particularly handy for use in lighting smaller stages like LEGO scenes, with handheld operation possible and easy adjustments. The lighting output you'll get from these lights is also ideal for illuminating smaller subjects.
GSKAIWEN LED Light Photography Studio LED Lighting Kit Adjustable Light with Light Stand Tripod Bag Photographic Video Fill Light
You've everything you need to get started with this great value LEG photography lighting kit. Included in this budget-friendly package are two LED fill lights and light stands, along with two adjustable adapters and a carry bag for all your kit. Each of these lamps include 90 individual LED lights, totalling 24W of output each. The result is a high level of brightness that's clear in character, providing you with a large fill light range. Brightness is easily adjusted with simple knob operation, with a wide dimming range from 1 percent to 100 percent. You can also pick perfect lighting angles with this LED lighting kit, with an 180-degree adjustment possible.
ESDDI Lighting Kit Adjustable Max Size 2.6Mx3M Background Support System 3 Color Backdrop Fabric Photo Studio Softbox Sets Continuous Umbrella Light Stand with Portable Bag
This comprehensive lighting kit is packed full of LED essentials to get you started with your LEGO movie projects. It's an ideal starter set for the beginner, with an easy setup and simple operation. Included are two 20 inch by 28 inch softboxes, two 33 inch umbrellas, an extendable steel stand, an 85W photography bulb, plus an umbrella switch. You'll also find three cotton backdrop rolls in black, white and green, as well as an extendable steel stand to hang them. Clamps, a width extender and a gold/silver reflector are also included. This set is a good fit for those seeking a more substantial home studio arrangement for their LEGO movies, with extras like the umbrellas and reflector providing you with everything you need to make manual refinements to your lighting setups.
ESDDI Update 900W LED Photography Softbox Lighting Kit 20×20 Inch Photo Studio Equipment with E27 Socket and 2x5500K Instant Brightness Energy Saving Lighting Bulbs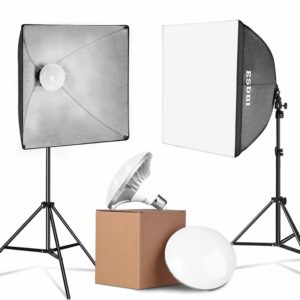 This set might look minimal compared to others on this list, but look again and you'll see a top selection of staples that will greatly improve your LEGO lighting game. The energy-efficient LED bulbs are a robust alternative to conventional filament ones, with no waiting around for them to achieve full brightness output. The softbox material is also worth mentioning, with the buzin cloth making for a softer, lighter and incredibly flexible alternative to traditional variants. You can expect a very soft and uniform output as standard. The softbox stand is also designed to accommodate angle adjustments, with the high-quality aluminium alloy ensuring sturdiness and durability.
YISITONG Photography Photo Studio Light Box Tent Softbox 24″ x24″x24″ 55W LED Cube Tabletop Light Shooting Tent Kit with Dimmer Adapter, 4pcs Cotton Backdrops for Studio Lighting Kit
If you're looking to keep things simple, this light box tent lighting kit is the way to go. In addition to a pair of 55W LED lights, you've no less than four cotton backdrops and a dimmer adaptor thrown into the mix. The softbox studio tent is the star of the show, however, providing you with an incredibly simple way to ensure beautifully balanced lighting with minimal effort. The outer softbox tent is also foldable, allowing you to pack it away after use. If you're looking to shoot LEGO movies in a tiny space, but don't want to compromise on lighting quality, this is the way to go.
Get the Latest LEGO Sales & Deals
Sours: https://blog.firestartoys.com/best-lego-light-kits/
Now discussing:
.
143
144
145
146
147