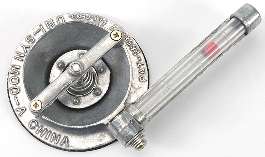 First I would like to say that you don't need this tool for balancing carburetors on the MGA (or MGB or MG Midget). The reason this tool is not particularly important for MGs is because the MG has a balance tube in the intake manifold between the carburetors. If you completely close one carburetor the engine will run nicely at idle speed with air intake from only one carb. Angles of the throttle plates at that point are not much different, only about one turn of the adjustment screw. With throttle shafts locked together, when at wide open throttle that small angle difference in the throttle plates is pretty much negligible. The easy solution is simply to open each idle screw 1/2 turn before you lock the throttle shafts together.

However, the tool is relatively inexpensive (if you find the right source), and does what it is supposed to do quite well. It is also relatively easy to use, after you remove the air cleaners). Therein lies the primary problem with using this tool. If you don't need to use it, there is not much benefit in removing and reinstalling the air cleaners. I have one of these tools, but the only thing I use it for is to prove that you don't need it. This tool may be much more useful for multi-carburetor engines that do not have any balance port in the intake manifold, where each carburetor would be feeding separate intake port(s) with no intake air cross over.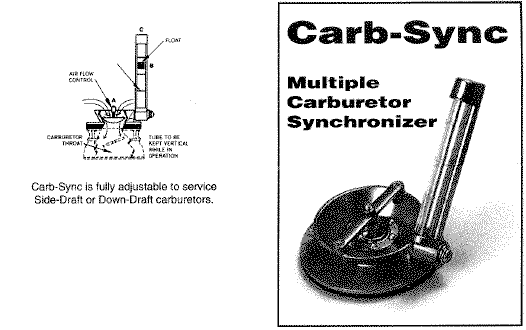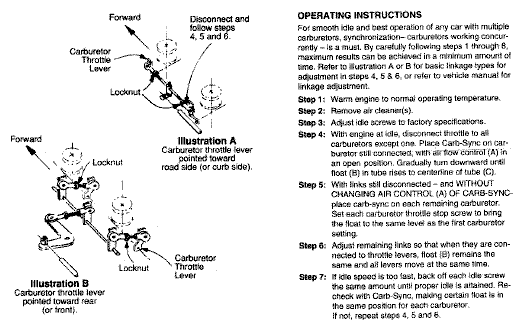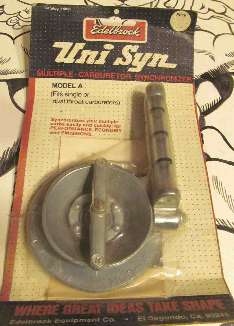 What it Does and How it Works:

The Uni-Syn unit can measure "relative" air flow quite accurately. What it does is to place a very low restriction venturi at the entrance to the carburetor. The venturi produces a slight vacuum signal that generates a small amount of air flow in the signal pipe. The signal pipe is held vertical, and it is slightly tapered (larger at the top), and it contains a "pea" with a diameter slightly smaller than the signal pipe. The annular area around the pea changes with height of the pea in the pipe. This annular space is a flow restrictor. As flow increases the pea rises higher until the annular space increases and differential pressure across the pea is just enough to support the weight of the pea. The lighter the pea the more it moves, and the more sensitive is the instrument. By adjusting the very low restriction venturi aperture you can change the vacuum signal until the "indicator" physical position falls near the center of the indicator range. Height of the pea then provides an accurate and repeatable indication of air flow rate through the carburetor inlet, although it does not tell you the absolute flow rate.

But you don't actually care about the absolute air flow rate, only that you want to make it equal for all carburetors. After getting the tool set up to read dead center on the indicator for the first carburetor, you place the tool in front of the second carb. Adjust the idle screw to give the second carb the same indicator reading, and therefore the same air flow as the first carb. Repeat for any additional carburetors (if more than two carbs). When all carbs have equal air flow, then lock the throttle shafts together. For adjusting idle speed thereafter, simply adjust all idle screws the same amount.

Sours: https://mgaguru.com/mgtech/carbs/cb135.htm
Best Carb Sync Tools – Buying Guide, FAQ & Carb Syncing Tips
I. Introduction
If you are using a motorcycle with a multi carb and multi-cylinder engine, the carburetors must be properly synchronized for smooth idling and smooth running at different speeds and throttle openings.
Carburetor synchronizing in a multi-carburetor and multi-cylinder motorcycle engine is best done using a Carb Sync Tool.
-> Click here to skip the intro and go to the list of selected carb sync tools <-
II. What is a Carb sync tool
If you are owning a motorcycle with a V Twin, parallel-twin, V-double twin, or an inline multiple cylinder (3, 4, or more) engine, the Carb Sync tool will help you keep your carburetors synchronized, healthy, and in top working condition.
Non-synchronized or out of sync carburetor engines will have erratic idling, vibration, and other issues.
How the Carb Sync tool helps you?
You are aware that the carburetor uses the vacuum created at its engine end (or at the intake manifold of the engine) to draw the air through the air filter and the amount of air drawn depends on the vacuum and the throttle plate opening.
The Carb Sync tool helps you to synchronize or balance the vacuum at the engine end of all the individual carburetors (near engine inlet manifold) by adjusting the throttle plates to make them in sync with each other.
Carb Syncing ensures the same proportion of air-fuel mixture during idling and hence the same idling speed (same range of rpm).
The Carb Sync tool will have a vacuum gauge or manometer to read the vacuum at the vacuum ports and the number of gauges is 2 or 4.
If yours is a four-cylinder inline engine, you can connect the hose from gauge -1 of the Carb Sync Tool to the vacuum port of cylinder -1 and so on up to 4.
In a multi-carburetor set up, one carburetor is directly connected to the throttle cable linkage of your motorcycle, and this carb is called the 'base' carburetor. The vacuum reading of this carburetor is used as a master for setting the throttle plate of other carburetors.
When you run the engine (idling), the gauges measure and read the vacuum for each carburetor (cylinder) simultaneously and the readings can either be on a set of vacuum gauges or a set of mercury manometer.
If the throttle plates are not equally set, the gauge shows uneven readings for one or more carburetors. At any given engine speed, the vacuum is directly proportional to the throttle plate opening; the lesser the opening, the higher the vacuum.
Vacuum readings are synchronized by using the carb sync adjusting screws. The location of carb sync adjusting screws can be different for different motorcycles. Inline-four cylinder motorcycle engines have carb sync adjusting screws between the adjoining carburetors.
The adjusting screw between carbs 1 & 2 adjusts the throttle plate of carbs 1 and 2, and the adjusting screw between 3 & 4 adjusts the throttle plate of carbs 3 & 4. The middle screw adjusts the throttle plates of carbs 1 and 2 & 3 and 4.
III. Types of Carb Sync Tool
There are three types of Carb Sync tools (i) with vacuum gauges (ii) with manometer (mercury (or alternate fluid) column reading) (iii) Digital Carb Sync Tool.
Carb Sync with vacuum gauges:
This type of Carb Sync tool uses vacuum gauges to measure the vacuum and comes with two or four vacuum gauges, thereby allowing you to do Carb Syncing of up to 4 carburetors simultaneously.
If your motorcycle has 6 cylinders, then you can either do the carb syncing in more than one set up or use two Carb Sync Tools (with 2 and 4 vacuum gauges) to do it simultaneously.
You need to connect each vacuum gauge of the carb sync tool to the vacuum ports of your carburetor/engine manifold (first vacuum gauge to the first carburetor vacuum port, second vacuum gauge to the second…..and so on) and synchronize all the carburetors.
Carb Sync with Mercury or liquid manometer:
This type of Carb Sync tool uses mercury or a patent fluid (since mercury, being poisonous, is banned in many places) manometer to measure the vacuum.
You will be able to synchronize up to 4 carburetors simultaneously. This carb sync tool is more accurate than the vacuum gauges.
The unit consists of a metal sheet body with clear graduations incremented every 2 centimeters, and four glass or transparent plastic tubes. The four transparent tubes may be connected to a common vial of the patent fluid. The top of each transparent tube is closed with caps.
The Carb Sync Kit also consists of line restrictors, adopters of various sizes and lengths (5mm, 6 mm, etc.) to suit different motorcycle carburetors, and an easy to follow instruction manual.
Some manometers have 4 individual transparent tubes having their own fluid and required to
be calibrated by connecting all the four manometer tubes to the base carburetor vacuum port.
Digital Carb Sync Tool:
Digital Carb Sync Tool or the Digi Sync (as it is known in the market) is the latest tool in the market which gives the vacuum readings by digital display and is more accurate than either the vacuum gauge or the manometer Carb Syncs.
The Digi Sync is designed and made in the USA.
Presently, they have models for simultaneous synchronizing of up to 6 carburetors. Digi Sync has 4/6 outlets that can be connected to the vacuum ports for balancing the vacuum readings.
IV. Selected carb Syncs.
1. ALPHA MOTO Motorcycle Carb Sync Gauges with Auxiliary Gasoline Tank Combo for CB KZ GS XS 550 650 750 850 900 1100. Brand-ALPHA MOTO.

This Carb Sync tool features 4 precision vacuum gauges mounted on a heavy metal base for benchtop use and each gauge has its own individual damping control and calibration control.
The kit contains the items below stored in a sturdy and compact plastic box:
| | |
| --- | --- |
| 1 | Auxiliary gasoline tank of 2 liters capacity, marked with standard and metric measurements, and petcock. |
| 2 | 4 gauges of 2.75ʺ diameter and 0 to 38 HG gauge reading. |
| 3 | 4 Rubber hoses 4 mm (ID) * 7 mm (OD) * 75 CM long. |
| 4 | 4 white plastic valves 5.5 MM (OD). |
| 5 | 2 number each of M5 adapters 102 MM length & 52 MM length. |
| 6 | 2 number each of M6 adapters 102 MM length & 52 MM length. |
This Carb Sync Kit can be used for the carb syncing of almost all the bikes with carburetors.
Before using the Carb Sync tool, make sure all the gauge readings are showing zero. If any gauge has an error, open the plastic cap on the dial and use a flat head screwdriver to set the dial to zero.
View on Amazon
2. Motion Pro 08-0411 Syncpro Carburetor Tuner. Manufacturer-Motion Pro.

This Carb Sync tool uses manometer gauges to measure the vacuum of up to 4 carburetors simultaneously.
The patented design is spill-proof and can be stored in a horizontal or vertical position.
The kit contains:
| | |
| --- | --- |
| 1 | Manometer with 4 tubes and a hook. |
| 2 | 5 mm adapters |
| 3 | One long rubber hose to be cut into 4 numbers of equal length. |
| 4 | Restrictor for the hoses – 4 numbers. |
| 5 | Calibration tool – 1 number |
Optional 6 mm adapters can be purchased separately.
Product dimensions: 20ʺ * 8.1ʺ * 1.5ʺ
Insert the restrictors on the engine side of the Carb Sync hose.
For calibration of the Carb Sync: Using the calibration tool, connect all the 4 hoses from the manometer to the vacuum port of the base carburetor.
There are 4 screws (one each at the base of each monometer tube), turn them counterclockwise (please refer to the owner's manual and follow the step-by-step procedure) to allow a maximum vacuum.
Start the engine to idling and calibrate all the four manometer readings to be the same by turning the screws slowly in a clockwise direction.
View on Amazon
3. Digital Carb Sync Tool with 6 channels- The Digi Sync.

Simple, easy to use, digital display, and accurate (you can do Carb Syncing with a difference of one digit to each other).
Can be used for motorcycle with 2 to 6 carburetors.
More accurate than liquid manometer Carb Syncs and gauge Carb Syncs and there is no threat of manometer fluid sucked into the engine.
Battery operated, digital display, displays vacuum and rpm. Made in the USA. Comes in a compact box.
A reset button on the front and a power port on the side. A Velcro on the bottom to stick it at a suitable location.
The bottom of the Digi Sync has rubber feet and some model has cling option (magnetic) for the bottom which allows it to stick to any metallic body, like a fuel tank.
You need to put on the Digi Sync and allow it to self-calibrate before turning the engine on.
Compact size: 7.1ʺ * 6.1ʺ * 4.3ʺ (1.5 pounds)
The kit contains:
| | |
| --- | --- |
| 1 | One number Digi Sync 6 channels. |
| 2 | Power cord -1 number. |
| 3 | 9 Volts battery (included). |
| 4 | Vacuum port plugs – 6 numbers. |
| 5 | 6 hoses of 3 feet length, one end suitable for quick coupling with the Digi Sync hose end. |
View on Amazon
View on The Digi Sync

V. Buying Tips
If you are a motorcycle enthusiast and intend to ride it for many years, plan your Carb Sync tool very carefully since most Carb Sync tools serve you for a long period.
If you are having a twin carburetor motorcycle now and plan to go for a higher range (4 cylinders) in the future, you have to decide whether you want to buy a Carb Sync tool for simultaneous syncing of two or four carburetors.
Of course, you may be able to do carb syncing of 4 carburetors in more setups using a two gauges Carb Sync tool, but it will be more time consuming and the result may not be the best.
Secondly, you have to make a decision about the type of Carb Sync tool. Although the manometer type is more accurate than the vacuum gauge type, it does not allow you to check the synchronization at higher engine rpm due to the fear of the manometer fluid getting sucked into the engine.
Then there is the Digi Sync tool which is more accurate than either the manometer type or vacuum gauge type. However, it costs more.
VI. Dos and Don'ts about Carb Syncs
| Sl. No. | DOs | DON'Ts |
| --- | --- | --- |
| 1 | Always do Carb Syncing in an open area to avoid exposure to harmful exhaust. | Do not do Carb Syncing in a closed enclosure like your garage. |
| 2 | Warm-up your motorcycle engine before you start Carb Syncing to get better results. | Do not start Carb Syncing when the engine is cold, the results can be erratic. |
| 3 | If your motorcycle engine is air-cooled, either choose a location with good shade and breeze for Carb Syncing or use a fan to cool the engine. Carb Syncing of an overheated engine may give erratic results. | Do not go for Carb Syncing without ensuring that your motorcycle engine is not overheated. |
| 4 | When using a monometer type Carb Sync tool, do carb syncing at idle speed only. | If you are using a manometer type Carb Sync, do not rev the accelerator more or suddenly throttle up or down as your engine may end up sucking the fluid. |
VII. FAQ (Frequently Asked Questions)
1
Can I do Carb Sync for my single carb motorcycle?
No, Carb Syncing can be done when your motorcycle has two or more carburetors.
2
If my motorcycle is under overhauling, when should I do Carb Syncing?
You can do Carb Syncing only after the complete work on the carburetor including all the pilot screw adjustments and air filter cleaning.
3
What are the symptoms that indicate the need for Carb Syncing?
The symptoms can be – (i) When your bike's idling is erratic and it appears to lose power (ii) Abnormal engine vibration at lower throttle position which may become negligible at higher throttle openings (iii) If your motorcycle engine, after accelerating (revving), takes more time to come back to idle speed (iv) Poor fuel economy and abnormal engine noises (v) Difficult to start and (vi) Higher exhaust emission.
4
What does Carb Syncing do? What is the function of Carb Sync?
Doing Carb Syncing for your motorcycle ensures that each cylinder draws the same amount of vacuum through its carburetor and all the individual cylinders have the same idling rpm.

Using the Carb Sync tool, the vacuum at each carburetor (or inlet manifold) is synchronized by adjusting the throttle plate.

5
Do I have to Sync my carbs after cleaning the carburetors?
No, not necessary if you have not disturbed the carb sync screws between the carburetors.
6
At what stage should I do Carb Syncing?
You should do Carb Syncing after completing all the carburetor work including pilot screw adjustments and the engine should be at its operating temperature.
7
My carburetor is not responding to the carb sync adjuster screw, the gauge reading does not change.
There are two possibilities- (i) Check the hose connection between the vacuum port of the carburetor and the Carb Sync gauge for any vacuum leakage and make corrections (ii) Alternately, there can be a vacuum leak at the air-cleaner end or the engine end of the carburetor, check and correct it.
8
Does Carb Syncing affect the air-fuel mixture of the engine?
No, it does not. Carb Syncing ensures the same proportion of air-fuel mixture and does not affect the richness or leanness of the mixture.
9
What is the normal gap between two Carb Syncing for a motorcycle?
It may be ideal to do it after a run of 15,000 to 20,000 miles, or more than once a year, or if the carburetors of your motorcycle are taken apart. It is best to follow the guidelines of your Owner's manual.
10
What do I benefit from Carb Syncing?
There are many benefits when the carburetors of your motorcycle are in sync with each other such as (i) smooth and study idle, (ii) good throttle response at all speeds, (iii) low vibration, (iv) better fuel economy, and (v) consistent air-fuel mixture in all the cylinders, etc.
11
What is bench syncing of carbs?
When you take out your carburetor set from your motorcycle and do the carb syncing on a workbench (without a Carb Sync tool), it is called bench syncing. In this process, you synchronize the throttle opening of all the carbs using a hardwire or drill bit of less than 1 mm diameter size.
VIII. Carb Sync Tips
Always do the carb syncing in a well-ventilated area, preferably outside your garage. Since you do carb syncing when the engine is running, safeguard yourself from the exhaust fumes.
Warm up the motorcycle engine before you start carb syncing. The carb syncing will not be accurate if it is not done at the operating temperature.
Carb syncing should be the last operation, hence ensure all the carburetor work including screws setting and air filter cleaning is done beforehand.
Carb syncing is a must if your motorcycle carburetor was dismantled during the maintenance.
If your motorcycle engine is air-cooled, have a strong fan to cool the engine. Carb syncing of an overheated engine will not give the required outcome.
Check for vacuum leaks in the motorcycle engine manifold or the carburetor engine end and stop the leakage before you start carb syncing. You will not be able to do carb syncing if there is a vacuum leak.
In many motorcycles, you need to take out seats, side panels, and gasoline tanks to approach the vacuum ports and carb sync screws. Be careful when you take out the fuel pipe. Gasoline drops should not fall on the engine (which is hot). Place a rag under the fuel cock.
IX. Conclusion
The aim of Carb Syncing is to bring all the throttle plates or butterfly valves to work in a synchronized or coordinated way to improve the smooth idling of the motorcycle, thus resulting in a smooth ride.
The carburetor is the heart of your motorcycle. If you do any mistake while working on it, it may result in a mishap or an accident (sometimes even fatal).
Hence, unless you have previous experience, do not attempt to work on your motorcycle carburetors. Discuss with the authorized technician for your motorcycle and seek their guidance before putting your hands on the carburetor.
Sours: https://happywrench.com/best-carb-sync-tool/
A vacuum gauge can be costly especially if you need it only once and a while to sync your motorcycle carburetors. But where we are stationed they don't even have gauges. So I had to resort to making my own Carburetor sync tool from scratch.
Parts
2 - 24oz (16-24ox will do) Glass Welches Grape Juice bottles (gaterade, starbuck's coffee bottles will do as long as they are glass) Empty do not use the juice or drink for the gauge wrong viscosity. - do not use plastic
2 - Rubber chair leg guards (size them up for a tight fit) you may also use rubber beaker stoppers from your local science craft store.
2 - 6' lengths of 3/8" clear rubber hose. Must be resistant to heat
1 - 28" length of 1/4 clear rubber hose. Must be resistant to automatic transmission fluid.
3 - 20" Zip Ties
½ quart of ATF / power steering fluid
1 - Small tube of silicon sealant
Tools
Scissors
Drill with 3/8th inch drill bit and a 1/4th inch drill bit. or a hot iron for wood burning to make holes
ball pen
T-pin or Ice Pick
Instructions
1) Drink all your juice it is good for you. Then wash and dry the bottles completely
2) Take and Mark your 2 Rubber chair leg guards (caps) where you will put the holes.
3) Pierce the marked spots with your T-pin or ice pick.
4) Drill or burn holes to size
5) Place your rubber caps on your bottles.
6) Put the 28" of 1/4th inch hose through one hole in each bottle, align them next to each other. Make sure this hose goes all the way down to the bottom of each bottle
7) Put the 6 foot pieces of rubber hose one per bottle. These will hook to your vacuum nipple where you vacuum hoses go on your carburetor intakes. Make sure you only put in about 2 inches of hose into each bottle. This will keep you from sucking fluid into your manifold.
8) Zip tie your two bottles together
9) Remove caps and fill each bottle 1/4th the way up with ATF and replace caps
10) Put some silicon sealant around each hose on your rubber caps let 24 hours.
Add one bottle for each additional Carburetor. Use T connection nipples to join bottles together.
You are ready to sync your carburetors.
Attach one line to each carburetor vacuum intake. Start engine and idle adjust center screw between carburetors. If to much to one side it will suck fluid into that sides bottle adjust the screw the other way to equalize the suction. When they are the same the fluid levels will be equal.
While this tool works for Motorcycles It may also work on dual Holly carburetors on your old 350 Chevy.
Sours: https://www.instructables.com/DIY-DualTriple-or-Quad-Carburetor-Sync-Tool/
DIY Carb Sync Tool motorcycle car
Carb sync tools are important because the highest-powered, highest-torque engines of today run on dual carburetors, and you need to get your engine in tip-top condition. Synchronizing your carburetors requires a precise tool that'll let you get the maximum output from your engine with minimal waste. Whether you're riding in a old-school bike or a modern-day Honda, a carb sync tool will give you the power you've always wanted from a multi-carb engine.
You'd need a carburetor synchronization tool that'll meet the needs of your custom engine, get you the torque that you want, and keep your engine in prime working condition all at the same time. That's a tall order for any tool. This is part of the reason why carb sync tools are frequently sold in complete kits, as opposed to standalone products. A kit will give you the tool along with all the gauges, bells, and whistles you need to really make sure you're doing the job right. So . . .
Here are our recommendations for the 4 best carb sync tools on the market:
AlphaMoto Vacuum Carb Synch Gauge Cb Kz Xs 550 650 750
The AlphaMoto vacuum carburetor synchronizer is the affordable, all-in-one solution to calibrating multiple carburetors on one engine. This kit comes with everything you need to perfectly synchronize your carburetors for maximum output, and it even comes in a convenient carrying case.
The vacuum gauge in this kit comes with four precision gauges connected to their own hoses. The kit also includes multiple nozzles so you can pick the one that works best with your engine. In fact, the AlphaMoto carb sync tool kit comes with specialized 5mm adapters for Hondas and Suzukis and 6mm adapters for Yamaha models.
Last, these gauges are specially designed with needle and seat valves — not knobs. That gives you a smoother reading whenever you need to synchronize your carburetors. With all of that in one kit, this is literally the one-stop kit whenever you need to synchronize your carburetors, whether you're doing it for the first time or the hundredth!
ABN Car Synch and Adjustment Tool Kit
The ABN carburetor synchronizer and adjustment tool kit gives you everything you need to make your engine's carburetors work together properly.
This ultra-versatile kit lets you synchronize up to four carburetors at a time, ensuring you'll have accurate readings on just about any engine you can possible imagine. The kit also comes with four individual rubber hoses for each gauge, and the 16 adapters let you hook these gauges up to almost every bike make and model available.
Each item in this kit comes securely placed in a heavy-duty, blow-molded carrying case that's not only convenient, but protective! By storing your gauges, hoses, and adapters in this case, they can potentially last decades longer than when they're left in a garage that experiences heat and humidity fluctuations every year.
If you want a carb sync tool kit that'll last you for the rest of your life, the ABN kit comes with everything you need to get the job done year after year. In other words, this is easily one of the best carb sync tools for the money.
AlphaMoto Universal Motorcycle Vacuum Carb Synch Gauge
The AlphaMoto universal motorcycle carb sync kit is the handiest solution to setting up multiple carburetors on Honda, Yamaha, Kawasaki, and Suzuki bikes. Like the other kits on this list, this one comes with four precision-read gauges that are set up to work with multiple carburetors at one time.
Each gauge comes with its own hose for quick, precise, and accurate readings, and the 5mm and 6mm adapters let you work with any of these four brands of motorcycle. Also, this kit isn't intended for the amateur. The gauges are made with a heavy metal base that are meant for bench top use. Plus, in the right hands, this kit can also work with ATVs, marine craft, motor scooters, snowmobiles, and more!
Naturally, this kit comes complete with a heavy-duty carrying case to keep your items safe when not in use. All of this comes together to make the AlphaMoto universal carb sync kit the ideal solution for any motorhead with a collection of high-horsepower bikes!
Suzuki GS1100G Carburettor Balance
Latest Rage Carburetor Sync
Looking for a simple, affordable, and fast way to sync your carburetors? This generic carburetor sync is the single-item solution!
This sync is made with Volkswagen and Triumph models in mind. It lets you set up a dual carburetor system on your engine, and it slides right onto carb throats between 35mm and 75mm. The tube even swivels so you can accurately measure carburetors at 90 degrees!
If you only need one tool to sync your bike carburetors, this is it!
Which is the Best Carb Sync Tool?
If you know what you're doing and you only need one tool for the job, the generic carburetor sync is the solution for you! It's simple, affordable, and robust enough to serve any motorhead well.
On the other hand, if you're looking for a high-quality, heavy-duty, all-inclusive kit, then the AlphaMoto carb sync kit (see full specs) is the way to go. This kit may cost a little more than a single-unit tool, but it's going to give you a lot more value for your dollar. Plus, it's capable of measuring up to four gauges at a time, while the standalone tool only works for two.
You could also choose the ABN kit (see full specs), which is intended for amateur users who love to check under the hood of their favorite classic ride. This kit is almost exclusively intended for use with cars and trucks though, so it might not work the best if you want to work on ATVs, motorcycles, and similar vehicles.
For those vehicles, you can go with the AlphaMoto motorcyle carb sync kit, which is designed to work with just about every ATV you can imagine! In fact, it even works with marine craft like jetskis and boats.
So which is the best carb sync tool for your needs? The sooner you figure it out, the sooner you can get your engine's carburetors synchronized and ready to go! Good luck!
How to sync carbs on a motorcycle
Beau Black

Founder of Mechanical Caveman, Beau is an unrepentant tool enthusiast and, sporting deadlift-callused hands and an incongruous beer belly, all-around macho guy. When he doesn't know re tools, he consults with his handyman and car-repairman buds to give you well-reasoned and cutting-edge info.

View all posts
Share the Post and Images
Sours: https://www.mechanicalcaveman.com/best-carb-sync-tool-review-cheap-motorcycle/
Tool carburetor balance
.
Motion Pro: How-To Video: 08-0411 Sync Pro Carb Tuner
.
You will also like:
.
202
203
204
205
206