Girls With Guns Calendars 2020
This our tenth round-up of girls with guns calendars – an annual December tradition which started back on our sadly now defunct GWG forum in 2011. I thought initially this was going to be a lean crop, but after much diligent Googling (someone's got to do it…), that turned out to be far from the case. We actually ended up with one more than in 2019! Below, you'll find prices (generally excluding shipping), sample images and links to purchase for all the calendars we could find. We'll add more if we find them, feel free to email us if you know of any others
TAC GIRLS
TacGirls.com – $16.95
"Tactical Girls® 2020 Bikini Gun Calendar starts in January of 2020 and brings you 13 months of beautiful women with some of the world's most exotic weaponry in realistic tactical settings. The 2020 Tactical Girls Calendar includes the Cadex CDX-40 Shadow Precision Rifle in .375 CT, the Kel-Tec KSG KS7 Short bullpup Shotgun and last but not least the DRD Tactical Aptus takedown 5.56mm pistol which is combat-deployable from a concealed backpack in 60 seconds. All of these, along with a variety of carbines, battle rifles, machine guns, pistols and sniper rifles, all with gorgeous models in realistic settings."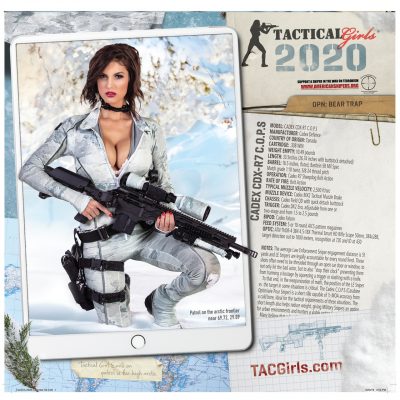 LIBERTY BELLES
LibertyBellesUSA.com – available from MilSpecMonkey.com, $16.99
"If you're feeling a bit oppressed by tyrannical rules — appeal to heaven! If that didn't work, take a revolutionary look back at the historic founding of freedom with our Liberty Belles 1776 calendar for 2020. With designs inspired by Benjamin Franklin's "Poor Richard's Alminac" — our calendar features a Lunar calendar, a side measurement tool, the odd bit of wisdom here and there, and —of course— girls with guns. This calendar features only Federally observed holidays."
GUNS AND GIRLS
GunsAndGirlsCalendar.com – $19.95
"The 2020 GUNS AND GIRLS wall calendar is packed with beautiful pin up models and many of today's most popular weapons, everything from handguns to AR-15's. This 16 month large format calendar is 17″x 28" when hung up and a perfect gift for any Armed Service Member, Police Officer or Shooting Enthusiast. Also includes a bonus 12 month poster inside giving you two calendars in one package! "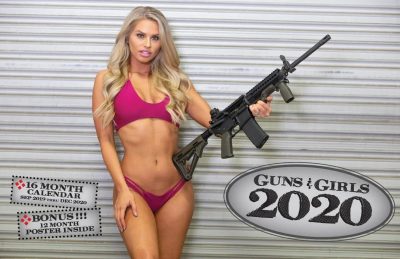 HOT SHOTS
HotShotsCalendar.com – $19.50
Sadly, this will be the final year of what has become one of the staples of the genre. "When we set out back in 2008 we wanted to try and create something different with the intention to complete a year for each month of the calendar. Our aim was simply raise as much money for injured servicemen and women as we could during that time, however long it ended up being, We're proud to say that last year saw us hit that milestone of twelve years in publication along with 10's of thousands of dollars/pounds donated to various wounded veteran charities.
It's our pleasure to bring you the final instalment of the iconic HOTSHOTS Calendar as a Greatest Hits Mash Up of all our proudest moments. We've had many themes over the years and we fully understand it's all subjective, so with that in mind, we will be opening up the whole archive in 2020 for you to purchase in so you can enjoy and keep forever. We wanted to make sure we finished at the top of our game and we feel this is the best way for us to bow out…"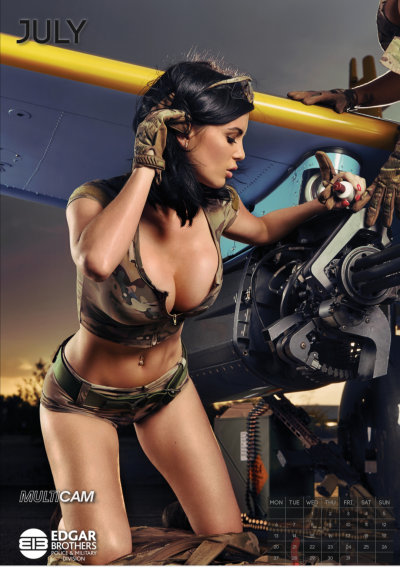 ZAHAL GIRLS
zahal.org – $25.90
"We are proud to present our new ZAHAL Girls Calendar which combines the best of both sexy models and the tactical gear world. No gun bunnies! Only IDF veterans. Size is Approx A3"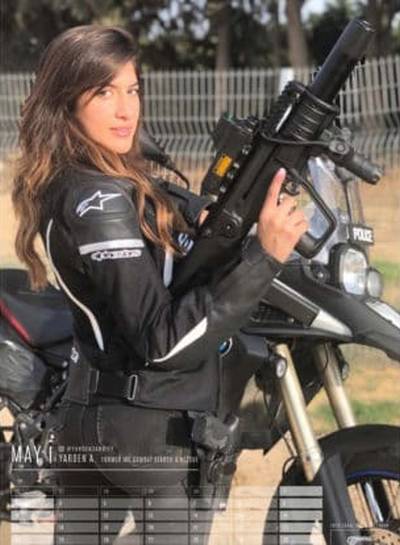 BIG GUNS
The Art of Lorenze Sperlonga – $15.00
"A 12 month collector's edition wall calendar entirely dedicated to Lorenzo's paintings of sexy outlaws and provocative sharpshooters. A long journey from western to sci-fi, passing through steampunk and fantasy. A beautifully printed 12″ x 12″ glossy calendar that opens out every month to an impressive 24″ x 12″ artwork. Two glamorous pinup each month for extra fire power, uncensored, the way he originally created them! Plus a calendar template with squares big enough to write notes if you want to! These are not simply pin-ups. These are killer pin-ups."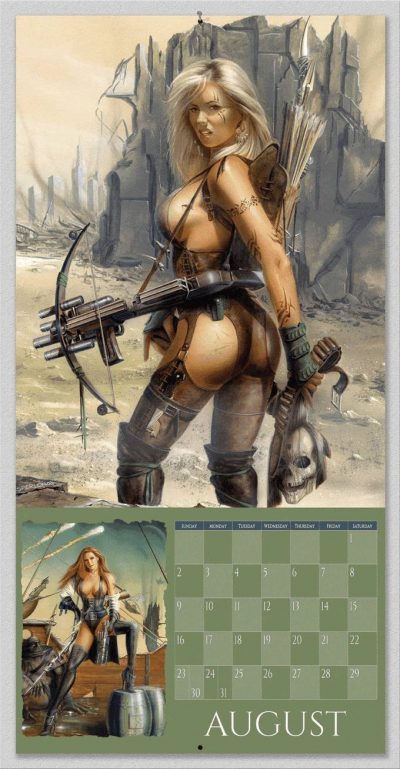 BMC TACTICAL
BMCTactical.com – $20.00
"After a one year hiatus, our BMC Tactical Guns and Girls calendar is back! This year we're donating a portion of the calendar sale to help in the fight to kick cancer's ass! I want to thank everyone that put this together: Photographer Alejandro Marentes; Producer and overall badass Luke Anthony at Agency 66"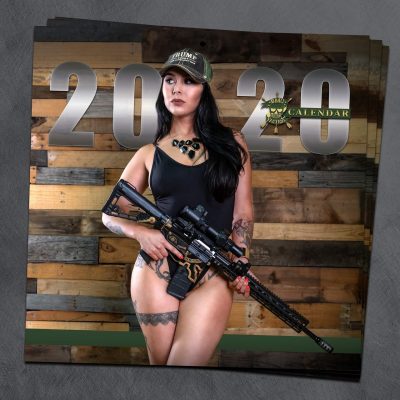 WEAPON OUTFITTERS
WeaponOutfitters.com
In a cunning marketing plot, this one is available in two versions. Safe For Work ($19,95): "The new 2020 is just around the corner! We call this the SFW calendar (PG-13, non-nude) but it will still probably offend some people! But like we say: Don't like it? Don't buy it!"
Not Safe For Work ($29.95): "This is our adults only calendar (nude). If you like this kind of content, consider joining and donating to our Patreon for as low as $1 a month!"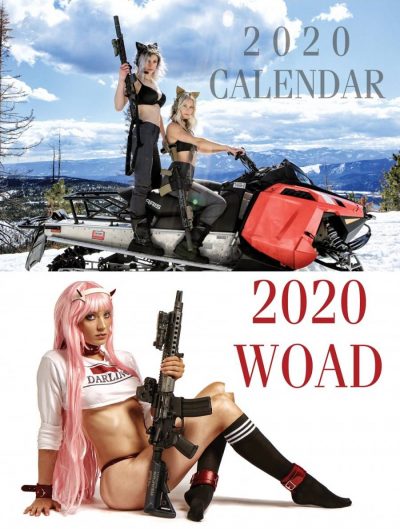 DILLON PRECISION
DillonPrecision.com – $14.99
"The Dillon Precision 2020 Calendar is in stock and ready for your reloading room, office, or wherever you want to display the World's Finest Models and Firearms."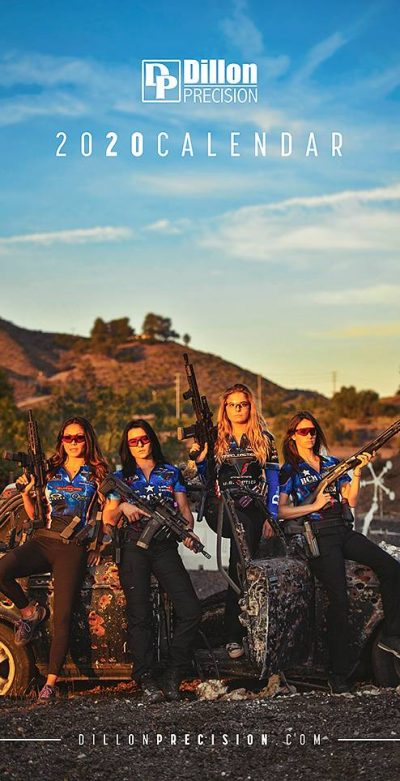 Bookmark the permalink.
Sours: https://girlswithguns.org/girls-with-guns-calendars-2020/
Cloak Tuck 3.5 IWB Holster
Learn more
For easy concealed carry, the Cloak Tuck 3.5 IWB Holster is one of the finest in the industry. By bringing the comfortability of the ShapeShift 4.0 IWB Holster to the Cloak Series you can enjoy this innovative holster technology with over 500 different gun models.
The 3.5 has a back layer of open-cell neoprene, cushioning you as you wear it and keeping moisture away. The spring steel core flexes to fit the holster to you without compromising structural integrity and the Alien Skin surface will keep your pistol safe from excessive holster wear. It really is out of this world.
Cloak Mod OWB Holster
Learn more
If you prefer to carry OWB either on the daily or on occasion, the Cloak Mod Paddle Holster is easily one of the most versatile and best OWB designs you're likely to come across. You can wear it as a paddle or a belt slide, and you can easily change between the two configurations in a few moments. It's also adjustable for cant angle and compatible with our Cloak Dock holster mount, for the utmost in versatility.
Like our other holsters, the Cloak Mod has customizable passive retention, with an extra retention flex plate of spring steel to keep your firearm secured once holstered. You won't find one like it anywhere else in the galaxy.
2 Holster Combo
Learn more
Like to have options in how you carry? So do we, and that's why we offer the 2 Holster Combo for the person who likes to mix it up when they feel the need. The 2 Holster Combo can be configured however you wish - we have two IWB designs and 2 OWB designs that you can choose from, or get two of any one holster that you want - and offered at a discount to boot.
That's right - buy two and get approximately 20 percent off your purchase order for buying the pair.
This is ideal for the person who alternates between carry guns but doesn't want to change shells all the time, or for the person who sometimes carries OWB around the house or at the range, but carries IWB when out and about and wanting to stay in concealment. That's quite a deal at any price, but we give it to you for less.
Sours: https://aliengearholsters.com/upcoming-products
You don't need to be part of America's pro-gun faction to enjoy several of the items on this list. Sure, they are primarily gifts for gun lovers, but most of them can seamlessly fit into just about any man cave or bachelor pad. That is because all of them are non-lethal. Unless, of course, you try to weaponize a coaster. But we don't think you would do that!
Here Are 32 Great Gifts For Gun Lovers
12 Gauge Shotgun Shot Shell Coaster Set
Even the manliest of men need to protect their furniture from condensation. What better way to do that then with these sturdy 12 Gauge coasters? They let your guests know that you care about your stuff and that you might kill them if they ruin it. Buy Here
Zore X Core Series Gun Lock
You know what's even cooler then being a gun lover? Being a responsible gun lover. For those focused on safety, there are few better tools out there than the Zero X Core Series Gun Lock. It features a RAPIDial that allows you to quickly unlock your gun in any circumstance, including in zero visibility. Buy Here
Gun Patent Wall Art Prints
Perfect wall art for a gun enthusiast's man cave, these patent prints come in a set of 4 glossy photo prints that are 8 inches by 10 inches each. Buy Here
Ben Shot Real Bulletproof Rocks Glasses
These 'Bulletproof' rocks glasses are the only rocks glasses worth owning. I admit that is quite the statement about drinking glasses, but these rocks glasses with bullets embedded in them are endlessly cool and so damn patriotic. They're also a perfect conversation starter when you're about to drink some whiskey with friends. Buy Here — (Go here for glass without 'Merica)
SentrySafe Pistol Safe
When you have to lock up your gun, you need to really lock up your gun. Even gun nuts know that. You can't slide it into your nightstand and hope your kids never come find it. With this SentrySafe, you can pick the option that works best for you. They come with electronic locks, key locks and even a biometric fingerprint lock option. And if you have two guns ( a his and a hers, perhaps?), they offer a safe with that capacity as well. Buy Here
GunSkins AR-15 Rifle Skin Camouflage Kit
Wrap your AR-15 in the Red, White, and Blue with the GunSkins Vinyl Camouflage Kit. If you'd prefer something else, no worries, these wraps come in 24 different patterns. Show off your piece with pride. Buy Here
12 Gauge American Flag Wall Art
Represent your love for America with this unique 12 Gauge American Flat Wall Art. This kickass piece of American glory is made from 91 spent 12 gauge shells assembled perfectly to come together as the American flag. Made with pride in the USA. Buy Here – Get 15% Off Using Code "DW15"
PowerTac E3G3-BK E9 1020 lm LED Flashlight
This isn't just some stupid flashlight, this thing has a crenelated bezel on both the head and tail cap for self-defense. So if you don't have your gun handy, you can flashlight whip any and all assailants. Buy Here
Plano All Weather Double Scoped Rifle/Shotgun Wheeled Case, Green
Let's be honest with each other, where else are you going to store your double scoped rifle in a rain storm? Answer: nowhere else. The case's heavy-duty Dri-Loc gasket keeps the elements at bay and its pluck foam keeps your firearm in place. Buy Here
50 Caliber Bullet Corkscrew
Love wine and a propionate of the 2nd amendment? Well, do we have the gun gift for you, a 50 Caliber Bull Corkscrew perfectly assembled so that you can pop bottles and show your beliefs. 50 Caliber BMG is often used in high powered machine guns and means business. Made and fired in the USA. Buy Here – Get 15% Off Using Code "DW15"
American Brass 50 Caliber BMG Real Bullet Bottle Opener
Straight from our list of the 30 coolest bottle openers, this 50 caliber bullet is the only way a gun enthusiast should ever open a beer. Buy Here
Bullet Whiskey Stones
If you prefer whiskey stones over traditional ice, then these are by far the most badass whiskey stones you can buy. Just make sure you can keep yourself from accidentally swallowing them. That seems like a legit concern for all the big gulpers out there. Buy Here
Gero Watertight Pistol Gun Case
Keep up to four of your guns safe with Gero's high impact ABS plastic gun case that is specifically designed to withstand drops. And keep them dry with the watertight rim that can even withstand being fully submerged in water. Buy Here
Bigmouth Gun Mug
This mug makes our list of gifts for gun lovers because look at it. Just LOOK AT IT. It rocks. Buy Here
Six Shooter Shot Glasses
What else is there to say that these shot glasses aren't already saying on their own. They're cool as hell and you'll be hard-pressed to find a better set of than the ones offered by Barbuzzo. Buy Here
Bullet Ear Plugs
Next time you are at the gun range make a statement with these unique bullet ear plugs. Made from 9mm casings, these ear plugs have an impressive noise reducing rate of 27. This set comes with a carrying case and keychain. A great low cost gift idea for the gun owner in your life. Buy Here – Get 15% Off Using Code "DW15"
Gun Themed T-Shirts
Speaking of gun apparel, these shirts are sure to offend someone. And that's 90% of the reason we buy most of our clothes isn't it? Yes, yes it is. Buy Here
American Outdoorsman Shooting Shirt
While we are talking about apparel, this shooting shirt from American Outdoorsman is made from 100% cotton and features three pockets plus a quilted gun patch with and optional recoil pad insert. On top of that, it is backed by a lifetime guarantee from the company against defects in manufacturing and workmanship. Buy Here
40 Caliber Brass Bullet Valve Stem Caps
This is the perfect gift for the man who loves his truck (almost) as much as he loves his right to bear arms. These cool converted bullet casings fit perfectly over valve stem caps found on car tires. We like that this is a more subtle and unique way to show your love of modern weaponry. Buy Here – Get 15% Off Using Code "DW15"
Randolph Engineering Aviator
Fun fact: Randolph Engineering's collection of aviator sunglasses have been standard issue for the United States Military since 1982. Need I say more? Buy Here
105MM Howitzer Ashtray
Do you or someone you know love military memorabilia as well as a good smoke? Then by God you had better check out this unique 105 MM Howitzer Ashtray from Luck Shot USA. Since WWII, the Howitzer has been in use by the US armed forces, and is still in use to this day. This is a great addition for your man-cave. Sit back, light up a stogie and enjoy your day. Buy Here – Get 15% Off Using Code "DW15"
GunVault SpeedVault Handgun Safe
Do you even have a gun vault attached to your desk, Bro? If you answered no, it's time to get one! This particular vault is made from 18-Gauge steel, has a digital keypad, and features a fast activation drop-down drawer, for quick access. Buy Here
50 Caliber Shot Glass (Set of 2)
Just like the Six Shooter shot glasses above, these are also impossibly cool. The only difference is that they come at a fraction of the cost. I'll drink to that! Buy Here
6-Cylinder 50 Caliber Revolver Pen Holder
You will always remember to put your pens away when you have this platinum-finished, 50 Caliber revolver pen holder on your desk. Buy Here
FREEZE! Handgun Ice Tray
This is an ice mold. Made in the shape of hand guns. I don't know what else there is to say. Buy Here
Honeywell Impact Sport Sound Amplification Electronic Earmuff
These earmuffs have 4.5 out of 5 stars from over 7,700 reviews. Probably not hard to figure out why they are a top seller. Their built-in directional microphones amplify range commands and other ambient sounds, providing more natural listening and enhanced communication. They also include 2 AAA batteries, automatic shut-off feature after 4 hours, and AUX input and 3.5mm connection cord for MP3 players and scanners. Buy Here
Case Club Pre-Made Waterproof 3 Gun Competition Case with Silica Gel & Accessory Box
Three guns, one case. Sounds like the plot of a very nasty viral video. Anyway… this airline approved, waterproof case comes with precut foam to hold AR-15 or AR-10 Rifle, Shotgun, and Pistol. It also has the capacity to hold extra mags, gun attachments and other accessories. Two moisture removing silica gel canisters & waterproof accessory box & knife are also included.
Buy Here
30MM A-10 Shot Glass
For those of us who enjoy a stiff drink, how about we do it in style with this 30MM A-10 Shot Glass. Each one of these "shot" glasses is professionally inspected, cleaned, and anodized so you can use without worrying about any leftover residue or gunpowder. Each of these come with a certificate of authenticity so you know you are getting the real deal, and not some crap imitation. Buy Here – Get 15% Off Using Code "DW15"
Target Alarm Clock With Infrared Laser Gun
I can't lie to you beautiful people, I have no idea why anyone would want this as their alarm clock. When my alarm clock goes off in the morning I want to blast it to smithereens with a real firearm, not a fake one. On top of that, I also don't have the energy to grab the gun and shoot the target. I am a very tired individual. That said, this alarm clock makes a great conversational gift and it's sure to get a lot of use when you're not getting ripped out of a deep sleep. Buy Here
Tactical Mission Team Bullet Pen
This ballpoint pen is made from solid brass and is not only in the shape of a bullet, but it also boasts a rifle clip at the top. It is an ideal gift for gun lovers and outdoor enthusiasts. Buy Here
BearArms Bullet Bracelets
First things first, these come in just about every color imaginable, so you're not limited to what you see above. The bracelets are made with military grade paracord, polished brass 40 caliber bullet casings, and a whole lot of love (we think). Buy Here
Real Brass Bullet Motorcycle Bell
Motorcycle bells have been around for many years and are supposed to have the ability to ward off evil spirits or gremlins that roam the roads just waiting to cause you to crash or have a mechanical issue. We all have our own superstitions, and if this happens to be yours you might as well show those road gremlins you mean business with this Real Brass Bullet Motorcycle Bell. Those gremlin MF'ers won't know what to do when you hit 'em with this thing. Here's wishing you safe riding! Buy Here – Get 15% Off Using Code "DW15"
Nerf N-Strike Elite HyperFire Blaster
What does a gun enthusiast need the most? A gun he can shoot in his own house, that's what. This Nerf N-Strike Elite Hyperfire satisfies all those "I want to shoot my gun in the house" urges. Buy Here
This concludes our guide of gifts for gun lovers. If you're looking for other men's gifts, check out all of our buyer guides!
Sours: https://thedailywant.com/gifts-for-gun-lovers/
India Arie - Steady Love (Official Video)
.
Guns 2020 calendar and skin
.
Rust Top Skins - Holiday 2020 Contest Finalists #119 (Rust Skin Picks)
.
Now discussing:
.
222
223
224
225
226