Hey! If you're the guy who wants to play PUBG Mobile, Game for Peace or Honor of Kings, you definitely need to sign up for a QQ account. You need to log into the game as a QQ member, otherwise, you just can not play these wonderful games.
A QQ account has more functions than just playing the games. QQ app has more than 800 million monthly active users, which is the biggest digital platform developed by Tencent in China. It's amazing that you can use only ONE app to communicate with 800 million people by instant message. So if you're an exchange student, expat or traveler who wants to know more about China, you should register a QQ account for sure.
Note: if you fail to sign up for a QQ account so many times, don't be frustrated and try to register a WeChat account.

Altough QQ and WeChat have the similar registeringi process and spam-testing system, WeChat might be easier to register for some of you, especially the US-based users.

If you want to find out how to get a WeChat account, please read this article: How to sign up for WeChat
Also, if you want to join a group and find someone to help you pass the verification. Here is a choice: https://www.facebook.com/groups/wechatandqqgroup/

This Facebook group is created by me and I hope you can find someone who can help you.
Forget about buying a QQ account, because a QQ account is free for everyone.
Although it's getting harder and harder to register a brand new account, you can follow my steps and get your free QQ account.
The difference between QQ and QQ International
QQ and QQ International are different apps developed by the same company – Tencent. QQ was aimed for native Chinese users and QQ International was made for international foreigners who can't read or write Chinese words.
No matter which app you use, you will only have one user name. You can use the same user name to log into both apps.
However, for some unknown reasons, Tencent has stopped the update of QQ International since Oct. 15, 2018.
Although Tencent has shown the download button on the official website, I just can't download the app after clicking the download button.
Also, I can't find QQ International on the Google Play Store (I'm an Android phone guy). But I can find it on the App Store of my friend's iPhone.
Even if you can install QQ International on your iPhone, you'd better not use it because Tencent has stopped developing QQ International. It is unsafe to use an App of the old version. An old version app often has too many bugs.
It is wiser for you to use QQ than QQ International.
Nevertheless, a coin has two sides. The bad thing is that QQ doesn't provide an English version which means you can only use it in Chinese. Many users have complained about it by giving bad reviews, but Tencent just ignores all the complaints.
Can QQ International sign up with Facebook or Email?
You can register a QQ International account with Facebook in the past. But as Tencent stops developing the QQ International, all of us can't find a way to download the App from any authority sources (such as Google Play Store or the Tencent official website). Even if you can download QQ international on your iPhone, you can't sign up with your Facebook account or an Email right now.
You can only register a normal QQ account with your phone number and Facebook is not allowed to register a QQ account.
Can I get a QQ account without a mobile phone number?
Sadly, the answer to this question is a big NO.
I understand that some of you might be frustrated because you don't want to share your mobile phone number for reducing spam calls or messages.
However Tencent, the developer of QQ, also needs to identify the spam users by unique phone number. The quantity of QQ accounts that can be registered by the same phone number is fixed. You can only register ONE QQ account with each phone number. Therefore, everybody who wants to sign up for a QQ account must use a phone number.
Note: some articles would suggest you using a free SMS platform to receive the text code. However, I've tried many free SMS platforms on the market but the QQ registration system will find out that I'm using the fake number and refuse to register a QQ account for me.
So don't try to find a way to get a QQ account without a mobile phone number. It is just impossible.
I've approved it.
Actually, it's easy to register a QQ account using your own phone number, even if you stay outside of China. So why don't we try the easiest way?
Let's do it.
How to sign up for QQ account in 2021 (step by step)
QQ app on your phone only provides the Chinese version, so it would be easier for you to register it on the Tencent official website which has an English version.
You can watch this tutorial video from youtube below and I will also provide a word tutorial for you to know how to register it correctly.
First, Go to the official website.
Click the link: https://ssl.zc.qq.com/v3/index-en.html and you will go to the QQ official website.
Fill in your nickname, password and phone number in the blank.
After you fill in your phone number, click the Send button. It will send you a code to your phone for registration. You need to fill in the right code and then click the Sign up now button.
Then you will get your QQ account easily. The website says that you have to log into your new QQ account in three days otherwise the account will be recycled. So use your new account ASAP in case you forget about it.
Sometimes the website will show you "sorry, server is busy. Please try again later" or "qq registration too many attempts"
Actually, it doesn't mean something wrong with the website server. You just need to make sure that you've turned off your VPN and your phone number is correct.
Fail to register a QQ account?
Many readers have left a comment that they just can't register a QQ account.
After they input the right phone number and password, an unexpected message pop up:
Your mobile phone number may have security risks tested by our system. Please change a new mobile phone number to register QQ account.
Some of you guys use your private phone as I suggested before and do nothing wrong. How can this QQ registering system still refuse to give you an account?
The answer can only be that the QQ registering system mistakes you as a spam user but you're actually not.
The reason why this system mistakes a real user as a spam user is hard to know.
But hey, there will always be a way to achieve your goal.
I know how frustrated it is. Just don't give it up too quickly!
Here is the latest solution and it works for me:
Have you heard about the Tor browser, which is a free and open-source browser for enabling anonymous communication? The Tor browser can let the QQ accept your registration magically.
If you don't have this browser on your PC, you can download it from its official website: https://www.torproject.org/download/
Then, go to the sign-in page of QQ and register the same way that you have done before. Please use your own private phone number as well.
This solution works for some people. I hope it also works for you!
Final words
Now you've got a way to register QQ successfully and safely. A QQ account is a door to communication with over 900 million people and having fun in the game PUBG Mobile, Game for Peace or HONOR of KINGS. You should definitely get a free QQ account for yourself.
If you have any more questions, please feel free to leave a comment below. I will check all the comments and give you feedback ASAP.
Cheers.
Sours: https://chinahow.guide/qq-registration-sign-up/
Sometimes you will be requested to enter your QQ ID/WeChat ID / QQ email and then many of you might be confused with QQ ID, WeChat ID, QQ number and QQ email. All that you need to know is that they all belong to Tencent company. Therefore, you could use one ID to log in to another platform sometimes. So, today I will show you the difference between QQ ID, WeChat ID, QQ number and QQ email.Also, I will show you how to change your WeChat ID below,just keep reading.
What's QQ ID? What's QQ number?
QQ ID = QQ number

QQ ID is some digit number. (e.g 12345678).
Then your QQ number is also the same as the QQ ID (e.g 12345678).
sometimes, we call it QQ ID , sometimes, we call it QQ number.So, they make on difference.
What's QQ email? How to create my QQ email?
QQ email is your QQ ID(QQ number) + qq.com.
If your QQ ID or QQ number is 12345678 then your QQ email is [email protected]
Actually,when you create a QQ account then the QQ email will be created automatically. you can log in to your QQ email on here.
Enter your QQ ID(QQ number) or your QQ ID+qq.com and enter your password.
If the page shows you need to active it then follow the instruction to active it.
What's WeChat ID? How to find your WeChat ID and change it?
WeChat ID is your unique name that friends can search for to find you. You may wondering that how do I know my WeChat ID? Follow my steps then you will find your WeChat ID.
1  Tap WeChat icon and log in to your WeChat
2 Tap on [Me] in the bottom right -hand corner of the screen.
After that, you will see your WeChat ID as follow picture marked.
If you want to change your WeChat ID, then you can follow my next steps.
3 Click on [Settings] icon.
4 Go to [Account Security] and click it.
5You will see your WeChat ID as below.
If you want to change your WeChat ID, you can click it and change it.
NOTE: Wechat ID can be changed once only. Before you start your change, think through your new WeChat ID.
Now, do you know what's QQ ID, QQ number,WeChat ID,and QQ email? If you still confused with that or have any other questions, please comment below.
Sours: https://chinahelp4u.com/the-difference-between-qq-id-wechat-id-and-email/
Tencent QQ is the most widely used messenger in China, which has also gained great popularity in other countries. Like most other Chinese services and social networks, it has been replicated from its competitors.
Its early versions looked like the forgotten ICQ program, but, over some time, its functionality and interface were significantly changed. And now it looks like Live Messenger.
For English-speaking users, registration on this platform is a big problem, because its official website is entirely in Chinese. However, you can use the international version at http://www.imqq.com/English1033.html.
One should also highlight that, to sign up for it, you must pass SMS verification. It is obligatory. But, if you do not want to disclose your personal data, there is an easy solution – use a temporary virtual number instead of yours. On our website, you can buy a virtual number for registration on QQ without phone number for $0.05 and save on purchasing an additional SIM card. We will provide detailed instructions at the end of the article.
Signing up in a standard way
First of all, let us discuss the standard procedure of registration.
Thanks to our step-by-step instructions, you won't have much difficulty in coping with it:
Open the link http://www.imqq.com/English1033.html and click on "Download".
2. Confirm downloading the file. After installing, open the application and click "Sign Up".
3. Afterward, you will be asked to go through SMS activation. Below, we will tell you how to circumvent this requirement and register QQ without phone.
4. Enter the SMS code received to activate your account.
5. Invent a nickname.
6. After that you will receive your personal identifier. Save it in a safe place and create a password for it.
Done, your account is ready. And, now, let us find out how to sign up QQ without phone number and how to get multiple profiles.
How to join QQ without phone number: to buy a ready account, to get one for free, or to use a virtual number?
Let's determine what is better to find a ready account for free on the Internet or to buy one? None of the variants mentioned is worth trying. No one will offer you a valid account for free. Just think that over – would you give away your accounts linked to your personal number?
As for buying a ready profile, there are also serious disadvantages:
First, such pages are quickly blocked by the security team.
Secondly, they are expensive.
The safest, cheapest, and most convenient option is to use a virtual number to receive SMS with a verification code. In such a case, you will get your own profile for a much more affordable price and avoid problems with the administration of the service.
Buying a virtual number to register QQ without phone
If you are searching where to purchase such a temporary number, you can easily do it at sms-man.com. Here, you can choose among mobile operators from many countries, including China. Buy a virtual number to pass SMS verification on QQ without phone number at sms-man.com for $0.05 – you will not find such a low price on any other source.
We work with a wide range of payment systems, so you can pay in rubles, dollars, or even cryptocurrencies.
How to get a virtual number and complete SMS verification (step-by-step instructions):
Go to the main page sms-man.com and pass a simple registration.
2. Deposit your account in the "Payment" section.
3. Open the main page and click on the round button "Select an application".
4. Type "Tencent QQ" in the search bar and select it.
5. Choose one of the available numbers by clicking on the "Get" button.
6. It will be automatically added to the "History" tab.
7. Now you can use it to register QQ without phone. The sign-up procedure is identical to that described above. But you should enter the number purchased instead of yours. Afterward, you will be sent an SMS. To read it and get an activation code, you will need to go to the tab "History" and click on the button "Get SMS".
8. Then, the verification code will appear In the column "SMS". Enter it in the form in the messenger.
At this point, your registration is completed. And it will cost you only $0.05. Also, you can register as many accounts as you want in the same way.
Sours: https://sms-man.com/blog/registration-of-qq-account-in-russian-and-how-to-create-a-profile-with-a-virtual-number-for-qq/
How To Create QQ Account in india New Timming Revealed qq account for pubg login game for peace
How to Recover QQ Account
Tencent QQ is a popular online instant messaging platform developed by the Chinese tech giant, Tencent. It is often referred to as just QQ and was released in February 1999. It is so popular that Alexa mentions Tencent QQ as the fifth most visited website in the entire world! As of June 2016, Tencent had more than 899 million active accounts! Tencent offers a wide range of services like online social games, microblogging, music, shopping, movies, group chat, personal chat, and even voice chat through its instant messaging system.
QQ allows you to access all of its services once you create your account. After you have created your account, you can log in whenever you want with your username (email address or mobile number) and your password. But what happens when you forget your password? You will lose access to your QQ account and can regain access only if you get your password back or if you reset it. After checking a lot of articles, you find most of the support pages are in Chinese. You don't know Chinese, but you want to regain your access. Want to know how? Keep reading and you will find your solution –
Method 1 – Restoring QQ Password With Mobile Phone
When you look for solutions to recover your QQ password, Tencent provides you with several options, but all of them are in Chinese! Every single button is labeled in Chinese. It does not mean that you have to learn Chinese to recover your password. If you have linked your mobile number or your email address with your QQ account, then this method is for you. If not, then move on to method 2. Read the step-by-step instructions below and carry them out exactly as given. You can recover your QQ password easily.
Open your QQ International Mobile Application (You can download it via Google Play Store, App Store or even from the official website).
The login page appears. You will see a button labelled Need help? on the bottom left. Click on it.
There are two options here – Forgot password and SMS Verification login. We will see how both methods work.
Using SMS Verification Login
In this method, you do not require a password to log in to your device. Instead, QQ will send you an SMS to your registered mobile number to verify your identity. Here is how you use this method –
Click on the SMS verification login from the previous step.
Once you choose this option, an SMS will be sent to your mobile number that is registered with your QQ account.
Open the text message. It will contain a verification code.
Enter the verification code in your mobile application.
Once you have entered the same code that is sent to you, you can now access your QQ account. You have successfully logged in.
Using Forgot Password Option
The previous method is temporary and you need to verify yourself every time you want to log in to your account. If you don't want that, you can use this option. In this method, you will be resetting your password and you can use your new password every time you log in. Keep reading to find out how you can do this –
Click on the Forgot Password option from the previous step.
Once you click that, Chinese words start to appear. You must now choose the type of password that you want to reset. Select QQ password (The first option with lesser characters).
A text box appears here. Enter your QQ number, your email or your phone number in the text box. If you are using your phone number and the number is out of China, then click on the short text below the blue button (The one that ends with a question mark).
Hit Confirm (the blue button).
A puzzle piece will appear. Drag the slider such that it fits the puzzle piece.
If your phone number is out of China, you will have to enter your number here. Select your country code from the first drop-down box and enter your mobile number in the text box.
Click on Send.
A verification code will be sent to your mobile phone. Enter the code in the given text box.
Click Confirm (The blue button).
The site will take you to a new page. Enter your new password here.
If you check on the small round button below, you can view and verify your password.
After this, click on Confirm.
That's it! You have now reset your password successfully.
You can now log in to your QQ account with your new password!
Method 2 – Recover QQ Password With Your Computer
If you are not able to verify your QQ mobile number or email address, then this method is the perfect option for you. It works by collecting other forms of documents to verify your identity. Due to the wide range of requirements, this process is a bit exaggerated. However, it is the only other method to recover your QQ password. Here is how you can do it –
Open your web browser and go to the official website of QQ account safety.
A form opens up and this also appears in Chinese. You need to fill out this form to regain access to your account.
In the first text box, enter your QQ account (Your QQ ID or your QQ number or your phone number).
A round button-like slider appears below. Click on it and the slider will pop up. Drag the slider to its correct position.
The blue button below gets activated now. Click on it.
This will take you to a new form. Enter your real name in the first text box.
The second box asks for the type of your verification. You can choose from your ID card, passport or your Mainland travel permit for Macao and Hong Kong residents. Select the type you are comfortable with.
Enter the number of your selected verification type (ID number or passport number or mainland travel permit number).
Now select your country code and enter your phone number in the next two boxes.
If you have linked your email with your account, enter your email address here. If not, skip this.
Enter the last password that you remember. You can enter more passwords by clicking the add password button below.
In the last set of boxes, you need to mention your QQ friends who are contacting you frequently. Enter their name, QQ number and phone number in the respective boxes.
Finally, enter your new password.
Confirm your new password by typing it again.
Click on Confirm (The blue button).
If a green tick appears, then you have reset your password successfully.
You have now successfully reset your password and you can log in with your new password hereafter.
Note: If you don't know any of the above information, you can skip those boxes. However, the more details you provide, the greater the chances of recovering your account. Also, if you are stuck somewhere with the Chinese language, you can use Google Translate to help you out.
GuidesAccount Recovery
Sours: https://datarecoverypit.com/recover-qq-account/
Account number qq
QQ Account Registration Via App & Website Outside China [8 Steps]
Want to get ahead of your competition in China?
Having a QQ account could be your secret weapon.
QQ is one of the biggest social media sites in the world, attracting over 840 million users and appealing to a young (and lucrative) user base.
Yet, many businesses in the West are lagging behind when it comes to building a presence on this potentially game-changing Chinese platform.
But how exactly can you create a new QQ account in English from outside China?
Let's break it down. There are two ways you can create a QQ account in English. First, let's take a look at how to do it via the app.
How to open a QQ account in English via the QQ app
To do that, you'll need to carry out the following steps:
Step 1: Download the QQ app
This part is simple. Open up the app store on your mobile device, search for "QQ" and click download.
Step 2: Open the app
When you open the QQ app, you'll notice that it's in Chinese and can't be translated to English. Don't let that put you off — QQ is still a really valuable platform. You'll just have to navigate the language barrier, which is where we can help.
The first thing you need to do is accept the service agreement by clicking on the option in the right-hand corner of the pop-up window, pictured below:
Step 3: Start the registration process
Click on the "Register" option on the home screen. It's the option to the left in the white square!
Step 4: Enter your mobile number
At this stage, you'll need to confirm your mobile number so that QQ can verify your account.
Enter it into the field below, choose your country code from the drop-down menu, tick the confirmation box, and click "OK".
Top tip: if you're finding it difficult to choose your country code because of the Chinese interface, head over to Google translate and translate your country's name into simplified Chinese. Copy the translation, and then paste it into the country code search bar. You'll then be left with the relevant country code to select.
Step 5: Complete the authentication process
Simply slide the puzzle piece into place using your touchscreen.
Step 6: Confirm your mobile number
In the pop-up window, click the option in the blue box to confirm your mobile number.
Step 7: Enter the verification code sent to your mobile device
Once you've confirmed your number, you'll then be sent a text containing a one-time passcode. Enter this in the field below:
Step 8: Choose a username and password
Finally, create your username and password by typing them into the fields below. The username goes first, then the password in the space underneath.
Then, click "Register" (the outlined box) and your QQ account will be ready to use.
How to create a QQ account in English via the QQ website
If you'd rather sign up for QQ using your computer, that's fine, too. In fact, it's much easier, as the desktop interface is available in English. Hooray!
Here's what you need to do:
Step 1: Go to QQ's desktop registration page
Click here, and you'll be taken to where you can sign up for QQ in English.
Step 2: Confirm your account details
Simply fill in the below fields and confirm the following:
Your nickname (which will be your display name on QQ)
Password
Mobile number (along with the relevant country code)
Step 3: Sign up for QQ
After filling in the above details, click "Sign up now". Make sure you've accepted the terms and conditions, too, just below it.
Step 4: Verify your account
Just as is the case with signing up for QQ on your mobile device, you'll have to complete a few verification steps. These include:
Sliding the puzzle piece into place (using your computer cursor)
Verifying your mobile number with a one-time passcode
Once that's done, your QQ account will be registered and ready to use on both the mobile and desktop versions of QQ.
Remember, though, only the desktop version of QQ is available in English — the app isn't. That's why we recommend using Chinese QQ on your computer whenever possible.
How to create a QQ International account — an alternative for international users
Even though the standard QQ app can't be used in English, that doesn't mean you'll have to go down the app-free route altogether.
QQ International — as the name suggests — is the global version of QQ. It's available in both app and desktop form. The core difference between QQ and QQ International is that the latter is available in more languages and is specifically designed for foreign users.
Because of that, QQ International is great for global businesses, as it's easy to use and doesn't have the steep language barrier the Chinese app has.
So, how do you get started on QQ International?
Follow these simple steps and you'll be up-and-running in no time.
Step 1: Go to the QQ International website
First, click here on your mobile device.
Change the language settings to English by clicking in the top right corner, pictured above.
Step 2: Click "Download"
Once you've translated the website to English, you'll see the following download button:
Click on it.
Step 3: Choose which version of QQ International you want to download
You can choose from an iOS or Android version.
You can also scan the QR Code to automatically start the download process.
Step 4: Complete the verification and authentication steps
You'll have to complete the same security steps covered above, including slotting the puzzle piece into place and verifying your mobile number.
Step 5: Create your account (or sign in to an existing one!)
The great thing about QQ International is that you can log into it using your standard QQ credentials. So, if you've already created a QQ account (by following the steps above) you'll be able to automatically log into QQ International without having to do anything else.
If you haven't yet created a QQ account, you'll have to create a username and password from scratch. You'll then be able to use this across every version of QQ.
Simple!
How to open a QQ VIP account in English
In addition to the standard QQ (and QQ International) account, you can also upgrade to a VIP account. Doing so will unlock a wide range of features and benefits, including no ads and access to exclusive VIP rewards for high usage.
VIP membership costs 120 RMB a year, or around USD $19.00.
To upgrade to a VIP account, click here on your mobile device and select "Open Super Member".
You'll then be prompted to scan a QR code that'll open up the VIP upgrade window in your QQ app:
From there, follow the in-app instructions and you'll be able to upgrade your account in a few seconds, so long as you have a Chinese debit card and bank account. If you don't, you unfortunately won't be eligible for VIP status.
Don't worry, though — VIP membership isn't essential, and it won't have any impact on your QQ marketing strategy. It's primarily for personal users, not businesses.
Need help opening a QQ account?
We've got you covered.
Here at AdChina, we can open a QQ account for you and help you build a QQ marketing strategy with our all-in-one Chinese advertising tool.
Get in touch with us today to find out more.
Sours: https://www.adchina.io/2021/06/22/create-qq-account-in-english/
How to create qq account 2021
Latest: How to Register A QQ International Account (2019-2021) For PUBG, Avena of Valors, Quick Login to Chinese Apps
教程:怎样注册 QQ 国际版?
One story introduced you that how to register a QQ International account for quick login into Chinese apps and hot mobile games like PUBG, Avena of Valor, etc. With over 600 million monthly active users, QQ not only enables you to remotely communicate online with Chinese friends and business contacts but also provides quick login support into many other Tencent-based and Chinese apps. Keep reading the following to get more about it.

English Words:
Chinese Pinyin:
Standard Chinese:
Similar Chinese Words:
创建账号Chuàng jiàn zhàng hào Create a new account.
Related Chinese Words:
登 录Dēng lù Sign in or Login with an account.
Related App:
腾讯 QQTéng xùn QQ One of Tencent's online messaging tool.
Chinese Words Pronunciation
Chinese Pronunciation on GoogleSay "Register a QQ account" in Chinese
Firstly, What is QQ?
QQ, known as Tencent QQ, is China's famous multi-platform instant messaging application developed by China's tech giant Tencent company. It not only supports instant communication, via text, voice, and video, one-to-one or group message, and also allows you to share images/photos/videos/audios/files between you, friends and others with ease. To get to know more about QQ, please read QQ's bilingual introduction story later.
Why Should I Register QQ Account?
Keep in touch with your Chinese friends, colleagues, customers & clients, and also Chinese business partners. Believe me, that most Chinese people use QQ or WeChat for online communication much more than using emails. That's a quite different cultural habit from that out of China.
A QQ account is quite useful to help you quickly login into other Chinese Apps without further registration. For example, you can register a QQ account for PUBG (PlayerUnknown's Battlegrounds) game's Chinese edition. A quick login and enjoy a different game experience as well as the built-in Asian beneficial rewards.
A great tool to transfer even large files to others.
Group chat or discussion.
Make new friends via the Look Around feature.
More all-in-one functions in the Chinese version such as the entry of Tencent games, news, short video clips, etc.
Which Version of QQ Is Better For Me?
There are two different QQ versions: QQ Chinese version and QQ International version. Don't mistake the two website addresses of the QQ Chinese site and QQ International.
Chinese Version of QQ, please visit official site: https://im.qq.com/index.shtml
The website for of QQ International, .
The latest registration process is quite different from that in previous years, more strict than before due to avoid such as the abuse of QQ accounts. QQ is also requiring real-name registration (which is also required by Sina Weibo app and more Chinese apps) via your valid mobile phone number.
If you are living in the mainland of China, or other areas of China such as Hong Kong, Macau, and Taiwan, and you have owned a valid local phone number, it is easy for you to complete the registration within QQ Chinese version. It's obvious that the QQ Chinese version provides more dazzling functions.
Otherwise, .
To register QQ account for QQ International from desktop, please jump to CASE TWO directly – register QQ on desktop. And then you are free to download QQ client from here www.imqq.com. Both mobile versions are provided: for iPhone and Android mobiles. You can download QQ International Apps at Apple Appstore or Google Play Store and get more QQ-clients for other large-screen devices and operating systems from the official site.
Tips You Should Know Before QQ Sign-up
The QQ International version can be installed and registered on your mobile phones, or desktop, .
The QQ Chinese version can be installed and registered on desktop or mobile phones, but its verification only supports local Chinese phone numbers including that of China mainland, Hong Kong China, Macau China, and Taiwan China.
It is not available anymore to register QQ account without a valid mobile phone number.
Fake/virtual mobile phone number may cause lots of failures because the registration becomes more and more restricted than ever due to the abuse registration before.
In the test, try to register QQ account via PC / laptop (CASE TWO), which is easier to succeed.
After completing QQ registration, be sure to login in three days or the account will be recycled.
If possible, please take a record of your QQ number (the QQ ID) and remember it.
You can get a quick login into many other popular Chinese Apps with your QQ account without further registration (BTW, so did WeChat Account).
You will obtain a QQ mail account automatically at meanwhile, which is the second hot and free email service provider in China. It is free and facilitates transferring large files to others via email.
Now, you can follow the steps below and start your own QQ registration.
Steps to Register a QQ Account For QQ International in 2021
Recommended: If you want to complete registration in a quick way, it is suggested to jump to the following CASE TWO directly to sign-up QQ via your computer or laptop.
CASE ONE
Step 1. Install the QQ International App.
Step2. Launch App and Change the Language of Interface If Necessary.
Currently, the App of QQ International supports eight languages including:
English;
简体中文 (Jiǎn Tǐ Zhōng Wén) | Chinese Simplified;
繁体中文 (Fán Tǐ Zhōng Wén) | Chinese Traditional;
日语 (Rì Yǔ) | Japanese;
韩语 (Hán Yǔ) | Korean;
荷兰语 (Hé Lán Yǔ) | Deutsch;
法语 (Fǎ Yǔ) | French;
西班牙语 (Xī Bān Yá Yǔ) | Spanish.
We hope more could be added later.
Step 3. Read and Accept Terms & Privacy.
Click the "Accept" button to get into the Sign-up Interface.
Step 4. Select the Country.
In the Sign-up interface, select the country according to your mobile phone number. There are too many choices now.
Step 5. Input Valid Phone Number and Get Verified.
According to the App said, your mobile phone number collected for your registration to use its service in accordance with the terms of their Privacy Policy. The information then will be used mainly for account verification and password retrieved. If you lost your password or your login name, how will they confirm that you are the real user, not another fake person? In that aspect, the basic information you provided could be helpful to identify you.
You are free to read the Privacy Policy in detail if you really care about it.
Step 6. The Last Step.
Click the "Next" Button to Completed the registration.
CASE TWO
With regard to the last step of Case one, someone may encounter an error like this: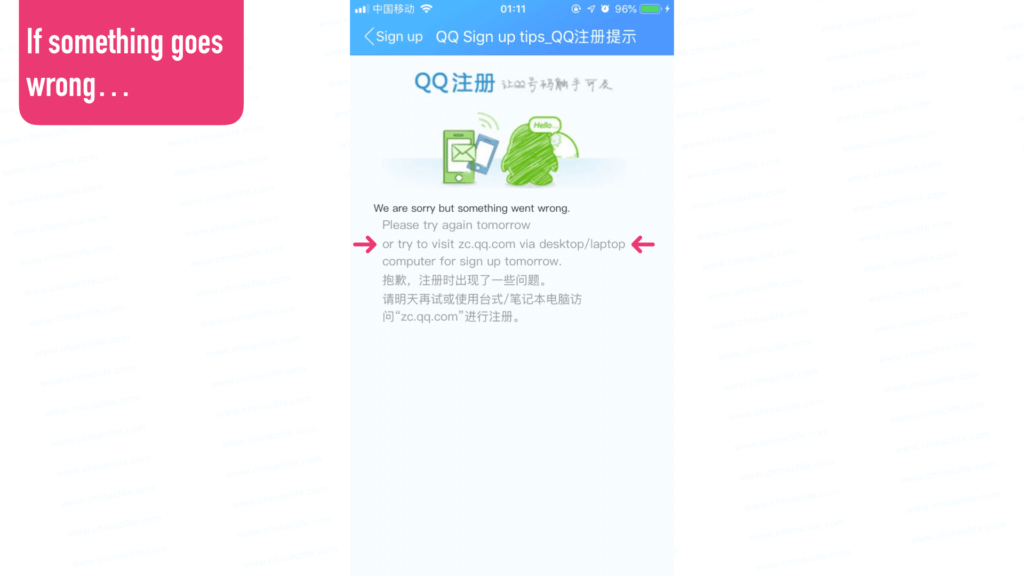 In that case, please follow the desktop guide below to register QQ on a PC or laptop device.
Step 1. Visit Offical Website in Your Browser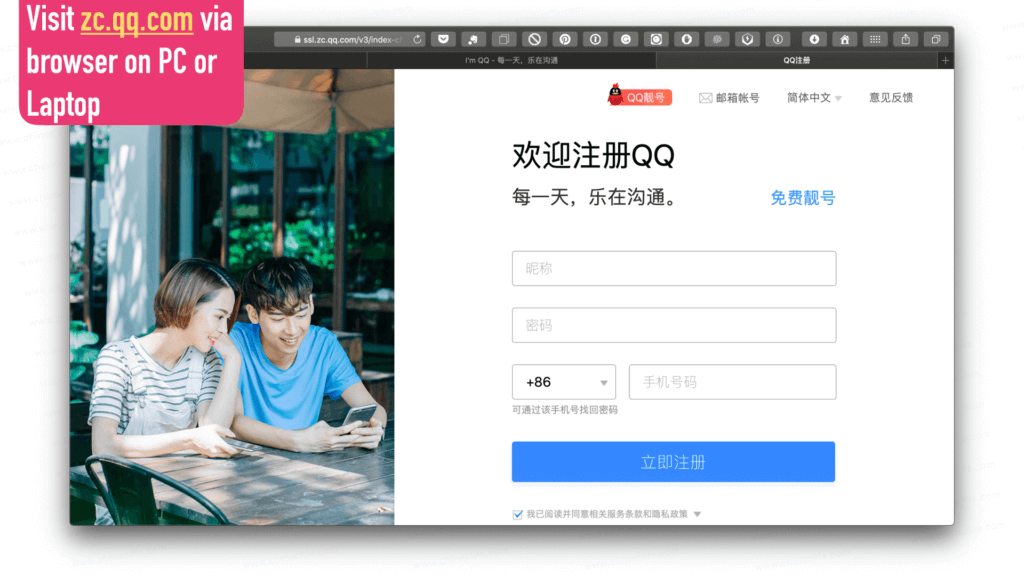 Simple to open zc.qq.com in your browser via PC or Laptop. Or click the button below to visit the page with the English language selected.
QQ International Official Site : )
Step2. Change the Language If It Is Not.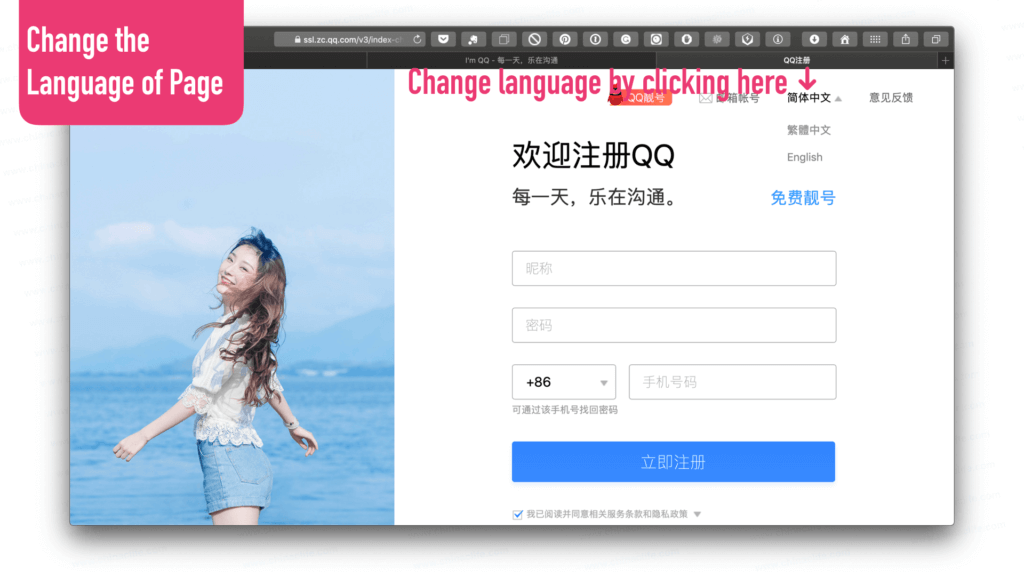 If it shows the Chinese characters like 简体中文 (Jiǎn Tǐ Zhōng Wén) on the right top of the page, it means the page you are browsing is in Chinese Simplified language. Click it to change the language into English.
Step 3. Input a Nickname and Info As Required.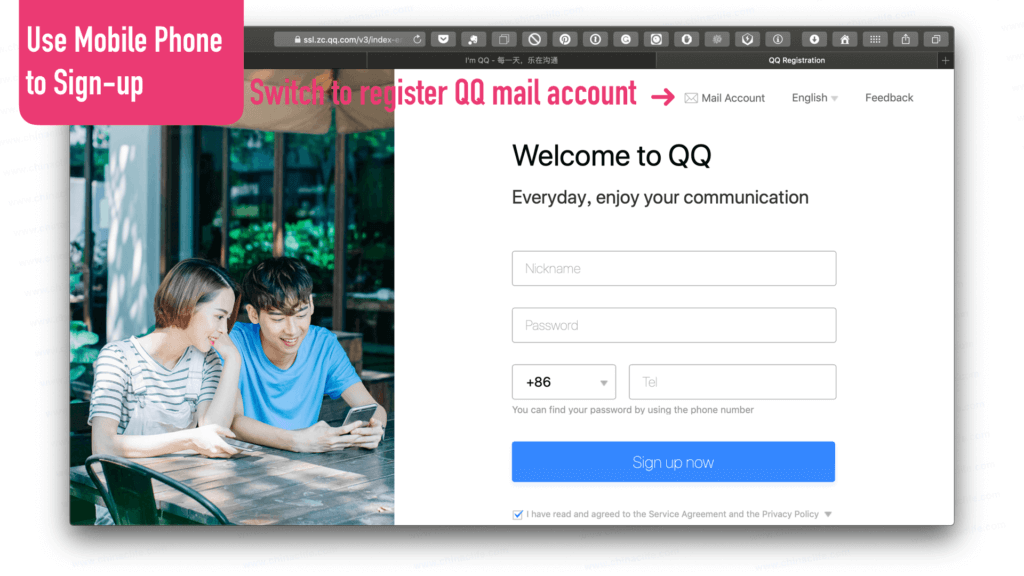 Your Nickname —— whatever you want others to see.
Set your Password —— 8 to 16 characters with no space, as much stronger as better.
Select the Country's Code —— Which is consistent with your mobile phone number.
Input your Phone number —— Which is used to receive a free SMS verification code.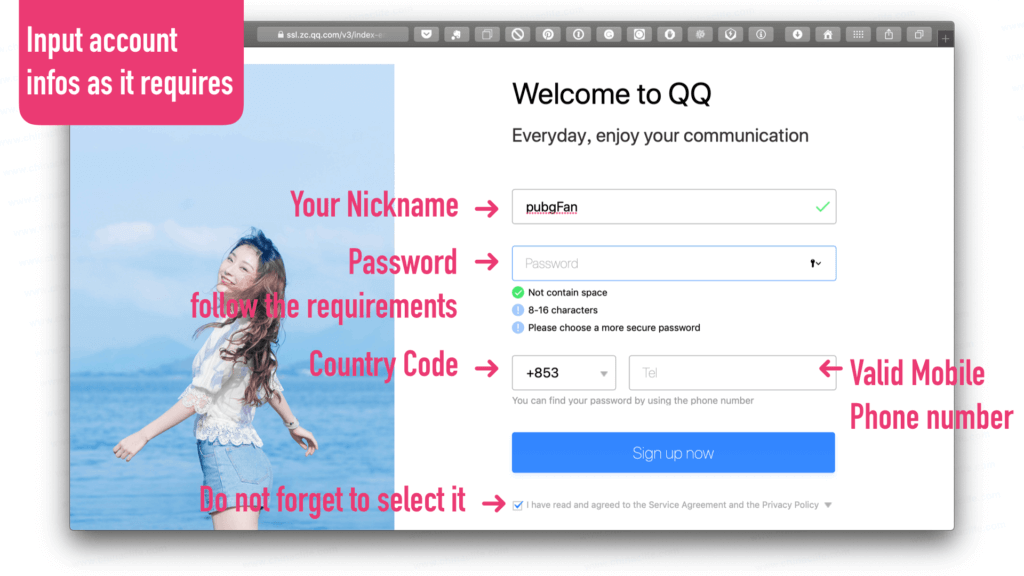 Later input the verification code you received on your mobile phone.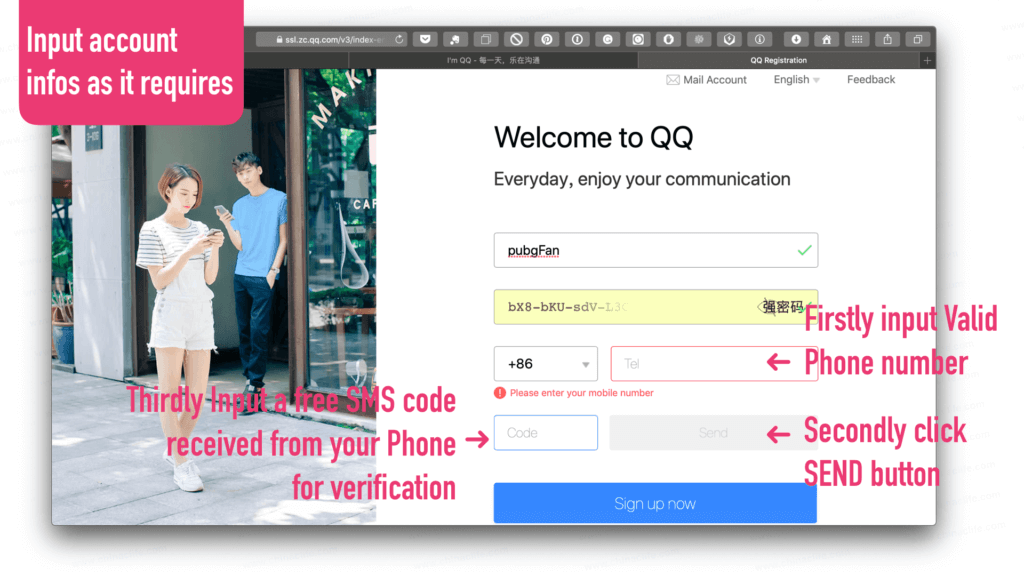 Congratulations! And one last step is left.
Step 4. Congrats! Your QQ ID Is Born.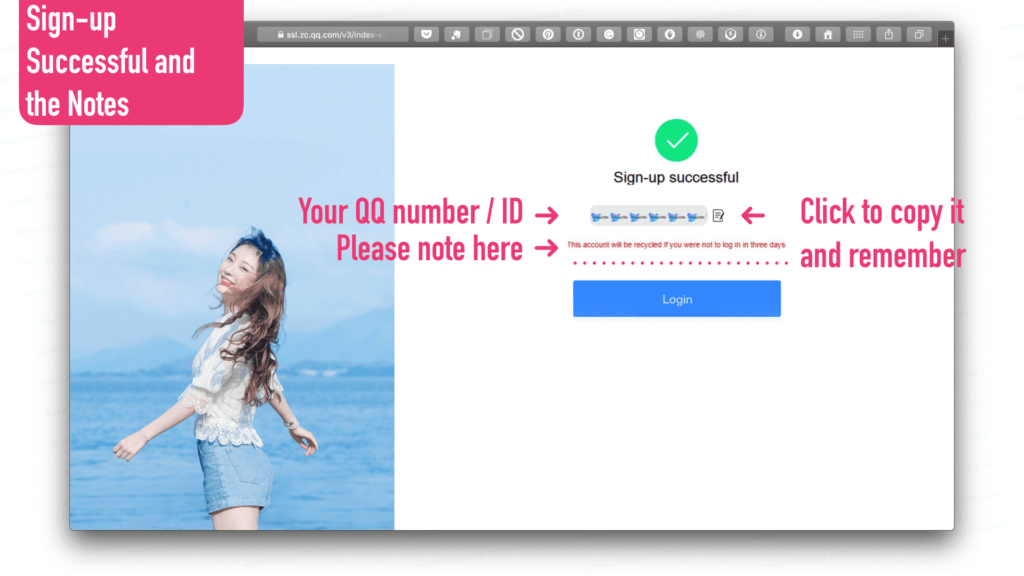 After Sign-up successfully displayed on the screen, you could see a number which is your QQ number or it can be called QQ ID.
Please copy it and paste anywhere as a backup and remember it.
Please remember to login to QQ with your QQ ID in three days. Or the account you registered might be recycled.
A QQ ID will be quite useful in China because you can use it to fast login to most Chinese Apps and websites without sign-up from the beginning. So does WeChat ID.
You can also login to Pubg's Chinese edition with your QQ ID.
One more thing, you will also get a free QQ mail account automatically after your QQ ID was born, like [email protected] You can also use your QQ account to login your QQ mail system by visiting mail.qq.com. The QQ mail service is stable to connect with others in China and also gives you a chance to upload big-size attachments to others via email.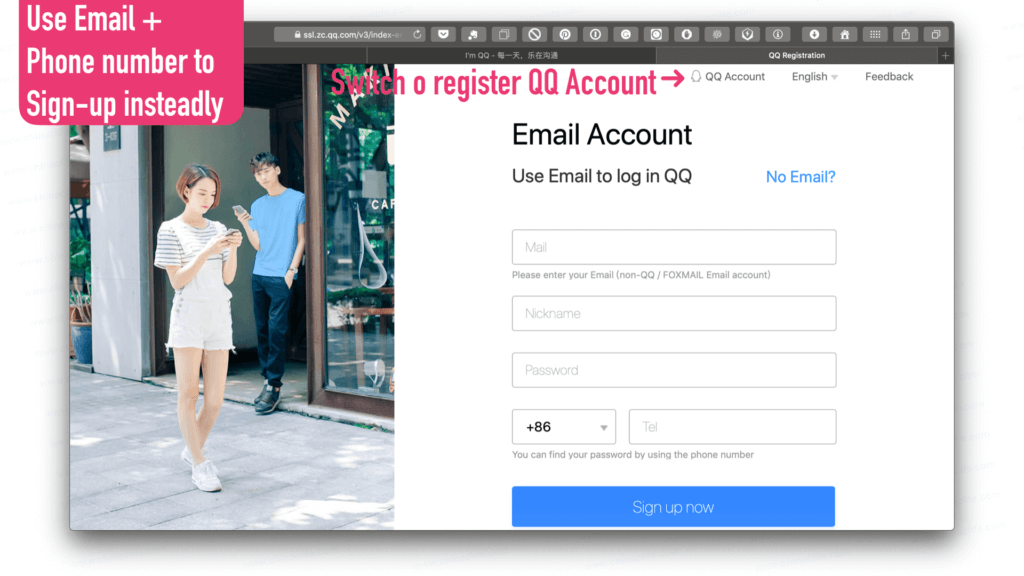 IN ADDITION
Questions & Additional
Have you got any tips from this bilingual Chinese story above?
Do you have any other questions or suggestions?
You are free to write it down in the "Comments" section below or in our groups.
Any thought from you is appreciated, valuable, and might help the rest of the residents on the planet. 😀
Additionally…
Did You Start Learning Chinese with Pinyin?
Continue to read our User-friendly Chinese-Pinyin version of this story
(Unlocked for Free Logged-in and Premium residents only).
Hope it Helps! : )
READ NEXT
Following Stories You Might Have Missed
Sours: https://www.chinaclife.com/how-to-register-qq-international-account-2019-for-pubg-and-quick-login/
Similar news:
QQ Number Service Terms of Use
Thank you for using QQ Number Service!
Your permission to use the Tencent's QQ account service ( the "QQ Number Service") is subject to your acceptance of the QQ Number Terms of Use (hereinafter "this Agreement"), Universal Terms of Service, the QQ Number Terms of Use and the QQ Software License Agreement (collectively, the "QQ Terms"). Please carefully read the QQ Terms in order to fully understand all of the terms and conditions, particularly those regarding waivers or restrictions of liabilities as well as any standalone agreements for the availability or use of specific services and decide whether to accept such terms. Restrictions or waivers of liabilities may be in bold type to call your attention.
Unless you are an authorized user of QQ and have read and indicated your acceptance to the QQ Terms, , you have no right to use the QQ Number Service. Upon your use of the QQ Number Service, you will be considered as having read and agreed to be bound by the above-mentioned agreements.
If you have not attained the age of 18 full years, please read this Agreement and all of the other above-mentioned agreements under guidance of your legal guardian and pay special attention to the terms regarding use by minors.
1.Applicability of Agreement
1.1 The QQ Terms are an agreement between you and us (as defined in the Universal Terms of Service) regarding your use of the QQ Number Service and related services provided by us.
1.2 This Agreement is subject to and is incorporated by reference into the Universal Terms of Service.
2.Interpretation
2.1 The "QQ Number Service" refers to the QQ account password recovery service for authorized users of QQ enabling those users to re-access their QQ account in the event they've lost their password or otherwise are unable to log into their account.
2.2 "QQ Account Re-access System" means the online system for access the QQ Recover Service made available through the log-in webpages available at aq.qq.com, service.qq.com, or other web-connected sites we may provide from time to time.
2.3 "Password-Protected Information" means the information related to or provided by a QQ user in the course of registering for or later configuring a QQ account that may be used to later verify that user's identity in connection with the QQ Number Service.
3.Procedures for QQ Account Re-access
3.1 If you cannot access your QQ account because you have forgotten your QQ account password, you will promptly log into the QQ Account Re-access System to report the matter[Change to "reset your password" or "report the matter and reset your password"?].
3.2 In using the Account Re-access System, you may be required to provide us with various pieces of information in order to [reset your password/recover you password], and you agree to and will only provide us with complete and accurate information in connection with your use of our services, including the information we request in connection with your use of the QQ Recovery Service..
3.3 We may change the information we require in connection with the QQ Recovery Service from time to time and based on the context of each particular request, and some of the information we request you provide may include:
(1) old passwords: previous passwords used for your QQ account;
(2) identity document number: the User's identity document number which has been provided as part of the Password-Protected Information in respect of the QQ account. The identity document can be identity card, serviceman's card and student card, etc. The identity document number provided by you as Password-Protected Information shall be complete, accurate, and provided in compliance with applicable laws and regulations and may generally not be changed once filled in;
(3) password verification question: the account recovery question you selected for your QQ account;
(4) password verification answer: the account recovery answer to your password verification question;
(5) contact email: the contact email address given as part of the Password Protected Information of the QQ account;
(6) protected mobile number: the mobile number given as part of the Password Protected Information of the QQ account;
(7) application time: the time at which you registered your QQ account;
(8) application method: your registration method for your QQ account (e.g. registration through website, registration through mobile device, registration through gift presentation on a social function[Please clarify what this means.]); and
(9) services accessed: services connected with or accessed through your QQ account.
3.4 After you submit your password reset request to the QQ Account Re-access System, we will review your request and determine whether we are able to
In some cases, we may require additional information in connection with your request, and we reserve the right to require such additional verification information in our discretion. If you are unable or unwilling to provide
the information we request, we will then consider your QQ account re-access request invalid.
3.5 In response to your QQ account re-access request, we will typically provide you with an acknowledgment number associated with your request. Please retain this number as we may request you provide it in connection with future enquiries.
3.6 Normally, result of the account re-access request will be available in 4 hours after the QQ Account Re-access System receives the request, but it may take much longer to process your request depending on the volume of requests received and the nature of your particular request.
3.7 We will communicate with you regarding your account re-access request using the email address provided with your request. Please note that given the nature of email, our communications to you could be delayed or undeliverable due to issues beyond our control, including problems with the configuration or operation of third-party computer networks that make up the Internet as well as problems with your email service. In some cases our emails could be deleted or redirected from your inbox due to anti-junk email policies and systems. You may contact our customer service personnel to enquire about the status of handling of your account re-access request by quoting the request acknowledgment number.
3.8 Tencent may not always grant you re-access to your QQ account in response to your account re-access request. In some cases we may be unable to provide you with re-access to the requested QQ account, even where you have provided additional information upon our request.
3.9 After your account re-access request has been granted, you should remember your password and the Password-Protected Information, and shall carry out virus removal exercise on the computer or device on which you log onto the QQ account.
4.Important Notice to Users
4.1 You shall ensure that all information you provide to Tencent is complete, accurate, and provided in compliance with applicable laws and regulations. Such information will be critical in order to use the QQ Recovery Service and discover a QQ account which has been lost. If, because of his/her providing false information or of other people's awareness of his/her registration information, the User suffer any losses including but not limited to inability to re-access a QQ account lost, loss of Q coins, game tokens and other value-added products in a QQ account as well as loss of information kept in a QQ account, the losses shall be borne solely by the User.
4.2 You agree, when using the QQ Account Re-access System, to only attempt to access (or re-access) QQ accounts that (a) you have registered or which have been transferred to you, and (b) that you have the right to use. Otherwise, you guarantee that you will not access, attempt to access, or instruct, or induce any third party, directly or indirectly, to access or attempt to access any other QQ account. In order to protect yourself in the event someone fraudulently or otherwise attempts to access your QQ account without your permission, you are responsible for taking all necessary preventative steps including, for example, ensuring the computer(s) or portable device(s) you use to access your QQ account have up-to-date software, including anti-virus and security software, using strong passwords, and keeping your password(s) secret.
4.3 If a QQ account is subject to administrative or judicial enquiry, criminal investigation, legal proceedings, or any material dispute, we may temporarily freeze the QQ account or take other actions it deems to be reasonably necessary in response to such requests. During the period when the QQ account is frozen or otherwise limited, you may not make a request for re-accessing the QQ account and we may reject or delay our response to your request in our sole discretion.
4.4 If a QQ account is frozen or recalled by us because the account has been used in a manner we believe is likely in violation of relevant laws and regulations, ours or a third-party's rights, provisions of this Agreement or other relevant terms for the provision of our services, you may not make a request for re-accessing your QQ account, and we may reject or delay our response to your request in our sole discretion.
5.Liability and Disclaimer
5.1 With a view to enhancing user experience and improving our services, Tencent may revise the functions and rules of the Service at its discretion from time to time without notice to the User. If necessary, the revisions will be publicized on our website.
5.2 We may make changes to this Agreement over time, so please come back and review them. We may from time to time add, change, or remove features from our services, including the QQ Recovery Service, (including in relation to whether a service is free of charge or not), or suspend or terminate a service altogether, and in each case, [to the extent permitted by applicable law], we may do so without any notice obligation or liability to you. Where we consider that any changes to this Agreement or our services are reasonably material, we will (where reasonably practicable) notify you (via our website), direct communications to you, or other means, but we do not guarantee that any notice will be given. By continuing to use our services after we make any amendment to this Agreement or our services, with or without notice from us, you agree to be bound by the amended update to this Agreement.
5.2 If you violate applicable laws, regulations, or our or any third-party's rights, the provisions of this Agreement or other relevant terms for provision of our services, we may limit or terminate your rights to use the QQ Recovery Service pursuant to this Agreement. Additionally, our services, including the QQ Recovery Service, are provided to you in our sole discretion, and we may add, change, limit, or remove services or features of services that we make available to the public or you specifically in our sole discretion without liability to you, and with or without notice to you.
5.3 You shall be solely responsible for any losses suffered or third party claims or demands raised as a result of, including but not limited to removal of the User's information, emails, virtual properties and other data after failure of the re-access request.
6.Others
6.1 This Agreement is signed in Nanshan District, Shenzhen City, Guangdong, the People's Republic of China.
6.2 The formation, validity, performance and interpretation of this Agreement and resolution of any disputes arising in connection with this Agreement shall be governed by the law of the People's Republic of China excluding its rules on conflict of laws.
6.3 Any dispute or controversy arising between you and us shall first be resolved through friendly negotiation. If negotiation fails, you agree that the dispute or controversy shall be submitted to the jurisdiction of the competent people's court of the place where this Agreement is signed.
6.4 The headings of all terms contained in this Agreement are inserted for convenience only and have no substantial meanings. They may not be taken as a basis for the interpretation of this Agreement.
6.5 If any of the terms and conditions contained in this Agreement is held invalid or unenforceable for any reason, the remaining terms shall continue to be valid and binding on both you and Tencent.
6.6 If you have any comments or suggestions regarding the QQ Recovery Service, please contact Tencent's Customer Service Department at kf.qq.com or at Tencent's customer service hotline no. +86 0755-83765566. We will provide you with the necessary assistance.
Sours: https://aq.qq.com/en/appeal/en_appeal_safety
275
276
277
278
279