Floating Outdoor Curtains
After building our house, my husband and I very soon realized that our backyard doesn't have as much privacy as we'd like. We have a plan to plant some privacy trees but those can take a while to grow, and I wanted a more immediate solution. That sparked these super simple and relatively inexpensive DIY floating outdoor curtains.
What you'll need:
2 in. x 2 in. x 8 ft. posts
1 in. x 10 ft. Electrical Metallic Tube Conduit
1-1/2 in. Electrical Metallic Tube 1-Hole Straps
Inexpensive Outdoor Curtains
Screws
Cement (1 80 pound bag got me 3 posts)
Planters
Flowers/plants of your choosing
Spray paint/stain (optional)
Step 1: Paint hardwear (optional)
First I spray painted my screws, washers, straps, and my electrical conduit black to match the other accents on my deck (electrical conduit not pictured). I used Rustoleum flat paint and so far it's holding up well.
Step 2: Connect hardware
Next I connected my hooks to my 2x2s. I drilled a pilot hole for these first so I didn't split my wood.
I used 1-1/2 in. Electrical Metallic Tube 1-Hole Straps so that my 1 in. electrical conduit could side nicely in and out of it - this way we can easily take it down in the winter. You can also use screw eyes to replace these straps, but since I also hung lights from mine, I wanted the hook shape.
Step 3: Mix concrete
We have vinyl deck railings, so I needed to make concrete bases for my posts. If you're planning on putting these on a deck with wood railings, you can just screw the 2x2s right into the railings.
I mixed the concerte in some old plastic landscaping pots. Just like my DIY Plant Stand, this was another project where I re-used the crappy plastic pots that most people throw out.
Step 5: Set 2x2s
I then set my 2x2s in the concrete, using a level to ensure they were straight. I had to fashion a little support (shown above) to keep them stable while the concrete dried. I've also seen this kind of support made with duct tape.
Step 6: Place posts in larger planters
Once my post bases were dry, I took some larger black planters and stuck my 2x2s' pots inside. I added some rocks to make sure they were very heavy enough that a gust of wind wouldn't knock them over. You can also ziptie the 2x2s to your deck railings if you want to be extra careful.
Step 6: Connect railing and curtains
Add your electrical conduit and your curtains. I used 4 panels to span the 10 foot section.
Finally, add some soil and plants of your liking to your pots, to cover the ugly cement bases inside. I cheated on this step and just stuck some potted ferns in mine because I have commitment issues :)
I also hung our string lights from these posts, so it was really a 2-in-1 DIY project for me!
Once we stain our deck, I plan to stain the posts to match, so if you have a stained deck already you can stain your posts as a part of step 1.
This was an inexpensive way to add immediate privacy to our deck. They've been holding up great so far, and overall I'm super happy with how these turned out!
Sours: https://www.hometalk.com
DIY Floating Curtain Panels
As you guys well know, I will stretch a dollar as far as I possibly can.
And then some.
The same is true with fabric.
When I started the colorful porch makeover, Grunt Labor had one request:
Curtains.
Well he had other requests too, like a fireplace and a television, but at the current moment, those aren't attainable.
He was adamant on the curtains though. He thought it would make the space feel more homey.
Yes, that coming from a male who even refers to himself as Grunt Labor is a little odd, but he was right. And really, the man rarely asks for anything around here – there was no way I could say no.
My problem was that I only had three yards of fabric for the curtains. Typically, I would be lucky to get two curtain panels out of three yards – and they would be skinnier panels at that.
My other problem here was that even though the porch is screened-in, the curtains were still going to get dirty at the bottom pretty quickly.
Luckily at Home Depot one day, the lightbulb went off.
Does anyone else have moments of genius at Home Depot? I swear sometimes that's the only place I get them. I will have ran in for one can of spray paint and by the time I get to the checkout line, I'm struggling to hold onto everything that I've picked up and apologizing for knocking over a display with the 10 foot piece of pipe I'm barely holding under my arm.
Yep, I'm that girl.
But it was that stroke of genius that solved both problems – I would make Floating Curtain Panels.
This post contains affiliate links for your shopping convenience. Click here to read my full disclosure policy.
DIY Floating Curtain Panels
If you can sew a semi-straight line (my lines are never totally straight) and make a couple of simple cuts with a hand saw or electrical saw, you can totally do these. Seriously, they aren't hard at all.
Materials Needed:
-3 yards of fabric of your choice (I used this outdoor fabric and it made three panels for me that were 19 in wide x 89 in long before being hemmed. I did have a little leftover. If these are going outdoors and you don't find an outdoor fabric you like, you can always waterproof, color protect, and stain repel the fabric yourself by using this tutorial.
-10′ piece of 1/2″ PVC pipe
–Gold Spray Paint
-Regular Hand Saw or Circular Saw or Miter Saw (I used our Miter Saw)
-12 Screw Eyes 
–Neon Pink Cord (or other color of your choice – you guys know I love my bright flashy colors)
-Scissors
-Sewing Machine & Thread or Stitch Witchery
-Straight pins
-Measuring Tape
Steps
Step 1
Cut your pipe down to whatever your desired length is. I was fitting my pipe between the 2×4 supports on my porch. Of course, no measurement between the 2x4s were the same. That's just what you get with older houses and foreclosures, people. I thought it would look funny to have different size panels, so I opted to make all my pipes the same size, which was 19 inches. I marked my pipe and cut it with a miter saw.
Most of the pipe will be covered by the panels, however, the ends do still show. I didn't want them to be white, so I spray painted the ends gold.
Step 2
Lay out your fabric and cut it into panels. Each of my panels were 19 inches wide x 89 inches long.
After you have cut your panels, pin down the long side edges only (not the top or bottom edges) and hem them. If you want to go the no-sew route, use the stitch witchery here.
And by the way, if I can sew a decently straight line on this….
Anyone can sew a decently straight line. That sewing machine was my great grandmother's, my grandmother's, and now mine. I've cursed it, hit it (that hurt), ran my finger through it on more than one occasion (that hurt more), but I wouldn't think of sewing with anything else.
We have a history.
Step 3
Now you need to hem your top edges, but leave an opening for the pipe to fit through.
Do this by placing the pipe long the top edge, then pulling the fabric over the pipe and pinning the edges in place (#1 in the photo above). Remove the pipe and pin down the rest of the edge (#2 above). Finally, sew the edge down (#3). Repeat this with the top and bottom edges for all the panels.
Step 4
Take your screw eyes and screw one into each corner where your panels will hang from (top and bottom). Since my pipes were 19 inches long, I put my screw eyes about 19 inches apart.
Next, thread the nylon cord through your pipe and tie each end onto the screw eyes.
Stand back and observe your amazingness.
Go grab a cheap beer or a cocktail.
And relax in the shade of your new floating curtain panels that you made all by yourself.
Because you are a superstar.
Do you have any DIY curtain hacks?
See the full porch makeover here and this little DIY flamingo wreath that embellishes these curtain panels now!
Love a good curtain hack? Be sure to see these duck tape trimmed curtains too!
You know you don't wanna miss any of this crazy.
Sign up to get my posts delivered to your inbox here. 
Stalk Me Here:
Pinterest / Facebook / Twitter / Instagram
SaveSave
Filed Under: DIY Projects, OutdoorsTagged With: curtains, fabric, Outdoors
Sours: https://rainonatinroof.com/diy-floating-curtain-panels/
Easy DIY Outdoor Curtain Rods In 10 Minutes
Learn how to make and hang these easy DIY outdoor curtain rods in just 10 minutes! Simple tutorial and supply list included. Bonus: these outdoor bamboo curtain rods won't rust or rot! Hang outdoor drapes in a jiffy with this clever outdoor curtain rod hack to decorate your gazebo or porch. Turn your home's exterior into a breezy, beautiful oasis!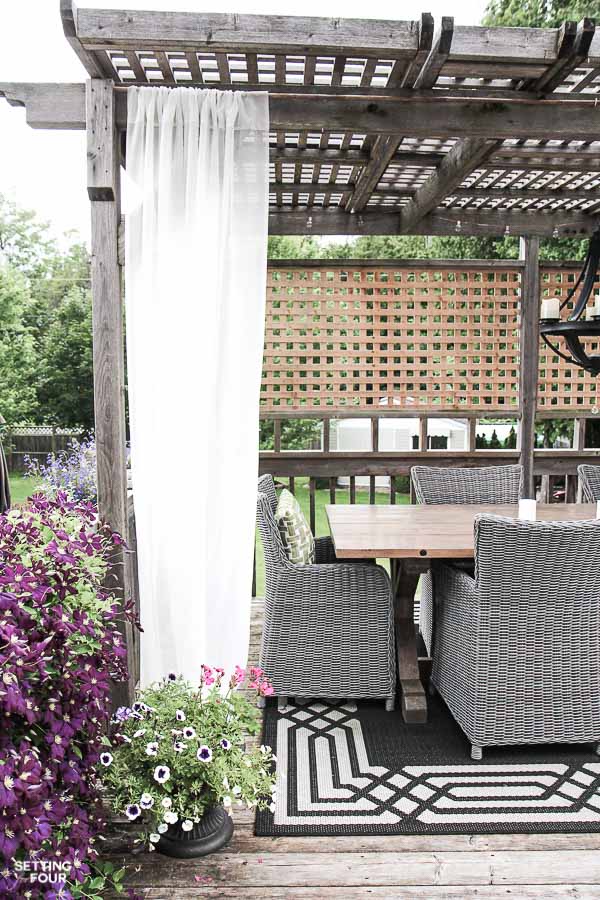 This post contains some affiliate links for your convenience (which means if you make a purchase after clicking a link I will earn a small commission which helps keep my blog up and running but it won't cost you a penny more)! Click here to read my full disclosure policy.
Make Easy DIY Outdoor Curtain Rods In Just 10 Minutes!
Ah summer! Summer is all about enjoying the outdoors, the sunshine and the summer breeze! Our summers are really short here in the north so we love to spend as much time as possible dining al fresco in our gazebo at our DIY wood trestle table or sitting on our porch with a glass of ice tea!
This summer I hung up some beautiful white flowey drapes to our gazebo to add some whimsey and bring the indoors outside! I LOVE LOVE LOVE them!
Today I want to share with you how I hung them in a jiffy with no power tools involved!
Outdoor drapes add such beautiful ambiance to outdoor spaces but hanging them can be tricky and time consuming! There are outdoor rods made from pipe or pvc that require a lot of time to put together and to mount too.
BUT: I have an easy and clever cheat way to hang outdoor curtains so you can enjoy them quicker!
In just 10 minutes you can hang outdoor drapes – like these – I'll show you how!
DIY wood trestle table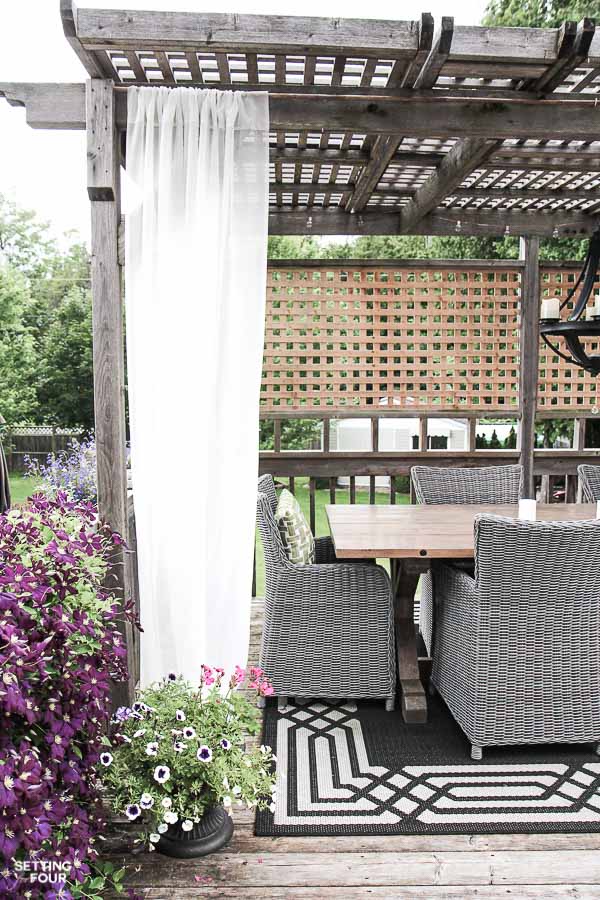 Supplies:
6 feet long natural bamboo poles
1 inch white vinyl cup hooks
white curtain panels ( I used white sheer indoor curtains that you can find here. Sheers dry really fast when they get wet from the rain and are billowy in the breeze! Because they are polyester they are perfect for outdoors!)
Instructions to make easy DIY outdoor curtain rods:
I added these 2 curtain rods to our outdoor wood gazebo. You can add them to a porch, deck or patio if you have a wood frame to attach them to.
My DIY bamboo curtain rods hang from a wooden brace at the top of our gazebo as you can see in the photos. They have never fallen down in the wind because the cup hooks hold the rods in place.
1. Hang the curtains onto the bamboo poles.
2. Add one cup hook to the wood frame 2 inches from where you want the curtain to hang. Screw it into the wood frame of your gazebo or porch. For me this is two inches from the gazebo's vertical beam. Screw the cup hook into the wood so that the opening is facing up (not down). This will hold the pole into place.
3. Put one end of the bamboo pole into the cup hook and mark the other end of the bamboo pole.
4. Add the second cup hook to the wood frame and place it two inches from the place where you marked the end of the bamboo pole. See my pictures below as a guide.
5. Place the bamboo pole into the two cup hooks.
6. Fluff and spread out the curtains as much as you want. The curtains slide really easily on the bamboo pole – so I can open them all the way or push them back tight against the frame of the gazebo.
Sorry I couldn't get a better picture here – it started to rain and I had to take a quick picture then run inside!

I really love how quick and easy these gorgeous drapes are to hang!
These easy DIY outdoor curtain rods are also super easy to take down, to store the drapes over the winter.
Leave the cup hooks in place and just remove the bamboo poles from the cup hooks!
Then remove the drapes from the bamboo poles to wash and store over the winter months.
Store the bamboo poles in your garage, a shed or basement to use next year.
Next summer all I need to do is hang the rod and curtains back up! That won't take me any time at all!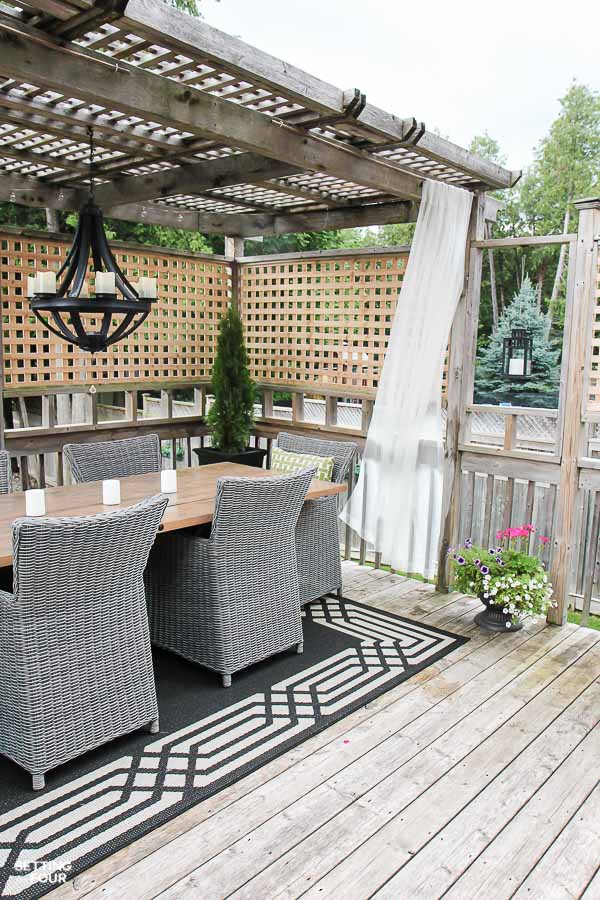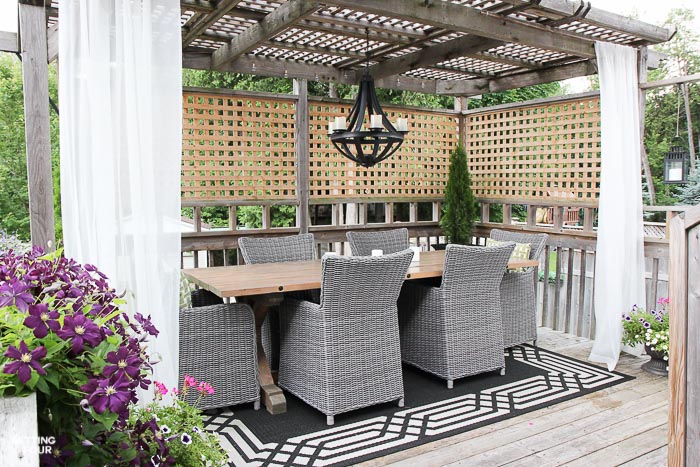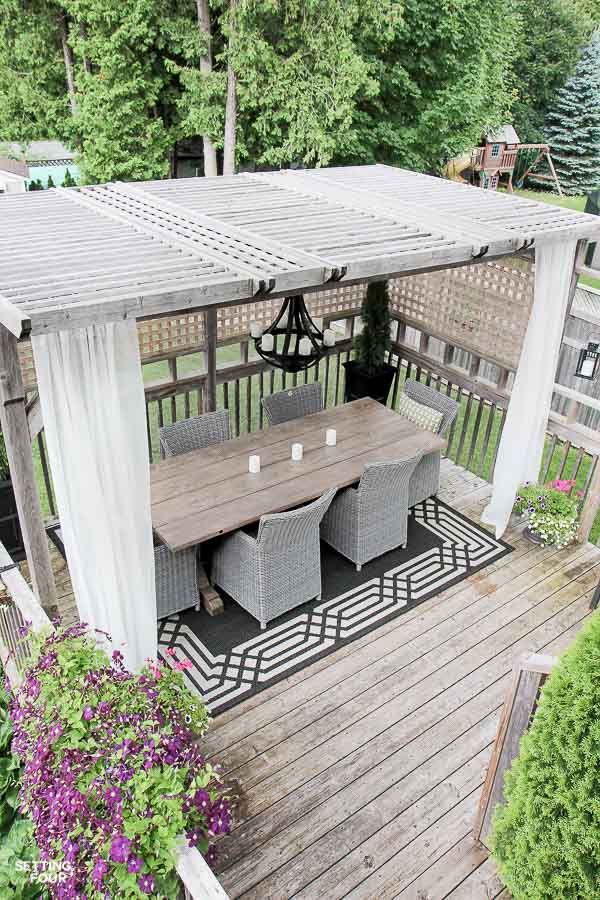 Gazebo Dining Area Resources – click on the links to see more about each item!
Outdoor battery operated chandelier – This is so pretty when turned on at night!
Wood trestle table – we built ours (instructions are here) but this rustic charcoal one is stunning and has a leaf in it to extend it!
Outdoor area rug (similar)
Grey resin wicker outdoor dining chairs (similar)
Outdoor flameless pillar candles battery operated (these won't melt on hot days and have timers that you can set so they turn on at dusk!! I have TONS of these on our back deck and in the lanterns on our front porch!)
Tall black resin planters (we LOVE these! They have a false bottom inside of them so you don't have to use tons of soil to fill them and they are GORGEOUS!!!)
~
Want to know where I've bought all my furniture and home decor in our home – so you can get ideas for your place? You can see it all on my SHOP MY HOME page here!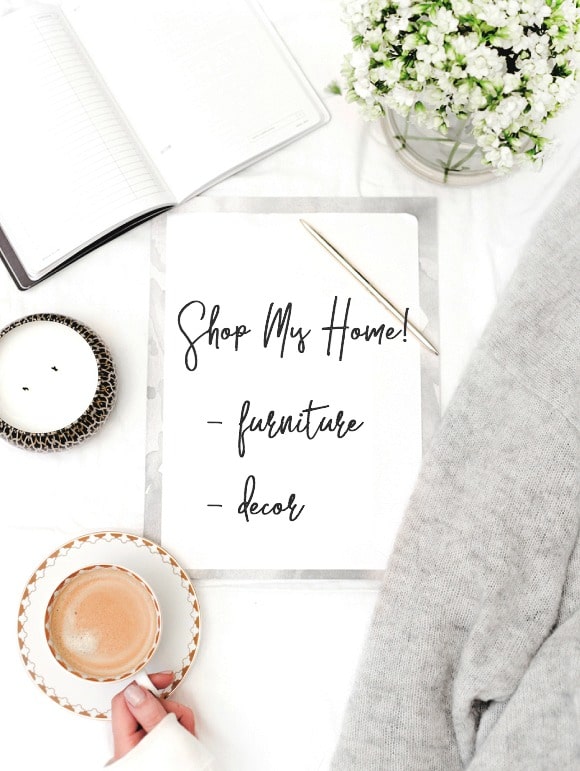 PIN THIS AND SHARE IT WITH YOUR FRIENDS!

Do you love outdoor drapes? Do you think you'll give this tutorial a try? Let me know in the comments below!
Here are other great 10 Minute decorating ideas…
Farmhouse Summer Porch at MAKING IT IN THE MOUNTAINS
HOW TO PAINT A LAMP at REFRESH RESTYLE
ROPE KNOT NAPKIN RINGS at STONE GABLE
Summer Tablescape at CLEAN AND SCENTSIBLE
Easy DIY Outdoor Curtain Rods at SETTING FOR FOUR
You may also like:
7 Ways To Make A Small Room Feel Larger Instantly!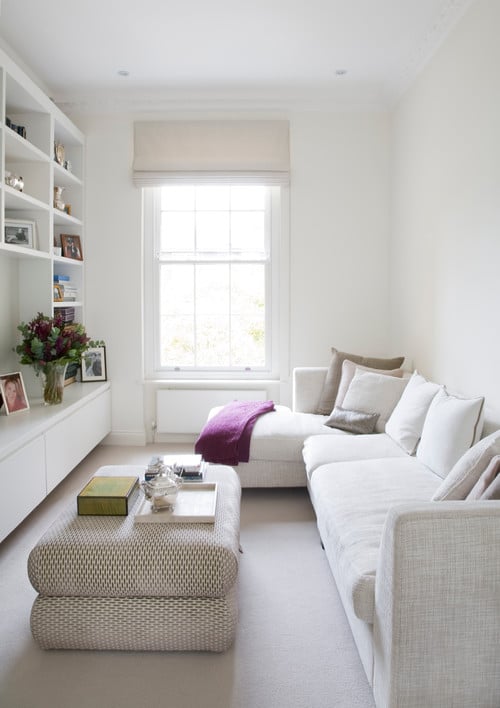 How to Make Outdoor Waterproof Cushions – DIY Hack

Sensational Summer Outdoor Spaces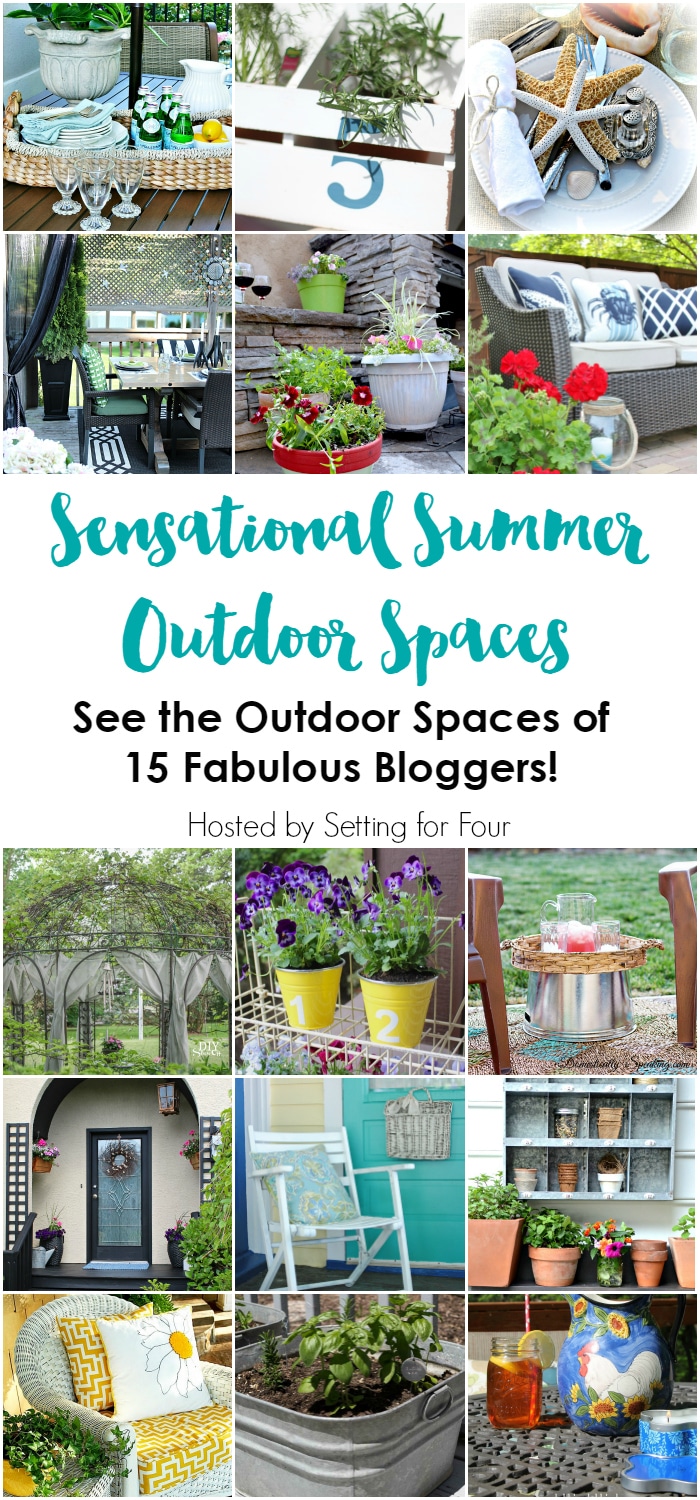 GET THE FREE BEGINNER'S GUIDE TO INTERIOR DESIGN & DECORATING!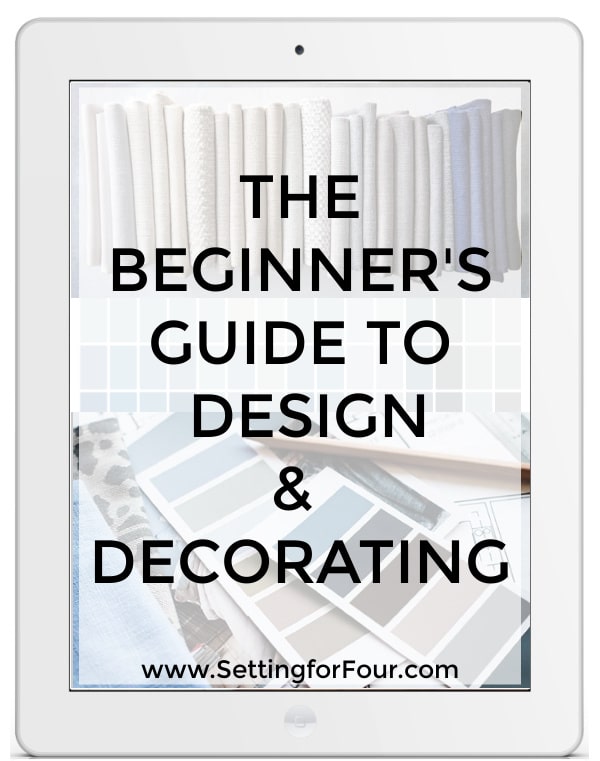 Design secrets to create spaces you'll love!
By signing up, you agree to receive Setting for Four e-mails. Please see our privacy policy for more information. Although I'd hate to see you go, you may unsubscribe at any time. Your information will never be shared or sold to a 3rd party.
Filed Under: Decor, DIY, home decor, Summer, Table, TutorialsTagged With: curtain rod, curtains, Decor, DIY, gazebo, outdoor, summer, tutorial
Sours: https://www.settingforfour.com/make-easy-diy-outdoor-curtain-rods/
How to Make Outdoor Drapery Panels
.
Outdoor diy curtains floating
.
DIY Simple Painters Drop Cloth \u0026 Galvanized Pipe Rods As Outdoor Curtains
.
Now discussing:
.
32
33
34
35
36