Top 100 Roblox Naval Games - Most Played
1) Pirate Wars - Played 20,491,826 times.

2) Galleons v7.0c - Played 16,782,388 times.

3) Tradelands - Played 10,430,100 times.

4) A Pirate's Life - Played 7,071,629 times.

5) JAWS - Played 6,310,878 times.

6) Build your own combat ship and sail it--Very hard- - Played 4,664,228 times.

7) Boat Wars - Played 4,353,989 times.

8) le bote - Played 3,453,491 times.

9) Dynamic Ship Simulator II [ICEBREAKER] - Played 3,446,712 times.

10) [Christmas Box!] ULTRA BOX RACING! - Played 2,627,942 times.

11) Adopt and Raise a Baby! - Played 2,508,228 times.

12) [ Content Deleted ] - Played 2,265,735 times.

13) Gta5 - Played 2,113,306 times.

14) Battleship Tycoon (Original) - Played 1,597,292 times.

15) The Black Pearl vs the Flying Dutchman - Played 1,552,319 times.

16) Left 4 Survival 2 - Played 1,461,693 times.

17) Boys & Girls Party (FREE ADMIN) - Played 1,218,707 times.

18) ★☆Naval Battle☆★ - Played 975,828 times.

19) Be a Pirate or Mermaid! [ ORIGINAL ] - Played 912,094 times.

20) Future War Tycoon - Played 862,044 times.

21) Coast Guard Tycoon - Played 725,281 times.

22) One Piece Devils Power - Played 605,464 times.

23) [Christmas!] Kohls Admin House Epix Edits - Played 590,733 times.

24) Ship Shooting Battle. 520K+ VISITS!! - Played 557,149 times.

25) Sinking Ships - Played 534,180 times.

26) Titanic Legacy - Played 530,648 times.

27) live as a pirate tycoon New: major bug fixed - Played 506,496 times.

28) Roblox Battleships (VIP Servers - Played 496,352 times.

29) Ocean Rescue [V:2.5] *Guns Removed* - Played 461,832 times.

30) Build a Boat 0.9.3 - Played 445,368 times.

31) Island Tycoon - Played 422,843 times.

32) One Piece - Sacred Dawn [ Classic ] - Played 415,569 times.

33) [Alpha] Warships! - Played 332,197 times.

34) le bote Showroom (See ships before you buy!) - Played 324,859 times.

35) ★Mega Island Battle★ ~Major Update~ - Played 254,730 times.

36) The Legendary UnderSea Life - Played 242,148 times.

37) Ocean Empire (Beta 0.7.3) - Played 236,670 times.

38) Bumper Boats XTREME - Played 228,703 times.

39) Shrek: The Force Awakens [GAME OF THE YEAR 3072] - Played 216,303 times.

40) Pinewood Marine - Played 209,906 times.

41) -~-Battleship Tycoon II-~- - Played 186,797 times.

42) WWII Pacific Warfare! [#DUMPTRUMP] - Played 173,052 times.

43) [ Content Deleted ] - Played 135,896 times.

44) Mutiny - Played 130,399 times.

45) [USM] Fallujah, Iraq [PLAYER POINTS] - Played 127,441 times.

46) Survive The Tornado 31 Fields Read Desc. - Played 125,293 times.

47) WAR IN THE SKY - Played 100,607 times.

48) More Game Passes for le bote - Played 91,935 times.

49) ⚓ Dynamic Ship Simulator I ⚓ [HORN UPDATE] - Played 76,437 times.

50) Naval Warfare [Alpha] - Played 75,170 times.

51) ╾━╤デ╦︻ Military Warfare Tycoon - Played 68,946 times.

52) Plastic Pirates | Bug Fixes - Played 67,119 times.

53) Pirates 2 | Alpha | Development Frozen - Played 66,307 times.

54) One Piece 2[InDev] - Played 65,873 times.

55) [ Content Deleted ] - Played 65,412 times.

56) 45% Specified Access - Played 64,229 times.

57) Tradelands Demo Version - Played 63,202 times.

58) Navy command [Delayed] - Played 62,526 times.

59) Roblox Titanic HD Building NEW! - Played 56,081 times.

60) Survive FOXY in Area51 - Played 55,604 times.

61) [BROKEN] - Played 54,541 times.

62) HIGH TIDES: A New Waterfront - Played 51,572 times.

63) Free Flight™ Navy *Join Group* - Played 50,164 times.

64) ROGUE WAVE!!! - Played 46,595 times.

65) who killed spider man obby???????????????????????? - Played 44,427 times.

66) Lennox Sail Yards: Boat Showcase - Played 41,915 times.

67) Trade Enterprise Legacy* [ Open Source ] - Played 39,451 times.

68) One Piece: Cursed Legacy - Played 38,608 times.

69) Ship Showcase - Played 38,033 times.

70) ☆Ro-Pirate Tycoon 4 UPDATEl☆ - Played 36,844 times.

71) Red Vs. Blue Vs. Green [NEW TEAM] - Played 35,605 times.

72) SURVIVE THE ULTIMATE PLANE CRASH! 31K+ VISITS! - Played 34,029 times.

73) ★Cruise Ship roleplay (RMS Million) - Played 33,894 times.

74) Wilhelm Gustloff - Played 33,491 times.

75) RMS Titanic - Played 33,473 times.

76) Oceanic Guilds - Played 31,415 times.

77) *UPDATE 4 * KEEMSTAR SIMULATOR - Played 29,839 times.

78) Pirate Ship Battle (Should I remove the time bomb) - Played 26,892 times.

79) Battleships - Played 21,302 times.

80) S.S. Tech Wreck (10,000 Visits Update!) - Played 20,829 times.

81) ⚓ Michael's Shipyard ⚓ - Played 18,825 times.

82) ~ Boat Warfare ~ - Played 17,328 times.

83) Classic Submarine Wars - Played 13,913 times.

84) [MAJOR-UPDATE] City of Boston, 1763 - Played 11,517 times.

85) Sinking Ship Simulator FIXED - Played 10,738 times.

86) Swamp Battle Tycoon (Original) - Played 10,668 times.

87) [USN] 5th Fleet - Played 9,212 times.

88) Tradelands: Blockade - Played 9,202 times.

89) Dark Energy Minigame: Treasure Hunter's Nightmare - Played 8,658 times.

90) Island War Tycoon (Original) - Played 8,625 times.

91) [30%] The Grand Spanish Navy - Caribbean Sea - Played 8,579 times.

92) One Piece: Final Search - Played 8,526 times.

93) Ship Wars! - Played 8,349 times.

94) Royal Mail Steamer 'Titanic' I NEW GAME - Played 8,231 times.

95) Sinking of the Storstad Proto-Type Version v0.01 - Played 7,963 times.

96) TGNB's Old English Channel - Played 7,606 times.

97) Naval Game Testing - Played 7,491 times.

98) Little Pirates [ALPHA] - Played 7,328 times.

99) Cannoneers (Testing) - Played 7,273 times.

100) [USM] Guadalcanal, Solomon Islands - Played 7,179 times.


Roblox Game Genres
Top Roblox Developers
From the Blog
Added on April 10, 2017
City Life
Similar to most city and town games on Roblox, City Life is a fun social virtual world game where you can play out your role as a pet, a teen, a parent or a child. Depending on your role preference - you can switch roles at the spawn site, you can even transform your avatar to match your role. For instance, if you want to play as a pet, you could choose from the common household pets like dogs or cats, to the more unusual pets like turkey and sheep. You can also set your own role-playing name.
Read More
Added on April 6, 2017
Egg Hunt 2017: The Lost Eggs
Oh no! The legendary FabergEgg has been stolen by the despicable Dr Deville d'Egg. He plans to use its infinite power to wreak utter havoc across all the realms in Eggverse and only you can help fix this wrong. It's up to you to collect all 40 Eggs that are spread across the lands just so you can locate the m mysterious Faberg Egg and foil Dr Deville's nefarious schemes. Do you have what it takes to succeed?
Read More
Added on April 5, 2017
The 2017 Roblox Egg Hunt Game
Collect all 40 eggs in this year's exciting egg hunt game and stand a chance to find the legendary FabergEgg!
It's that time of the year again when the massive Roblox Egg Hunt commences!
Read More
Added on March 23, 2017
How to Escape from Redwood Prison
With this guide, escaping from Redwood Prison won't be as difficult as it seems!
Read More
Sours: http://www.robloxgo.com/chart/top_100_roblox_naval_games
Marina Militare It Navy Sim
The first air and naval integrated simulator.

Take the controls of airplanes, helicopters and ships of the NAVY in scenarios inspired by real situations.

Engage in winning missions faithfully reproduced with satellite technology; enter our most advanced simulator of AV-8B Harrier II Plus; prepare to command different vehicles of the Navy.
Maneuver the Guided missile destroyer, land on the aircraft carrier with an F-35B Lightning II destroyer, salvage shipwrecks with the ship RHIB Hurricane 753, engage in FLIR (infrared) recognizance with a EH101 helicopter, sail with the training ship sailboat school and much more.

Discover naval aviation and climb aboard the fleet!

Characteristics:
- Simulator of airplanes, helicopters and ships
- Sailing with sailboat school
- Search and rescue missions: FLIR (infrared) recognizance and salvage at sea
- Firefighting missions: emergency evacuation, extinguishing fires with BAMBI BUCKET
- Sea control missions: release anti-submarine buoys, air patrol and defense, release Comsubin attack squads, transport injured personnel
- Land on aircraft carrier, airports, heliports and emergency zones
- Flights in formation
- Vertical takeoff and landing (F-35B LIGHTNING II, AV-8B Harrier II)
- In-flight refueling

- Three HD simulation areas: TARANTO, LA SPEZIA and CATANIA.
- Airports and ports with RORTOS REAL 3D TECHNOLOGY
- Simulation area with input: vehicle, scenario, mission type, position, weather conditions, wind/sea, time of day and landing competitions with world classifications
- 3D exploration area for in-depth exploration of vehicles
- Multi-camera replay system with dynamic display

Vehicles:
- Training ship
- Guided missile destroyer
- Aircraft carrier
- Ship HURRICANE 753

- Destroyer AV-8B HARRIER II PLUS
- Destroyer F-35B LIGHTNING II

- Medium-heavy EH101 helicopter
- Medium AB 212 helicopter

Some characteristics may have a fee attached.
Sours: https://play.google.com/
SEA Military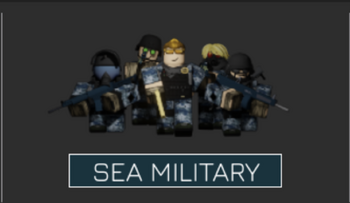 Cost:
Free - Unlocked by joining the Group
Overview:
SEA military is one of 4 (or four teams, idk if Natives count) that you can join in the game. They operate the Border, and determine wether Visitors are eligible to pass the Border or not. They can be identified by blue names.
Joining the SEA Military:
In order to join the SEA Military, you must join the official SEA Military Roblox Group first, the link can be found on the games about page. After that, simply click on the Teams button, located on the left of your screen, and select "SEA Military".
Appearance:
All members of the SEA military are given the same outfit, with the exception of SMC members, who are given coloured variations of the standard SEA military uniforms. SEA outfits consist of navy blue camo pants and tops, black combat boots, brown gloves, and a black vest, with a grey scarf. Military Police are given their own bullet proof vest which covers their upper torso. Ranks are displayed above their head.
Gear:
By default, SEA military members possess a Berretta M9 pistol, Fishing Rod, Flex Tape, and their ID. Additionally, if players own the Military Police , or Police ChiefGamepass, they will receive a MP Shield and Cuffs.
Jobs
Currently there are 12 jobs available to choose, with some being locked behind a paywall.
These jobs are:
Tips:
As a member of SEA Military, you are expected to maintain and operate the Border, and let Visitors in. You are also expected to protect visitors from Pirates that may attempt to raid Visitor Island. You can also patrol the sea in Ships, and capture Pirate controlled Islands. If you are unsure of what to do, check the current mission objective set by the Base Commander.
Don't kill Visitors, killing 3 Visitors will give you the Wanted status, and killing 5 Visitors will give you the Exiled status. You can however, kill Assassins, and will not be punished in any way, however this is unadvised, as killing non hostile Assassins for no reason can lead to you aggravating surrounding Assassins, and initiate a border raid, jeporadizing your teammates lives. You may also be detained for an unprovoked attack, however a Police Chief, or Base Commander must manually do this.
Sours: https://roblox-navy-simulator.fandom.com/wiki/SEA_Military
NEW Plane In Navy Simulator (Roblox)- BOMBER!
⚓ We are at WAR! Pirates swarm our tropical waters and engage in INTENSE NAVAL COMBAT with the protecting SEA forces. It is up to YOU, your ship, and your crew to determine the fate of the Trident Isles. Whose side will you fight on? ⚓ ❗ OCTOBER 8TH: Area 52 island has been added! Storm the base as a pirate or defend the server room on SEA team for massive cash rewards! ⭐ CLAIM your in-game rank and get instant SEA Team Access by joining the group: https://www.roblox.com/groups/2648601 - 🔱 Play as the Captain of your own ship and be a Protector or a Marauder of the High Seas! - 💂 Climb the ranks of SEA Military and eventually host Trainings and lead your own crew! - 🎮 Customize your loadout with a wide array of unique weapons to use in combat! - 👍 Enjoy the game? Leave a favorite and like to support the developers! 🔥EXTRA GAMEPASSES: https://www.roblox.com/games/6371293587 💬Check out the Social Links below to learn more about our community!
237

134,595

4.4M+

12/10/2020

10/10/2021

70

Naval
Sours: https://www.roblox.com/games/6068707488/Navy-Simulator
Roblox navy simulator
.
Navy simulator (Roblox)
.
You will also like:
.
353
354
355
356
357