WGN Around Town Gets a Chance to Experience Tricoci University of Beauty Culture
On March 19, Chicago's WGN 9 was able to get up close and personal with Tricoci University of Beauty Culture. The news crew sent out Ana Belaval, a WGN feature reporter, to gather more information about Tricoci University in the Around Town segment on the news. Here's everything you need to know about this amazing Around Town segment.
1. Coloring Hair With a Colorist
During the Around Town segment, Ana was able to work with a colorist who was right in the middle of figuring out a coloring job on a mannequin. The colorist, who is currently a student at Tricoci University, was creating a balayage look on a mannequin—a crucial step all students have to take before moving on to real clients' hair.
Balayage, which is a unique "hand-painted" highlighting technique, is one that can be very difficult to master. However, with the help of a teacher and plenty of practice, it's possible to master it for real people. This coloring technique is one that students can learn at Tricoci University through the cosmetology course.
2. Adding Lines With a Barber
The next segment had Ana working with a barber who was busy giving a haircut to another student. It seems as though the student had already mostly completed the hairstyle and was in the process of adding some flair with lines. Because the barber was working with a student, not a client, and the process of adding a single line isn't too difficult, the barber was able to let her make one of them.
"Lines" are a barbering technique that adds unique, stunning designs to a hairstyle. A stylist forms a line by shaving the hair further down than it's shaved in the rest of the area. Multiple lines can come together to form designs, and a talented barber can even add swirls and round shapes. Through Tricoci University's barbering course, a barber can learn this along with many other skills.
3. Talking About Tricoci Loves Community
The biggest reason that WGN Around Town visited Tricoci University is to learn more about the Tricoci Loves Community program. Through this program, Tricoci University is opening services at discounted rates to veterans, active military members, teachers and frontline workers. This is a way for Tricoci University to give back to the community around it.
Through the Tricoci Loves Community program, military members, including both veteran and active duty, can receive free haircuts, and teachers or frontline workers can receive 10% off any product or service. If you fall into one of these groups and you want to receive a discounted or free service, book an appointment at your nearest Tricoci University clinical salon and make sure you bring an ID that proves your status as one of these groups.
Conclusion
With this Around Town segment, WGN has recognized Tricoci University's incredible commitment to the community around it. This is intended to acknowledge the importance of frontline workers, military members, and teachers, not just during the COVID-19 pandemic, but also before and after it. If community involvement is important to you, request more information to decide whether Tricoci University might be the right choice for your beauty education.
Sours: https://www.tricociuniversity.edu/beauty-blog/wgn-around-town-gets-a-chance-to-experience-tricoci-university-of-beauty-culture/
WGN Around Town in Logan Square with Ana Belaval
Category / Pinot State of Mind
Posted by / Pinot's Palette Logan Square
Date Posted / 10-20-2016
Share
Share
Category / Pinot State of Mind
Posted by / Pinot's Palette Logan Square
Date Posted / 10-20-2016
Now this is a way to start off a morning!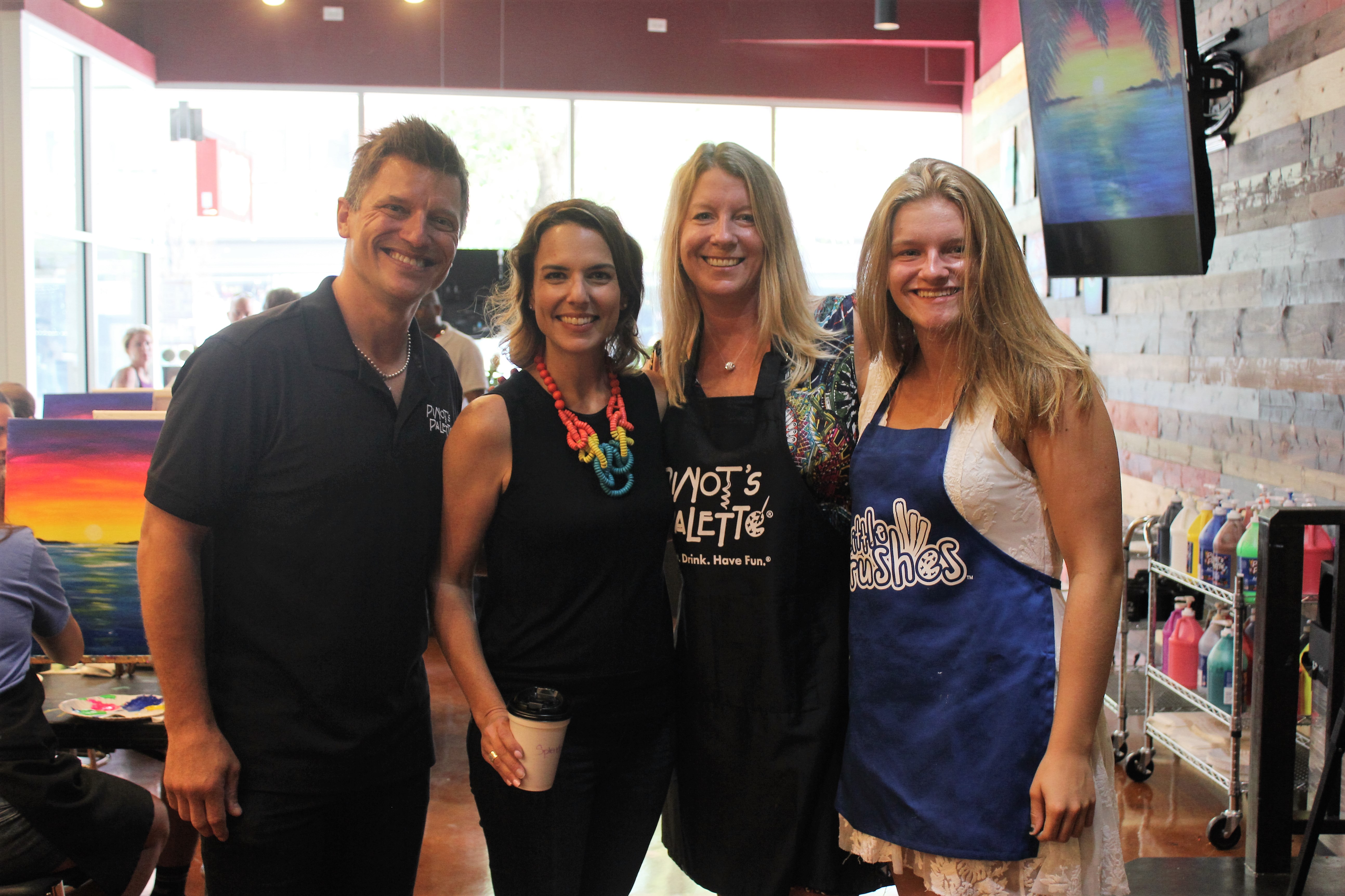 Bright and early with the WGN Morning News Team. Gotta love sharing mimosas with Ana Belaval & her crew...so much fun for a Monday morning!
Lucky us! The WGN Morning Team was out Around Town checking out new hot spots in Logan Square. Hitting seven businesses on Milwaukee Ave, Ana Belaval and the crew stopped into our paint and sip art studio for a visit. We has so much fun! As the first paint and sip studio in Chicago with a full bar, we loved showing off our space and menu of beer, wine and spirits. The WGN team didn't seem to mind partaking in mimosas. It was 8 am, after all!
In our paint and drink art studio, everyone is an artist. Tap into your creative side! Our parties are designed with beginning artists in mind and no art experience is required. Grab a friend and join us for one of our featured paint parties. We have so many fun events! You'll create your masterpiece while sipping on your favorite beverage.
Girls night, date night, birthday party, fundraiser, corporate event, holiday parties & more!
We deliver creativity, cocktails and good times in Logan Square. We're steps from the Blue Line Logan Square stop (exit to Spaulding Ave) and under a mile from I-94. What are you waiting for? Come paint, drink and have fun with our amazing Chicago Team!
#wgn #anabelaval #aroundtown #logansquare #chicago #paintandsip #thingstodoinchicago #pinotspalettelogansquare
Share Watch us on TV | Check Out Our Events
Sours: https://www.pinotspalette.com/logansquare/blog/pinot-state-of-mind/around-town-ana-belaval-pinots-palette-logan-square
Ana Belaval
Ana Belaval joined the WGN-TV in June 2005. She is currently a feature reporter on the WGN Morning News, covering the "Around Town" segment, which focuses on various people, places and things of interest in and around the Chicago area. Ana is a substitute anchor for CLTV News and WGN Morning News. She also contributes to the community affairs show 'Adelante Chicago!"
Prior to coming to WGN, Ana spent nine years at Univision, starting as a general assignment reporter in the Chicago affiliate WGBO and working her way up to network correspondent for Univision's national morning show based in New York. While at Univision, Ana was nominated for an Emmy for her reporting series "Ana Lo Hace," in which she performed various jobs held by Hispanics in Chicago. While in Chicago, Ana was also a weekend anchor and general assignment reporter. Ana is three-time Emmy winner and four-time Emmy nominee. She was also a finalist for the Peter Lisagor award for the special story, anabelaval.com.
In 2001, Today's Chicago Woman selected Ana as "A Woman to Watch" for her accomplishments in the media industry. Ana is involved with the Susan G. Komen Breast Cancer Foundation's Dancing with Chicago Celebrities created by Arthur Murray Dance Studios.
She received a Bachelor of Arts degree in Journalism from American University in Washington D.C. Ana was born and raised in San Juan, Puerto Rico and is very proud of her heritage. She recently gave a TedX Talk about how she found success embracing 2 cultures and 2 languages. She now lives in Chicago with her husband and 2 children. Ana shows her comedic side when performing her stand-up routines at various spots around the city including Zanies Comedy Club and Mikey O Comedy Productions.
Latest from Ana Belaval
Sours: https://wgntv.com/author/ana-belaval/
WGN News Around Town Feature
.
Town around wgn news
.
Around Town - Kohler Waters Spa
.
You will also be interested:
.
550
551
552
553
554