Down East Sunrise Trail
Accordion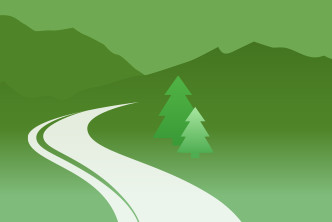 Cherryfield to Perry
September 2018dave234
Trails were in great shape and the leaves were just starting to turn color. Highly recommend for a nice UTV ride lots of beautiful sites.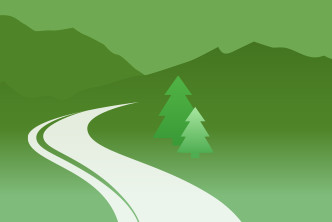 DISAPPOINTING
August 2018ibis23
Disappointing. We had high expectations since this is part of the East Coast Greenway and we have cycled many portions of it from Florida and northward. As mentioned in other reviews, this trail is for ATV's and is not recommended for bicycling. The trail condition was rough due to heavy use by ATV'S. It was rutted, washboarded, and has much loose sand and gravel from the ATV traffic. We were passed by 12 fast moving ATV'S and only saw 1 other bicycle on a Tuesday morning between Tunk Road and Franklin.
This is primarily an ATV/ORV track. We tried to bike it on a beautiful Sunday morning in late May and were passed by dozens of ATV's and and ORV's of different sizes. Each time plumes of dust were raised and by the time we decided to turn around (only three miles out) we were gritty and dusty.

This is advertised as a multi-use trail and I guess that it is, but riding a bike (or heaven forbid, walking) is unpleasant and realistically unsafe.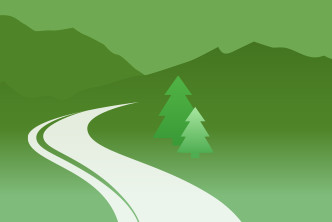 ATV trail during spring/summer/fall, first and foremost
May 2017dlmjlm11
We were excited to accept the challenge of the 85 mile rail-trail. We bicycled from Ellsworth to Columbia Falls in 8-10 mile chunks parking at different entry points along the way, making a 16-20 mile ride round trip each time. Every time we rode we encountered an abundance of ATVer's who dusted us out each time we passed each other, and since they were approaching us at rather high speeds, we stopped and got off of the trail each time. We did the majority of our rides mid-week hoping to avoid a lot of ATV traffic but also tried riding on the weekends, same story. The scenery in many of the areas was very nice but on our final ride there was deep, loose gravel and we sadly abandoned the challenge to ride the entire trail. From research after we threw in the towel, it appears that the ATV folk have financed a large part of this trail and are enjoying it thoroughly. In my opinion, I don't think that the ATV/Bicycle mix is a good fit.
The sunrise trail is great. It would be a lot better if the groomer didn't wait 2 or 3 days after it snowed. Considering we only get to ride locally a few times a winter. My thought is more people would donate or join clubs if trails where groomed more than once a week. That's just my 2 cents. The scenics are like no other.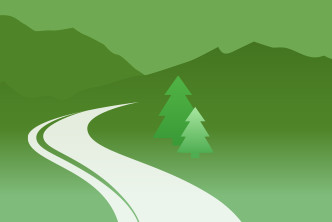 If you are not riding an ATV stay away
September 2016dovertrail
Was looking for a new "Rail" trail. Pulled into the parking area in Ellsworth, about 40 trucks with trailers. Very dusty with all the ATV traffic. I guess it is called the Sunrise Trail and not the Sunrise "Rail" trail. Everyone needs a place to ride so leave this one to the motorized vehicles and find a Bicycle trail.
I rode from Ellsworth out 20 miles and back yesterday and it was a pleasure! I have a fairly new mountain bike and my only regret was that I did not put knobby tires on it because the loose gravel and sand sometimes posed a challenge. However, for the most part with my 2.0 inch wide slick tires, I had no problem gaining purchase on the surface (it probably helped that the conditions were very dry).

I found the ATV riders to be courteous and they slowed to pass. There were not very many and I was alone for long stretches in the Maine wild. The scenery is excellent, although at times the bogs and forest can seem a bit monotonous. I saw beaver, osprey, eagle, hares, and various other birds (a nice flock of cedar waxwings, for example). I'm sure there are moose and bear in the area, particularly the former, but I did not see any (next time?!). Schoodic Mountain is a great place to stop for a picnic and there are ample picnic benches along that section of the trail to stop for snacks and pictures. I highly recommend the general store in Franklin, which is about 0.25 mile off the trail.

I can't wait to go back and ride the trail from end-to-end when the weather warms up a bit. This being Maine, I'm not sure when that will happen, although we're already into mid-June.


Great trail system use it all the time it's completely awesome atv
My buddy, and I, biked 35,25,and 21 miles on DEST in June,2015.It was great biking except for the ATV traffic. But the trail would never have been built w/out the local support. It's a tradeoff, as always. You'd never see the swamps, beaver ponds, animals, and backwoods w/out the Trail. I lived in Washington County for five years; it needs all the help, and support it can get! Take a trip. See the County. It's what Maine used to be. They should put the whole thing in a museum, to be preserved.
My wife and I road our mountain bikes for twenty five miles on the trail yesterday.It was great.For the most part we were the only ones on the trail.When a atv passed us they slowed down and were very friendly. The trail for the most part was in good shape.If you want to see the real Maine this the place.If your expecting perfection don't go here.
This trail is not a bike trail. It is a fire road for use by ATVs, motorcycles and other motorized vehicles. Today there were easily 10 such vehicles for every bicyclist, most are going over 30 mph when they pass by. Trail surface is badly torn up by the traffic, with long expanses of large, loose gravel that is a hazard to ride on, no matter how wide your tires. Save yourself the agony and stick to the carriage roads in Acadia.
I am looking forward to seeing this trail soon but am a little intimidated to have atvs running a straight line trail at any speed with my horse. In Fl where I live part of the year we have several parks and trails that utilize the same space but separated tracks and trails for mechanized vs non mechanized - Even the ATB in Acadia can be horse problem and there horses came first a loooong time ago.Atvs are not the only issue for horses - even bikers can be a huge problem if they speed up near horses it is like something chasing them and especially if riders dont speak as they get close the buzzing of a bicycle that seems non human to a horse and can cause them panic- seems that a nice solution would be a separated track - perhaps trail volunteers myself included could start working to id spots that are in harmony w quiet walking or horse sections and help diversify this trails use! horseback rider
DEST is a super highway of entertainment thrills for MOST who chose to utilize it. Yes, it's dusty, has loose gravel, and is proudly open to most modes of transportation.
Be reminded, many of those ATV riders are members of clubs; most are Maine residents, and spend hours of their personal time maintaining trails. They pay taxes year round, not just a week or two and contribute to the enjoyment of all.
It defies reason to suggest that tourists have the say as to how the trail is to be utilized.
Prior to setting out on a trek it is best to seek abundant input and the suitability of the trail to your needs. If you are accustomed to asphalt, concrete, or other urban prepared surfaces the Downeast Sunrise is not the trail for you.
People utilizing the trail have always been friendly and courteous.Sometime a bad experience is simply you reap what you sow.
My wife and I should have known better than to even try this trail, but we were vacationing in Downeast Maine, and after battling heavy car traffic and poor pavement conditions as we biked on coastal roads in the area, we thought that perhaps mingling with a few ATVs would be an improvement over the cars on the roads.

We were sadly mistaken. We accessed the trail on the Tunk Lake Road, north of Sullivan. There is a parking lot there. This was a sunny Saturday morning in August. We had read the earlier reviews of the trail, and we were therefore aware that some reviewers remarked about the loose, rather large-sized gravel. At least one reviewer, however, said that some in their party were successfully riding hybrids, which is what we have.

We spent about 15 minutes on the trail before we bagged it. The loose gravel, no doubt made looser by the ATVs, was too much for us. We couldn't concentrate on anything other than negotiating the darned gravel. We defintely do not recommend using hybrids on this trail.

We might have stuck with for a while longer, but even worse than the gravel were the ATVs. They were whipping past us in groups. They were not at all courteous, as other reviewers have testified. These often-scowling people were speeding past us, coming very close to us, spitting gravel and dust at us. We were appalled by the behavior.

We understand the popularity of ATVs in Maine. We do think, though, that it's a shame that they are among the user groups allowed on this trail. There are vast tracts of backwoods in Maine, riddled with dirt tracks that these ATV folks can traverse to their heart's content.

I should note that, in the days following this experience, we made a point of examining other sections of the trail when we happened to be driving on a road that intersected it. We found the same physical conditions as we'd encountered on our short bike ride, so we concluded that we had not simply had the misfortune of selecting a particularly nasty piece of the trail to bike.

From a cyclist's perspective, this is by far the worst multi-use trail we have ever encountered anywhere. Sorry, but we strongly believe that motorized vehicles are incompatible with non-motorized uses on trails. We'll stick to the wonderful rail trails we've encountered elsewhere in New England and the Maritime Provinces, which are appropriately restricted to non-motorized uses in the snowless months of the year.
We decided to ride this trail this past May as a fun training exercise in preparation for the grand daddy of mtb endurance races - the Tour Divide. With ages ranging from late forties to late fifties we planned on riding over and back in a two day challenge.
Starting in Ayers Junction on an overcast and cool May day, we proceeded to ride southwest towards Ellsworth with loaded mountain bikes. Fortunately for us, the cool weather and "not yet summer" timing prevented us from having to endure the wrath of the dreaded Maine Black Fly. They were just on the verge of emerging during our ride and having had plenty of experience in the Maine Woods, it would have been a different experience if they were in full bite mode.
As others have written, this is not a 'soft' urban rail trail. This is rugged country and this trail is bit more challenging surface than some may be accustomed to. Still, it's easily ridden and we didn't find the surface to be an impediment in any way. Overall, I'd say the trail is in excellent condition and we were able to carry steady speed over most of it. The only 'water' issue on the trail was one boggy section where beaver dams caused some water to rise to trail level. But it was insignificant and easily navigated.
We also came upon a handful of ATV'ers, but being a weekday, not many considering we covered 85 miles over to Ellsworth on day one. Ditto for the ride back to Ayers Junction on day two. Everyone we encountered was polite and quickly out of site.
The terrain and scenery on the route down and back is rugged backcountry. There isn't access to a whole lot of services in this part of northern Maine. The towns of Machias, Columbia Falls, Herrington and Cherryfield offered us an opportunity to grab something to drink and eat, but think general store, not gourmet restaurants. Anyone riding this trail needs to plan according to their ability to cover large distances as you'll pedal for hours without seeing a soul. Not a bad thing, just know before you go.
Like most rail trails, there isn't much in the way of elevation you need to be concerned about. What grades there are tend to long and gradual. It took us about 8 hours to travel from Ayers Junction to downtown Ellsworth. That was steady pedaling with short snacking stops every 20 miles or so. On our day one it rained off and on most of the day and by the time we arrived in Ellsworth we were wet, a bit chilled and tired. The plan had been to camp, but we made the easy decision opting for a hot shower and hotel room. Good choice.
This is a beautiful rugged part of the northeast. Anyone riding this trail needs to be able to make simple bike repairs like fixing a flat. Otherwise you could be walking a long way get help. Weather here along the Maine coast is ever changing. You should be prepared to deal with the elements and changing temperatures, here they're a fact of life.
As others have noted, because of the trail surface, this is a mountain bike trail. You could manage most of it with a good cross bike, but it wouldn't be nearly as comfortable in my opinion.
The reward is traveling over some beautiful country, along rivers, bogs, saltwater marshes, lakes and woodlands. If you enjoy being "out there" in nature, this trail is spot on. If your experience is more urban rail trailing, then the remoteness of the Sunrise Trail might be a bit intimidating in comparison. But this trail is easily doable with some planning and preparation.
Both the ride down to Ellsworth and back the next day were cool and rainy. We didn't see much sun or warmth for that matter. Still we had a great two days. The Sunrise Trail isn't for everyone, nor does it try to be. With limited access to services and a slightly rougher atv surface, this trail is perfect for those wanting to ride a modestly challenging remote trail.
Rode this trail from Ayers Junction down to Washington Junction with 9 friends. We were transported with our bikes from Ellsworth the first day. Took our time, staying in Machias and also in Milbridge. Very relaxing, enjoyable ride with great surface and wonderful views, the peace and quiet we were looking for. Would definitely do it again someday.
Rode this trail from Ellsworth to Cherryfield and saw some amazing views. Trail is in amazing condition. Great job Maine.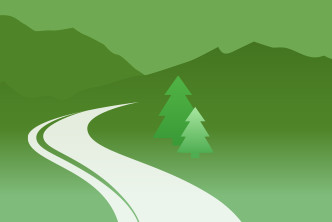 Great mountain biking from Machias east
July 2013kurtenbm
I rode the trail from Machias to Dennysville and back on a Tuesday. Unfortunately it rained the whole way but I still got a lot of great pictures and was all by myself. This section of the trail is an easy ride for mountain bikers as the trail is very firm. You get great views of coastal waters as well as inland waters. There are several sensitive habitat areas you ride through which provide for some spectacular views. Plenty of forest as well. If you get to Machias you have to stop into Helens Restaurant for the Blueberry Pie! The Machias Motor Inn is right on the trail which is convenient if you want to bike out of Machias.

This was my 5th Maine rails to trail I did during the week. Kudos to the rails to trails map download for GPS. It was spot on the entire way on every trail and very helpful. Combined with a road map download (I used a free download) and you're set for some great exploring.
Our experience with the Down East Sunrise Trail? It was disappointing. We didn't have time to bike the entire length, so our plan was to carve it up into a few segments (my wife's limit is about 25 miles - I'm OK with that) and to be shuttled back to our car. Our plans included taking interesting rest stops along the way and rewarding ourselves with overnight stays in B&B's. I researched Ellsworth as our starting point. When I couldn't find any fun place to stay (all chain motels) I looked at the next town up the line – Cherryfield. I did find a wonderful little B&B there. So, despite adding another 30 minutes to our drive up from Boston, we decided to start there, bike to Machias (~28 miles), stay overnight, ride on to the trail's end at Ayers Junction (~29 miles), and get transported back to Cherryfield. I discovered a shuttle service, but the cost seemed unreasonably pricey (more on that later), so we modified our plan to bike out to Machias, stay overnight, and return to Cherryfield. The trail is designated multi-use and the surface is listed as hard pack. The truth is it's primarily an ATV trail and the surface in many places is loose gravel. We were cautioned about the ATVs but we found them without exception to be friendly and courteous and willing to share the trail. As it was, we saw very few other bikers (maybe six or so over the two days). It would be a boring hike and I wouldn't take a horse on the trail unless it was comfortable around machines. XC skiing might be fun in the winter but I'd think you'd have to work hard through the ATV tracks and grades (more on that also). There are some beautiful river crossings and scenic ponds on the Cherryfield - Machias segment but for the most part the trail isn't interesting – just piney woods. Although the trail map shows some small towns along the way (e.g., Columbia Falls), you would have to get off of the trail and on to US 1 to find them. (Afterwards, we retraced along US 1 in attempt to find these towns. They're either just crossroads or don't have anything interesting to offer. Not even a general store - just gas stations. Obviously, the original railroad skirted them.) So instead of stopping and strolling, we biked straight through with only brief rest stops. We saw very little wildlife but I suspect that's because the ATVs scare them off. As I noted, a lot of the trail surface is loose gravel, due, no doubt, to the ATVs tearing it up. There are some very long grades that, while not steep, nonetheless really work you if you're a casual biker like us. (We have biked the entire length of the C&O Canal tow path, so, while casual, we are more than just ride-around-the-neighborhood types and are familiar with longer bike rides.) The weather was picture perfect, but the wind on the return trip, coupled with the loose trail bed, really exhausted us on a few of those long grades. (The last, of course, being at the very end when we were tired.) Machias is a fun little town – what we had hoped to see more of along the trail. We stayed a wonderful B&B and had a great meal. If you're ever in that neighborhood, you have to eat at Helen's. Regarding the other segments, Machias – Ayers Junction is in wilderness, and the Ayers terminus is a parking lot out in the middle of nowhere with Calais, at around 30 miles, being the nearest town. That's why I now think the shuttle service is so expensive. We were later told that the Ellsworth – Cherryfield segment is the most scenic. While we have no regrets about taking the trail, neither one of us is motivated to return and explore these other segments and I certainly would not recommend the trail to anyone who had to travel any distance to get to it.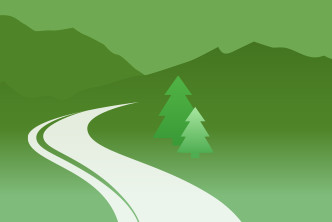 Long and Interesting But Primarily an ATV Trail
August 2012aabernhard
Three of us just rode the Sunrise Trail end to end; one on a mountain bike and the other two on hybrids. The Trail has some beautiful views, a hard but rough surface, 1 1/2 " minus stone base and in many places a high loose center berm that is hard to cross. The large stone size makes this easier to ride on mountain then hybrid bikes. There is steady but polite ATV traffic. Normal stone size would have been 3/8" or less. The larger stone size has enabled the Trail to withstand heavy ATV use but has made it less then ideal as a bike path. Users should plan to be self sufficient on the Trail. The Red Rooster and a organic food store on Main Street, both in Ellsworth are good places to provision. Cherryfield and Machias are good places to stop, staying at the Englishman's B&B and the Machias Motel. If you can add another 15 miles or so at the north end, stay at the Chadburn B&B and eat at the Pickled Herring. There is an off road/back road route from the northern end at Ayer's Junction to Eastport. Info on this is available by calling one of the Trail volunteers.
a nice trail through the woods - saw bogs and trees and butterflies and bugs - lots of bugs - be prepared for bugs (we stopped off in franklin to buy more spray as what we used at the beginning was ineffective) - lots of big ugly nasty bugs - the trail is maintained well - ATVers were courteous - but the surface was a little rough - bigger gravel and imbedded rocks than we're used to -
My husband and I have become frequent riders of Rails to Trails when we travel. We generally ride 20 to 30 miles at a time, but do not like to be on roads with traffic if at all possible. We loved the Carriage Trails in Bar Harbor's Acadia National Park, but also saw the Down East Sunrise Trail noted on this website and thought we would give it a try as well.

Very few people in Bar Harbor or in Ellsworth were familiar with this trail, even at the local bike shops, and as far as we could tell there was no easy way to rent bikes and get to the trail without riding on the roads for long distances. So, we drove to the Washington Junction section of the trail to get a lay of the land before deciding whether to make the ride at all.

A little hesitantly we decided to go ahead. We needed to rent bikes and bike rack, so we decided to try Cadillac Sports in Ellsworth. The manager of the bike section of the store had fortunately been on the trail, so after letting him know that we wanted to ride about 20 miles, he suggested the Tunk Lake to Cherryfield section of the trail for the best views. Since we were driving to begin our ride anyway, we drove out the extra 30 miles to get there.

When we did get there, we were out in the middle of nowhere. For us, a pair of 50 somethings, it was a little uncomfortable. I have to admit we are spoiled by paved paths with nice parking lots and facilities in most places that we have ridden. We also occasionally see other bikers. It was a Thursday, and we didn't see any other bikers but we did see several ATVs while we were out and all drove by slowly and waved. The path itself is dirt and gravel and is mostly flat with little tree shading. There are mile markers of a sort and we were able to stop at Lois' in Cherryfield for a drink and snack before heading back. There was also a small grocery store there.

By the time we headed back, we started to enjoy the ride. We knew what to expect by then and felt more comfortable with our surroundings. There was a nice bridge and river just outside of Cherryfield. We saw a deer hightailing it away from us as we rode by. There were also several pretty bogs, beaver dens and turtles. All in all, it was a good days ride, but a lot of effort with a lot of uncertainty for these two out-of-town bikers.




Took a ride Sunday October 24th on my ATV and wasnt expecting such a well detailed trail with the signs, especially the mile markers. I really enjoyed the scenery, and seen everything from horses to pedal bikes on the trail. Job well done!!!!!



Lisa Oettinger, Sue Shaw and Nancy Patterson at Columbia Falls.

Sue Shaw

1694 Castine Road

Penobscot, Maine

04476



207-326-8297

[email protected]




Sunrise Trail





The three people from Massachusetts rode their bikes up to their truck and were grinning from ear to ear! My friends and I had just finished our ride and were loading our bikes and also grinning. Different versions of "Wow, what a great trail" were flying through the air. They were photographers…the kind who earn their living at it…and they had come up from Boston to take photos of and to ride bikes on the Downeast Sunrise Trail. We were locals who have enjoyed the trail all summer. We all agreed…it had been a perfect day! But then…the Downeast Sunrise Trail MAKES perfect days!



Sometimes I discover something new in my life that is just so amazing…so important…so HUGE…that I want to share it with everyone I know. I interject it into every conversation possible…I bring it up at any event or gathering. I mention it to strangers in the grocery store and people in parking lots!



So it is with the Downeast Sunrise Trail.



The Downeast Sunrise Trail, the completely finished and officially open to the public rails-to-trails corridor that stretches from Washington Junction in Ellsworth to Ayres Junction up by Dennysville, is magnificent….and I find it impossible not to broadcast the fact!



There is not a single stretch of trail that is not Maine beauty at its best. It crosses bogs, passes through woodlands of every configuration, parallels streams, rivers and saltwater, and has views of mountains, blueberry fields and cranberry bogs. In the spring it is going to be a birder's paradise with habitat of every possible type from mud flats and beaches to forests and shrub rows. Its bridges go over beaver ponds, marshes, and some of the prettiest creeks imaginable. Although not always readily visible, stone work supporting the trail dates from early RR days. The workmanship and beauty of those arches, supports and spans rivals that of Mr. Rockefeller's bridges in Acadia although on a much smaller scale.



The DST does all of this on a fairly level (perhaps a 4% grade?) surface that is wonderful for mountain bikes, walking, jogging and ATVs. It would be impossible to design anything more beautiful than the functional route laid out by the RR many, many years ago.



Trail access is very simple. There are small parking spots all along the trail where it crosses roads or passes through various towns as it wends its way down east from Ellsworth. Road crossings are frequent enough to be handy, but infrequent enough to preserve the feeling of being completely immersed in back country Maine. It is easy to "spot a car" so that a trip on the trail only needs to be one way…but there is so much beauty that a round-trip or 'there and back' is a good plan also.



The signage is very well done—there are mile markers, stream and bog names, caution X-ing, stop ahead, road names, county line markers, town boundary lines…everything that needs a sign has one. Signs are small, but bright and easily read.



The Downeast Sunrise Trail was built to be enjoyed by everyone…and is. I will admit I was worried about ATVs and snowmobiles sharing the trail with bicycles and hikers and those on X-C skis and snowshoes…but my fears have been proven groundless. I have not returned home once from riding my bike on the trail when I have not said, "every ATV we saw slowed down and waved or nodded!" Everyone I have spoken to that has biked on the trail has said the same thing. I sincerely hope the ATVers are able to go home and say, "Every single biker scooted over and waved!" It is for all of us, after all!



Perhaps the most often repeated phrase shared by folks on the trail no matter what they are doing is, "How wonderful that a few people had the vision to dream of this and then the determination to make it happen!" I hope that wonderful group can feel all of the "thank-you" messages winging their way from folks on the trail. Kudos—many, many kudos to them…what a gift they have given Downeast Maine!



The trail, as it becomes well known regionally and even nationally, should draw more tourists like the photographers from Massachusetts. Tourists...with their bikes, cameras, bird books, running shoes, binoculars, painting gear and sketch pads, walking sticks, ATVs and snow toys. Tourists…who will need meals, places to stay or camp, gas, and stores in which to shop. A gift, indeed.



I am very proud of the fact that, as of last Friday, my bike and I have covered every inch of the trail. As I said to the photographers from Massachusetts, I feel like I have finished a mini Appalachian Trail! I plan to do it again…and again…it is too wonderful an experience to experience it only once.



And since it is so wonderful I simply cannot remain quiet about it.



So…be warned…if you have a bike on the back of your car…if you are hauling an ATV or snowmobile trailer…at some time…some where…I am probably going to walk up to you in a parking lot and say,



"Hi--have you heard of our Downeast Sunrise Trail…..?"










We rode the trail on October 3rd. We noticed that everyone riding the trail, not only in our group, but others as well, were very respectful of the bicyclists even though it may have been difficult for the ATVer's to pull over to the side (due to the steep grade). The scenery was gorgeous to see, and it was such a pleasure to ride on a trail that is basically flat...a rarity in Maine. It is nice that we now have been provided such a gem to use for all our registration fees! We acknowledge that it might be intimidating for the bicyclists to encounter an ATV, but if the ATV's were not using the trail, the bicyclists wouldn't have a nice, flat surface, free of rocks to ride. We think it is the best for both worlds.
I'm so excited that this long awaited 85-mile rails-to-trails trail is now open. I live about at the mid-point (Cherryfield) between the beginning & end of the trail & often ride in both directions, and have ridden all but 4 miles of the trail & it's all scenic. The trails goes through beautiful wilderness, with lots of bogs & woods. Although there are ATVs on the trail, they are very respectful of cyclists on the trail. The surface is packed dirt & stones, so make sure you have a mountain bike or good tires on a hybrid bike. There are lots of things to do and see in this part of Maine, so plan to make your trip a biking/hiking/kayaking adventure.
Twelve bicyclists rode four days staying overnight in Cherryfield, Machias, Dennysville, and Eastport. Average age 78. Passed 58 ATV's the first day which was the first Sunday the trail was open. We kept riding and stayed in our lane while they went around us very politely. Much cheering and greeting. No flats, no problems. A great ride.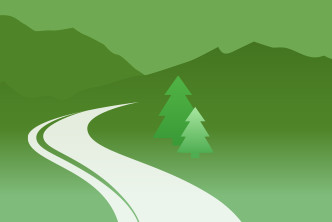 A biker's perspective
October 2010maxandike
I rode 15 miles on the new section from Washington Junction in Ellsworth on Sept. 26th. The trail is in wonderful condition the sites were beautiful (early fall colors). I have never riden a rail to trail before and was a bit hesitant when I pulled into the parking area and noticed it full of ATV trailers. Fearing that I would encounter fast moving, rock throwing and close riding ATV's, I set out expecting the worst. I was pleasantly surprised to find that the ATV's that I encountered were respectful, friendly and polite. I'm planning another, longer ride tomorrow.
We accessed the trail in Machias at the old railroad station. Even though the trail is designated multi-use, it might as well be called an ATV trail. As bicycle riders we had to keep pulling over on the trail ALOT more than anticipated. On a bike, it's difficult to pull over due to the rocks are larger on the side of the trail which made the riding unsteady. The ATVs are causing ruts in the trail, as well, from overuse. Again, the ruts are probably not significant to ATV riders but to bicyclists they are. We will not be using this trail again.
we rode this trail in October 2009 and had no problems with it.

Going back to ride on this October 2010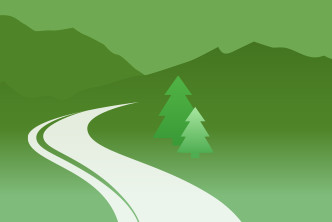 Trail Section in Pembroke has Potential
November 2009briancostello
We went running on the trail section in Pembroke this morning. It has not yet been improved...and is very muddy and rutted. Nonetheless, it is a diamond in the rough.
Sours: https://www.traillink.com/trail/down-east-sunrise-trail/
Downeast atv trail
Post Your Comments?
Down East Sunrise Trail Down East Sunrise Trail
9 hours ago The Down East Sunrise Trail is a multi-use corridor connecting eastern Maine and the East Coast Greenway. Discover a natural landscape of green forests and vast marshes, habitat for iconic moose, beavers, eagles, wild turkeys and white tail deer. No current trail alerts. For official trail …
Website:Sunrisetrail.org
Category: Use words in a sentence
Down, Discover, Deer
ATV guide/ info for Down East Sunrise Trail http://www
2 hours ago connects to access routes to the Robbingston ATV club trails and to Calais ATV trails. Trail note:There are over 1000 miles of ATV trails that are interconnected and accessible at the following Mile Posts along the trail MP 31 #514 RW Mathews fuel 2 miles, Milbridge 8 miles, and Steuben, fuel and food 13 …
Website:Sunrisetrail.org
Category: Use for in a sentence
Downeast Trail Riders ATV Club ATV Maine
2 hours ago 2020 - 2021 Member Downeast Trail Riders Meetings are held on the 2nd Wednesday of the month at 7 p.m. at the Washington Academy, Rm#11, Cutler Road, East Machias Trails are located in East Machias Contact The Club PO Box 658 East Machias, ME 04630
Website:Atvmaine.org
Category: Use words in a sentence
Downeast
Down East Sunrise Trail Maine Trails TrailLink
6 hours ago Down East Sunrise Trail spans 87 mi. from SR 214/Ayers Junction Road 0.5 mile south of Mt. Tom Road (Pembroke) to US 1/ SR 3/High St. and Beals Ave. (Ellsworth) . View amenities, descriptions, reviews, photos, itineraries, and directions on TrailLink.
Rating
: 4/5(35)
Location: Down East Sunrise Trail, Boston, MA, Maine
Website:Traillink.com
Category: Use words in a sentence
Down, Descriptions, Directions
Down East Sunrise Trail Maine Trail Finder
9 hours ago The first 1,000 feet of the Down East Sunrise Trail extension is paved with asphalt, and the rest of the 2.2-mile trail extension is covered with crushed concrete. Unlike the rest of the trail, this stretch is parallel to the railroad tracks, which are used by the Downeast Scenic Railroad. ATV-ers, pedestrians, bicyclists, cross-country
Website:Mainetrailfinder.com
Category: Use words in a sentence
Down, Downeast
Down East Sunrise Trail Home Facebook
5 hours ago Down East Sunrise Trail, Cherryfield, Maine. 8,613 likes · 36 talking about this. A Multi-Use Trail running from Ellsworth, Maine to Ayers Junction, Maine with onroad connections to Bike Route 1, the
Rating
: 5/5(26)
Location: 1 Main Street, Cherryfield, ME, 04622, Maine
Followers: 9.1K
Website:Facebook.com
Category: Use words in a sentence
Down
Maine ATV Trails & Trail Maps TrailLink
4 hours ago Find the top rated atv trails in Maine, whether you're looking for an easy short atv trail or a long atv trail, you'll find what you're looking for. Click on a atv trail below to find trail descriptions, trail maps, photos, and reviews. The 87-mile Down East Sunrise Trail passes through the woods, marshlands, and coastal villages of
Rating
: 4/5(187)
Website:Traillink.com
Category: Use words in a sentence
Descriptions, Down
Grand Lake Stream ATV Club Blazes The Trail – Downeast
Just Now Grand Lake Stream ATV Club Blazes The Trail May 10, 2016. The Downeast Lakes Land Trust (DLLT) supports local organizations that improve the local economy and the overall environmental well-being of the beautiful Downeast Lakes region. One group that is improving outdoor recreation opportunities and public access is the Grand Lake Stream ATV Club.
Website:Downeastlakes.org
Category: Use words in a sentence
Downeast, Dllt
ATV Trails Near Me ATV Trails & Maps TrailLink
6 hours ago Another resource for off-road enthusiasts is the All-Terrain Vehicle Association, which offers a list of popular ATV trails, a directory of local riding clubs, and other helpful information. If you're new to the sport, you may also want to check out the All-Terrain Vehicle Safety Institute, which offers hands-on training courses and rider tips.
Website:Traillink.com
Category: Use words in a sentence
Directory
Maine Trailside ATV Lodging for the 2021 Riding Season
1 hours ago Near Down East Sunrise Trail. 207-598-8497. INN AT SCHOPPEE FARM 21 Schoppee Dairy Rd, Machias Near Down East Sunrise Trail 207-540-5504. MACHIAS RIVER INN 103 Main St, Machias Near Down East Sunrise Trail 207-255-4861. RIVERSIDE INN & RESTAURANT 622 Main Street, East Machias On Down East Sunrise Trail 207-255-4134. ROBINSON'S COTTAGES
Website:Untamedmainer.com
Category: Use for in a sentence
Down, Dairy
Snowmobile & ATV – Downeast Lakes Land Trust
6 hours ago These interconnected trails are a result of partnerships between landowners, snowmobile clubs, towns, and the Maine Bureau of Parks and Lands. ATV trails provide designated routes for summer travel, and connections to trail systems on surrounding lands. DLLT also allows use of ATVs on gravel roads throughout the Downeast Lakes Community Forest.
Website:Downeastlakes.org
Category: Use words in a sentence
Designated, Dllt, Downeast
NJ ATV Rentals & Quad Riding at Raceway Park, Englishtown
9 hours ago NJ ATV Rentals. NJ ATV IS OPEN!!! Come get down and dirty with us! NJ ATV Rentals is a division of Motovation which has been in operation since 1997. We are proud to offer our services at the famous RACEWAY PARK in Englishtown, NJ. And coming in 2021, our NEW LOCATION in Williamstown, NJ!!! We offer ATV rentals to riders ages 8 and up.
Website:Njatvrentals.com
Category: Use at in a sentence
Down, Dirty, Division
Sunrise Downeast ATV Trail in Maine Adventure Rider
4 hours ago Sunrise Downeast ATV Trail in Maine. Discussion in 'GPS Tracks - Northeast, Southeast & Florida' started by zeeede, Mar 26, 2014. zeeede, Mar 26, 2014 #1. zeeede Long timer. Joined: Mar 6, 2012 Oddometer: 1,158. You need a Maine state ATV sticker to ride ATV trails in …
Website:Advrider.com
Category: Use in in a sentence
Downeast, Discussion
Enock's Adventures: Downeast Day Two
1 hours ago Enock's Adventures: Downeast Day Two. October 15, 2021 Enock Glidden. Trail Suggestions, Accessibility, Downeast & Acadia, Enock's Adventures. This is a guest post written by Enock Glidden, MTF Accessibility Ambassador, Public Speaker, Adaptive Athlete, and Adventurer. To learn more about Enock, please visit his website.
Website:Mainetrailfinder.com
Category: Use words in a sentence
Downeast, Day
Four Wheeling Undiscovered Maine University of Maine
5 hours ago Aroostook County Bangor & Aroostook Trail Van Buren, Mapleton, and Caribou, ME 04736 61-mile multi-use trail that is part of northern Maine's Interconnected Trail System. It is used and maintained by various snowmobile clubs. Eagle Lake Public Reserved Land Eagle Lake, ME 04739 "Eagle Lake is a 23,000-acre unit including most of Eagle Lake in northern […]
Website:Umaine.edu
Category: Use of in a sentence
Maine ATV & Dirtbike Trail Maps – UNTAMED Mainer
6 hours ago State of Maine ATV Trail Map 2011. These trail maps are for reference only. Please contact individual ATV Clubs for the most updated trail maps for each region. Trail routes can change throughout the year depending on weather and landowner relations. The County – Fort Kent, Presque Isle & Houlton region. Aroostook County ATV Trails.
Website:Untamedmainer.com
Category: Use words in a sentence
Depending
Downeast travel Home Facebook
8 hours ago Downeast travel added 57 new photos to the album: 🙏🏻. January 30, 2020 ·. 22. Like Comment Share. Downeast travel. January 21, 2020 ·.
Rating
: 5/5(8)
Location: 394 Washington JCTN Rd, Hancock, ME, 04640, Maine
Followers: 420
Phone: (207) 478-2219
Website:Facebook.com
Category: Use words in a sentence
Downeast
Maine ATV News & Trail Notices: Bureau of Parks and Lands
8 hours agoTrail Opening Notice: The Downeast Sunrise Rail Trail is opening Saturday May 1, 2021. There is still grading occurring so be careful and yield to equipment. Also please be aware that club trails leaving the rail trail remain closed for mud season until the …
Website:Maine.gov
Category: Use of in a sentence
Downeast
POINTS OF INTEREST DEST Trail Guide
1 hours ago = ATV and snowmobile trails that cross the DEST. www.sunrisetrail.org Washington Junction to Ayers Junction = 85 miles Maine Bureau of Parks and Lands 85 miles and growing, the Down East Sunrise Trail (DEST) is a year-round multi-use rail trail, and the longest o˜-road section of the East Coast Greenway. This Guide provides a trail overview
File Size: 1MB
Page Count: 4
Website:Maine.gov
Category: Use words in a sentence
Dest, Down
Down East Sunrise Trail DownEast and Acadia Maine Forum
3 hours ago 7,973 posts. 141 reviews. 147 helpful votes. 1. Re: Down East Sunrise Trail. 9 years ago. Save. Downeast Sunrise Trail passes through lots of rural countryside with a few small towns along the way. Only communities of any size along the way are Ellsworth and Machias.your best bet for bike rentals will likely be in one of those two communities.
Website:Tripadvisor.com
Category: Use and in a sentence
Down, Downeast
Airline ATV Riders Home Facebook
7 hours ago Airline ATV Riders. Yesterday at 6:49 AM ·. Reminder of their first in person meeting over in Cherryfield on Saturday. SAT, AUG 21 AT 6:00 AM UNK. Eastern Region In-Person Meeting. 334 Ridge Rd, Cherryfield, ME 04622-4030, United States. 2 people going. 22. Like Comment Share.
Website:Facebook.com
Category: Use words in a sentence
ATVing in Maine
1 hours ago We have everything from a major gravel road to a remote trail that meanders through some of the western Maine mountains," said Dan Mitchell, the president of ATV Maine. One of the most beautiful places to ride an ATV in Maine is on the newly opened Down East Sunrise Trails, which spans over 85 miles in Hancock and Washington Counties.
Estimated Reading Time: 2 mins
Website:Activitymaine.com
Category: Use in in a sentence
Dan, Down
Machias, Maine Trails & Trail Maps TrailLink
9 hours ago Down East Sunrise Trail Great ATV/UTV Trail. August, 2020 by spike8717. This is a great trail if you're looking to take out your atv or utv. At 87 miles from start to finish I was able to complete the trail in about 7 hours with frequent stops/breaks and average 40PMH. The trail is …
Rating
: 3.6/5(42)
Website:Traillink.com
Category: Use words in a sentence
Down
Maine ATV Rentals – UNTAMED Mainer
4 hours ago Northern Maine ATV Rentals & Tours Fort Kent 207-834-3004 or 207-231-1346. Highlands. The Lodge at Moosehead Lake 368 Lily Bay Road, Greenville 1-800-825-6977. Moose Mountain Inn PO Box 160, Greenville 1-800-792-1858 Polaris. Northwoods Outfitters 5 Lily Bay Road, Greenville 1-866-223-1380 Polaris . Downeast & Acadia. Downeast ATV 394
Website:Untamedmainer.com
Category: Use words in a sentence
Downeast
Trails and Maps for Coastal Washington County. Maine
4 hours ago Down East Sunrise Trail. An 87 mile multi-use trail, open year round, along the rail corridor from High Street Trailhead in Ellsworth to Ayers Junction in Pembroke, for snowmobilers, ATV-ers, pedestrians, bicyclists, cross country skiers, equestrians and other outdoor enthusiasts.
Website:Visitlubecmaine.com
Category: Use and in a sentence
Down
Maryland ATV Trails Page 1 RiderPlanet USA
Just Now (Page 1 of 2) Top Rated Maryland ATV trails, OHV parks, motorcycle trails and motocross tracks for 2021. Includes MD trail maps, GPS points and photos of all legal places to ride your motorcycle, OHV, ATV, quad, dirt bike, motocross MX bike, dune vehicle or 4x4.
Website:Riderplanet-usa.com
Category: Use words in a sentence
Dirt, Dune
Downeast Maine ATV Clubs – Flagstaff Area ATV Club
9 hours ago Downeast Maine ATV Clubs. Acadia Area ATVers (Ellsworth) Airline ATV Riders (Eddington) Breakneck Mountain ATV Club (Calais) Down East Trailriders (East Machias) Dwinal Pond 4 Season Club (Winn) East Stream ATV Riders (Cutler) Mid Coast ATV Club (Searsmont) Penobscot Ridge Riders (Bradford)
Website:Flagstaffatvclub.com
Category: Use words in a sentence
Downeast, Down, Dwinal
Maine ATV Rentals and ATV Tours
3 hours agoATV trail map. ATV helmet. Goggles. Free instruction. Free trail advice. Free overnights with multiple day rental. ATV RENTAL RATES. Polaris RZR SxS 570 half day $270 full day 385; 4-person Ranger 570 half day $320 full day $440 ; ADD A GUIDE TO YOUR TRIP (up to 6 people) 1-2 People – Full Day $290, ½ Day $220 ; 3-4 People – Full Day $80pp
Website:Maineoutfitter.com
Category: Use and in a sentence
Day
Ryan Kelly Facebook
3 hours ago MyUnique, Tamburin - Rasplove, Super News Supes, BLINK Beauty, Dark Ink Art, Morris 4x4 Center, Carter Homes LLC., Tom Braley Photography, tainted_candy, Crafts for Daze, 267 Jeep Crew, Courtney Coolbaugh, Celestron, Dwights demo, Friends of Lord Stirling Stable, SaphirNoir, NJ Division of Fish and Wildlife, Time Out Sport Fishing, Bass King
Website:Facebook.com
Category: Use words in a sentence
Dark, Daze, Dwights, Demo, Division
And Done — Jenn's Journey North
6 hours ago The Ellsworth to Franklin trip on Monday was along the 87-mile multi-use Downeast Sunrise Trail that runs parallel to Route 1. There are no cars or trucks, but you do need to yield to an occasional ATV, which can kick up dust from the trail, depending upon how fast its driver is traveling.
Website:Jennsjourneynorth.com
Category: Use words in a sentence
Downeast, Do, Dust, Depending, Driver
ATVing: Bureau of Parks and Lands: Maine DACF
5 hours ago Contact Us. ATV Program Bureau of Parks and Lands 22 State House Station Augusta, Maine 04333-0022 (207) 287-2751
Website:Maine.gov
Category: Use of in a sentence
Downeast Sunrise TrailMaine Yamaha Wolverine Forum
5 hours ago I have compiled a list of places to stay on or near the Sunrise Trail located in Ellsworth, Me. Most of these places have direct trail access. A trailmap can also be purchased by sending $5 to Detrail Riders, PO Box 658, East Machias, Me 04630. This is a detailed map showing all the trails between Ellsworth, Calais and Lincoln Maine.
Website:Wolverineforums.com
Category: Use words in a sentence
Direct, Detrail, Detailed
Downeast Maine ATV Clubs – Flagstaff Area ATV Club
4 hours ago Downeast Maine ATV Clubs. Acadia Area ATVers (Ellsworth) Airline ATV Riders (Eddington) Breakneck Mountain ATV Club (Calais) Down East Trailriders (East Machias) Dwinal Pond 4 Season Club (Winn) East Stream ATV Riders (Cutler) Mid Coast ATV Club (Searsmont) Penobscot Ridge Riders (Bradford)
Website:Flagstaffatvclub.com
Category: Use words in a sentence
Downeast, Down, Dwinal
Recreation & Attractions Maine Tourism Association
4 hours ago Bow and rifle sporting is permitted by season and ATV enthusiasts are welcomed. There are over 750 miles of world-class ATV trails in DownEast Maine. Two major trails are accessible directly from the many area sporting and hunting lodges—the DownEast Trail System and the Cherryfield Food Trail System. The region is also a foremost fishing hub.
Website:Mainetourism.com
Category: Use words in a sentence
Downeast, Directly
Down East Sunrise Trail ATV ride GoLectures Online
5 hours ago Got to ride parts of the Downeast Sunrise Trail from Cherryfield to Machias, Maine this weekend. Very easy ATV riding but lots of nice scenery. Fun to ride your ATV through towns and stop for lunch and stay at a campground right on the trail. Many beaver lodges and dams along the way.
Website:Golectures.com
Category: Use words in a sentence
Downeast, Dams
Atv Rental Ellsworth Maine
8 hours agoAtv Rental Ellsworth Maine - rentalsz.com. Rentals Details: Atv Rental Ellsworth Maine - Rental Services 2021 .Rentals Details: Atv Rental Ellsworth Maine - onlinerentaly.com. Posted: (7 days ago) · Maine ATV Rentals Maine has over 6,000 miles of ATV trails that are maintained by local ATV clubs. You can spend one day or an entire week on the trails, staying at trailside lodges and cabins
Website:Rentalsz.com
Category: Use words in a sentence
Details, Days, Day
Sours: https://useenglishwords.com/results/downeast-atv-trail/
Trails and Maps for the Region
The coastal Maine and New Brunswick landscape is rich with trails to be discovered. On this page you'll find some of the more popular trail destinations and trail map resources. Maine trails and maps listed at the top followed by New Brunswick trails and maps.
ATV Maine
Links to clubs and trail alerts. Promoting safe and responsible use of ATVs.
Bicycle Coalition of Maine Bold Coast BikeMaine Itinerary
BikeMaine's 2016 route from Winter Harbor to Jonesport, Machias, Eastport, Lubec, Milbridge and back to Winter Harbor.
Bold Coast Scenic Bikeway
Ride the Bold Coast with RideWithGPS with turn-by-turn cue sheets so you know where you are heading.
Bold Coast Scenic Byway
This state byway follows Route 1 for 125 miles between Millbridge and Eastport, with a few swoops down to visit fishing villages and the easternmost point of land in the contiguous U.S.
Cobscook Bay Navigational Chart link
A new inset with hydrographic data detail for the waters west of Cobscook Bay, where fishing vessels encounter some of the earth's highest tidal ranges, powerful currents, and treacherous conditions.
Cobscook Bay Region Get Active! map
Marks places for cycling, picnicking, hiking, camping, cross-country skiing, snowshoeing, fishing, etc.,
Cobscook Shores
A privately-owned system of eleven waterfront parks that offer public access and recreational use including walking, picnicking, hiking, biking, camping, and paddling in Cobscook Bay.
Cobscook Trails
Cobscook Bay and Bold Coast Maine Hikes - expanding opportunities for nature-based recreation and tourism in eastern Washington County.
Downeast - Lubec Region and Coastal Washington & Charlotte Counties Maps
Maps for navigating the Village of Lubec, Town of Lubec, and the Coastal Region.
Downeast and Acadia Regional Tourism Travel Planner
Guidebook, Lighthouses and Lobsters, and Historic Sites and Museums maps
Downeast and Acadia Maine Birding Trail
Maps, guidebooks, checklists - everything you need to find the birds!
Downeast Coastal Conservancy
Maintaining and protecting properties throughout coastal Washington County, DCC offers a variety of public access properties.
Downeast Fisheries Trail
From Penobscot Bay to Cobscook Bay, this trail connects historic and active fisheries sites that illustrate the region's maritime heritage.
Downeast Ice Age Trail Map
Order a trail map online from the University of Maine bookstore.
Information, apps and online map at http://iceagetrail.umaine.edu.
Downeast Ice Age Trail and Guide
Videos of Hal Borns, author of the Downeast Ice Age Trail map at a variety of stops on the map.
Down East Sunrise Trail
An 87 mile multi-use trail, open year round, along the rail corridor from High Street Trailhead in Ellsworth to Ayers Junction in Pembroke, for snowmobilers, ATV-ers, pedestrians, bicyclists, cross country skiers, equestrians and other outdoor enthusiasts.
East Coast Greenway in Downeast Maine
This 140-mile part of the East Coast Greenway offers an unforgettable combination of the best of rural Maine and its small towns and villages, blueberry barrens and bald eagles.
Experience Maritime Maine
Explore Maine's rich maritime heritage.
Explore Downeast Maine by Bike
A wealth of information for planning your next biking trip: tour loops, pre-planning information, road conditions and cautions, maps and photos
Explore Maine Geology - Map of Field Localities
Explanation of geological history and processes for various locations in Maine
Farmers' Markets Midcoast to Downeast
Farmers' markets are the perfect place to meet locals while picking up fresh and prepared foods and crafts from area farmers and artists.
Lubec Village, Town, and Regional Maps - COMING SOON!
Helpful tourism maps that locate Lubec businesses and other towns in the region.
Maine Beer Trail
The Maine Beer Trail spotlights the high quality and creative diversity of fresh, hand-crafted, Maine-made beer. The Lubec Brewing Company is now open! Come enjoy Maine's easternmost-made beer!
Maine Coast Chocolate Trail
Follow this trail for Chocoholics that brings you to Lubec!
Maine Coast Heritage Trust
To protect ecological diversity, scenic beauty, low impact recreation, and other community benefits, MCHT manages more than 50 preserves along Maine's coast.
Maine Department of Transportation Travel Information
Choice of full-featured or streamlined map display of traffic reports and toll-free phone numbers.
Maine Island Trail Association
America's first water trail, created, protected, and enjoyed by people who love the coast of Maine. Although it officially ends in Machias, it also includes a side trip to Cobscook and Passamaquoddy Bays, including ten remote, wild islands in the Canadian Maritimes. This area is listed as dangerous because navigation is notoriously difficult with huge tides, strong currents, and frequent heavy fog.
Maine Lobster Roll Trail
There's nothing better than Maine's mouthwatering Lobster Roll Trail that goes to Lubec!
Maine Snowmobile Association
Maps of snowmobile trails and links to clubs for trail conditions.
Maine Trail Finder
Search a database of four-season trails in Maine to find the right trail for your next adventure. Browse interactive trail maps, trail descriptions, pictures, and trip reports.
Maine Wine Trail
Includes one winery in our region!
Quoddy Loop Museums and Historic Sites
Historic places from both sides of the border.
Schoodic Symposium Sculpture Tour
Enjoy public art and Maine's scenic vistas from Little Deer Isle to Eastport while you visit the large-scale sculptures created by world-class artists. Downloadable map on website.
Campobello Tourism Association Map
Accommodations, restaurants, and places of interest on Campobello Island, NB.
New Brunswick Ferries Map
Deer Island, White Head Island, and Grand Manan ferry information - schedules, rates, map and contact information.
New Brunswick Highways Map - Interactive
Interactive Mapquest map for getting directions to your New Brunswick location.
New Brunswick Municipalities Maps
Printable pdf maps of New Brunswick Municipalities.
Parks New Brunswick
Find a provincial park in New Brunswick and reserve lodging.
Roosevelt Campobello International Park walking trails
Walking trails with stupendous views.
Sentiers NB Trails
The New Brunswick Trails Council Inc. is a non-profit, membership/volunteer organization dedicated to the advancement of the trails movement in New Brunswick. Find map of trail locators.
Southwest New Brunswick Snowmobile Clubs and Trails
Information you'll need for snowmobiling New Brunswick - permits, trail status, and maps.
Tourism New Brunswick's Fundy Coast
Printable pdf map of a scenic drive along New Brunswick's Bay of Fundy coastal region.
Sours: https://www.visitlubecmaine.com/region/trails-maps.php
Sunrise Trail Maine
Maine ATV News & Trail Notices
Trail Notices
September 29, 2021
Important Moosehead Area Trail Information: The ATV "Jeep Trail" by Big Moose Mtn. will be closed for major repairs for the remainder of the season effective Monday, 10-4-21. This means that from Greenville Junction you can ride the North Rd. and South Loop but must then must return the same way. Rockwood and points north can only be accessed from the CC/Shirley Rd. For more information and an updated map, please visit the Moosehead ATV Riders Facebook page.
---
August 30, 2021
Important Trail Notice for the Athens area: The ATV trail between Athens and Wellington going north form Stickney Hill is closed until further notice due to trail damage.
---
August 11, 2021
Important Trail Notice for the Rockwood area: The trail from Somerset Road into the store and beyond in Rockwood is closed weekdays starting immediately. Evening (after 5pm) and weekend use is allowed.
---
June 30, 2021
Summer Riding Reminders - Please respect landowners property; Stay on approved ATV trails; Ride on, not around, bridges; Reduce speed near homes, camps and others to keep dust down; Do not spin tires - it damages trails and the club's BMPs. Consider helping your local ATV Club. Thank you for being respectful and staying safe. Have a great ride!
---
June 1, 2021
Important Trail Reminder: Only ride on approved and open ATV trails, not snowmobile trails. Please drive slow and be courteous or we will lose trail access. Be safe and follow all posted signage.
---
May 26, 2021
Important Trail Information: Much of the ATV trail system will be open for Memorial Day weekend (May 29), however, many trails are being relocated and/or remain closed. Over 200 miles of trail and the B-52 site remain closed, and there is no access to gas in Rockwood. Please check with local clubs and obey all trail closed signage. The clubs are working to reconnect many areas as soon as they are able. Please support your local ATV club, without them we wouldn't have the trail system. Ride Safe!
---
May 21, 2021
Trail Notice: The ATV Trail at Mt. Blue remains closed due to extensive trail damage and connectivity issues.
---
May 20, 2021
Important Trail Notice: All Rail Trails in Aroostook County are opening for this weekend (May 22, 2021). Check with local clubs regarding connecting trails and please stay off trails belonging to private landowners that remain closed. Respect all signage and stay safe!
---
May 7, 2021
Trail opening notice: The Whistle Stop rail trail from Farmington to Jay, and the Four Seasons Adventure rail trail from Newport to Dover-Foxcroft are opening for the season this weekend, May 8, 2021. Please obey all signage and side trail closures. Ride Safe
---
April 29, 2021
Trail Opening Notice: The Downeast Sunrise Rail Trail is opening Saturday May 1, 2021. There is still grading occurring so be careful and yield to equipment. Also please be aware that club trails leaving the rail trail remain closed for mud season until the landowners approve opening. Please Be Safe and respectful .
---
Stay Informed!
For additional trail updates check with your local ATV club.
Learn more about Maine's ATV Trails.
Sours: https://www.maine.gov/dacf/parks/trail_activities/atv/atv_news.shtml
Atv downeast
ATVing in Maine
Maine Has a Wealth of ATVing Opportunities
Maine has more miles of ATV trails than almost any other state in the country, which makes ATVing in Maine such an excellent adventure! There are 6,000 miles of trails that traverse a diverse landscape of woods, mountains, fields, lakes, streams and salt water marshes.
"We have the largest variety of trails in terms of geography as well as different types of trails. We have everything from a major gravel road to a remote trail that meanders through some of the western Maine mountains," said Dan Mitchell, the president of ATV Maine.
One of the most beautiful places to ride an ATV in Maine is on the newly opened Down East Sunrise Trails, which spans over 85 miles in Hancock and Washington Counties.
"It is an incredible ride and the variety of scenery is amazing. You can go from thick forests and it will open up into big bog areas and there are mountains right along the trail as well," said Joe McPhail, the president of the Dennysville ATV Club. "We've seen wildlife including deer, turkeys, partridge, fox and eagles. It isn't a dead end ride. You can get somewhere."
Getting somewhere is what ATVing in Maine is all about. In fact, ATVs can get you to places that are inaccessible by car or too far to travel by foot.
"I love to ride in the woods and I can ride to many places that are just too far to reach by hiking," said Bill Lombard, the trail chairman of ATV Maine. "I often ride my ATV to some great places where I can fish or hunt. If I get a deer, it is a lot easier bringing it out on an ATV."
Many campgrounds have direct access to ATV trails. If you don't own an ATV, there are several outfitters and other types of businesses that can rent ATVs for around $100 per day, depending on the type and model of the ATV.
State law requires riders and operators under the age of 18 to wear a helmet. Youths age 10 to 15 must have successfully completed an ATV safety course in order to operate an ATV and must be accompanied by an adult.
For more information about ATVing in Maine visit: www.ATVMaine.org
For information about ATV laws and regulations, visit:www.maine.gov/ifw
For information on the Downeast Sunrise trail visit: www.sunrisetrail.org
For information about renting an ATV visit:
www.ncrivers.com
www.Mainewhitewater.com
www.dwecamping.com
www.sebagomaineatvrentals.com
www.maxxatvrentals.com
www.moosemountaininn.com
www.nawhitewater.com
www.maineoutfitter.com
www.visitmaine.net
-Article and Photos by Cathy Genthner
Sours: https://activitymaine.com/atving-in-maine
25' South Shore Downeast for sale \
.
You will also like:
.
576
577
578
579
580