20
Drums of Fury
Use: Increases melee, ranged, and spell haste by 15% for all party and raid members. Lasts 40 sec.

Allies receiving this effect will become Exhausted and be unable to benefit from Bloodlust, Heroism or Time Warp again for 10 min. (2 Min Cooldown)
Sell Price: 50
Drums of Fury is created with Leatherworking (1); taught by

 [Recipe: Drums of Fury].
Patch changes
See also
External links
Sours: https://wowpedia.fandom.com/wiki/Drums_of_Fury
So, I saw on WoWHead that all Drums have been nerfed from 25% increased haste to 15% increased haste.

Wowhead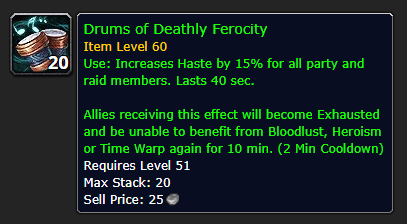 Drums Nerfed in Shadowlands to 15% Haste - Shaman, Hunter, Mage Needed for...
Drums are nerfed in Shadowlands only granting 15% Haste, down from 25%. If you want a full 30% Haste in Shadowlands, you'll need to have a Shaman, Hunter or Mage in your group.
Honestly, this is a bad move. Because this is going to encourage more of "this class is a must, this class must be excluded", since not every class can provide a useful utility. And lets just use Mythic+ for an example on this: Since Mythic+ requires 5 total players. This is where it is going to make it harder for some classes because only 3 classes can provide the full 30% haste buff.
And then seeing the nerf on Drums, this is a big nerf. And this is going to more of push them to be useless for group content where a Mage or Shaman or Hunter can't be found (Though there is usually people playing these classes, but sometimes, you could get unlucky and not see one of them in a queue).
5 Likes
Sours: https://us.forums.blizzard.com/en/wow/t/drums-nerf/631137
The Great Push Season 2 Coming December 10th
By Staff
The Great Push returns for Season 2! The competitive dungeon one-off tournament of the year takes place between December 10-12 and is adding Legion timewalking Mythic+ dungeons as well! As with the first Great Push you can participate as well, if you have what it takes and make it through the Proving Grounds stage, so get those M+ muscles into training! Even if you don't qualify specifically you can still get the in-game banner to show you did well enough in the Proving Grounds, so read up on what it takes below.

There will be live coverage of the event on Upcomer so you can be sure to have all the information and read about all the excitement when the event starts.
(Source)
We're thrilled to announce details for the second competitive dungeon one-off tournament of the year, as The Great Push returns for Season 2, December 10-12! 
One of our core goals this year has been to push the boundaries of what competitive dungeon-running can look like, to look beyond the standard formats of the Mythic Dungeon International (MDI) to see how we can expand PVE Competition. In May we introduced the first-ever The Great Push, challenging teams to push keystones as high as possible within a limited time, with community and player response exceeding what we could have hoped.
For Season 2 we are evolving The Great Push to make it even better than before! We're once again asking teams to push Keystones across six dungeons; in addition to four from Shadowlands, we are time walking all the way back to Legion for the remaining two! While only six teams will make it to the main event and compete for their share of the $20,000 (USD) prize pool, all registered teams that complete under time the two dungeons within the Proving Grounds will receive the exclusive Tormented Banner of the Opportune to use in-game! Read on for everything you need to know, including exciting changes, to compete in The Great Push Season 2 and show everyone you are the best dungeon-running team in the world:

How The Great Push Works
Any team of five players can register to compete on Gamebattles. Teams will compete in the initial qualifier phase, the Proving Grounds, on December 3-5, where teams will be given two dungeon keystone combinations to push to the highest difficulty they can reach on the tournament realm. The top six teams from the qualifier will be invited to the main tournament, where they will compete across the different Shadowlands and Legion dungeons to push their keystones as high as possible. Four dungeons will be revealed at the start of Day 1; One more dungeon will be revealed at the start of Day 2; The final dungeon will be revealed at the start of Day 3. To keep the stakes high, the bottom team at the end of each day will be eliminated, resulting in only four teams advancing to Day 3 and their shot at the championship. The winning team will be the one who has the highest overall score for dungeons pushed and will be crowned the champion. There are no pre-requisites required to play in the tournament, teams can sign up for The Great Push Season 2 until Monday, November 29! The tournament will be broadcast live on YouTube and Twitch, and players will be able to stream their perspectives during the tournament, including their time in the Proving Grounds.  You can choose to follow your favorite team and players while keeping up with the casters for the overall standings throughout the weekend.

Looking Forward
Meanwhile, be sure to tune in to the MDI Global Finals where teams will battle for $300,000 USD on October 29-31, only on YouTube. Don't forget to follow the WoW Esports Twitter for all the updates, memes, and mind-blowing content you could dream of. We'll see you in the Dungeon Finder!

Sours: https://www.icy-veins.com/forums/topic/51841-drums-haste-effects-nerfed-to-15-in-shadowlands/
.
Drums shadowlands
.
.
You will also like:
.
712
713
714
715
716