Wineries and Wine Tastings in Richmond
Richmond Wineries and Wine Tasting
Check out some of these great wine opportunities and wineries in the general Richmond area. All of these are either within the general Richmond metro area, or within a short day trip away. Be sure to peruse our complete listing of the best things to do in Richmond.
Amour Wine Bistro
3129 W. Cary Street
804-353-4020
www.amourwinebistro.com
Try a delightful menu with selections that change monthly and paired with wines from a different region of France.
Blue Bee Cider
212 W. 6th Street
804-231-0280
www.bluebeecider.com
Blue Bee Cider is the only urban cidery in Virginia. The tasting room, located in the Old Manchester District of Richmond is open from noon until 6:00 p.m. on Fridays, Saturdays and Sundays.
Bodie Vineyards
1809 May Way Drive, Powhatan
804-598-2625
www.bodievineyards.com
Bodie Vineyards is a small Farm Winery located in Powhatan County near Flat Rock. Bodie Vineyards currently offers a Michaux Blanc and a Rochette Rouge. Group tastings, tours and special events are available. Please call ahead.
Byrd Cellars
5847 River Road West
Goochland, VA
(804) 652-5663
www.byrdcellars.com
Byrd Cellars in Goochland makes 16 different wines including white, red and rose. The tasting room is open on Saturdays and Sundays year round from noon until 5:00 p.m. Private events are available by appointment.
Cooper Vineyards
13372 Shannon Hill Road, Louisa VA
540-894-5474
www.coopervineyards.com
Cooper Vineyards offers a Virginia Green LEED certified tasting room. Enjoy music from the grand piano at week-ends events. cooper offers a wine club with free tastings year round.
Elk Island Winery
5759 River Road W., Goochland VA
804-627-3929
www.elkislandwinery.com
Located in Western Goochland County, Elk Island Winery was once part of a tract of land owned by Thomas Jefferson. Elk Island winery opened in the Spring of 2013.
Grayhaven Winery
4675 East Grey Fox Circle, Gum Spring VA
804-556-3917
www.grayhaven.com
Grayhaven Winery is a boutique winery that features handcrafted wines that visitors can enjoy with wine tastings and tours. Three generations of the same family have owned and operated this vineyard.
James River Cellars Winery
11008 Washington Highway, Glen Allen VA
804- 550-7516
www.jamesrivercellars.com
Family-owned and operated James River Cellars offers award winning wines made from the best Virginia grapes.
Jefferson Vineyards
1353 Thomas Jefferson Parkway, Charlottesville VA
434-977-3042
www.jeffersonvineyards.com
Thomas Jefferson's dream was to see fine wines produced in Virginia. While the first plantings were in 1774, a little event called the American Revolution interrupted the progress. Serious plantings were not resumed until 1981 but Jefferson Vineyards now offers fine quality wines made entirely in Virginia.
Keswick Vineyards
1575 Keswick Winery Drive, Keswick VA
434-244-3331
www.keswickvineyards.com
Located just east of Charlottesville, Keswick Vineyards offers tastings of awards winning wines in a cozy, but comfortable tasting room. Family and pets are welcome to enjoy a picnic on the grounds.
Lake Anna Winery
5621 Courthouse Road, Spotsylvania VA
540-895-5085
www.lawinery.com
Lake Anna Winery offers wines made from Estate grown grapes from the beautiful rolling hills in Spotsylvania County. The winery is open year round Wednesday through Saturday from 11:00 a.m. until 5:00 p.m. and from 1:00 p.m. until 5:00 p.m. on Sunday. Closed, Thanksgiving, Christmas and New Year's Day.
M. Bistro and Wine Bar
4821 Old Main Street
804-652-2300
www.mbistro-rocketts.com
With one of the most spectacular views of the Richmond skyline, located at Rocketts Landing, serves up endless wine choices with an eclectic menu of Southern and Country French cuisines.
New Kent Winery
8400 Old Church Road, New Kent VA
877-932-8240
www.newkentwinery.com
The buildings at New Kent Winery are made from century-old buildings from up and down the East Coast. New Kent Winery six different wines. Tastings and tours are available.
Secco Wine Bar
2933 W. Cary Street
www.seccowinebar.com
804-353-0670
Located in Carytown, Secco Wine Bar offers more than 30 plus by the glass offerings of artisanal wines and craft beers in a casual-chic location.
Williamsburg Winery
5800 Wessex Hundred, Williamsburg VA
757-258-0899
www.williamsburgwinery.com
Williamsburg Winery is the largest winery in the state and has been producing fine Virginia wines for 25 years. Decanter Magazine's World Wine Awards has recognized Williamsburg Winery for producing some of the best wines in the world.
Weston Farm Vineyard and Winery
206 Harris Creek Road, Louisa VA
540-967-4647
westonfarmvineyardandwinery.webs.com
Located just outside the small town of Louisa, Weston Farm Vineyard and Winery has been in operation since 2005 producing their first wines in 2009. Those wines include Cabernet Franc, Chardonnay, Norton and Rose. In 2012, the winery added Peach and Raspberry wines.

Woodland Vineyard
15501 Genito Road, Midlothian VA
804-739-2774
www.woodlandvineyard.com
Located near the Swift Creek Reservoir, Woodland Vineyard is a small family-owned and operated vineyard and farm and is the Commonwealth's smallest winery. The Vineyard is open on week-ends mid-March through early December. Call ahead to visit on weekdays by appointment.
Call us at 804-716-9627 to speak to a Dabney Furnished Apartments leasing agent. We will answer your questions and recommend a solution that will suit your temporary housing needs. See our complete listing of furnished apartments in Richmond, VA.
Sours: https://www.dabneyproperties.com/things-to-do-in-richmond-va/wineries-and-wine-tastings-in-richmond/
Sip Along Virginia's Wine Trails
Artisanal Wineries of Rappahannock

Chester Gap Cellars
Rappahannock County's five wineries are a short drive from one another and only an hour from DC. → LEARN MORE
Bedford Wine Trail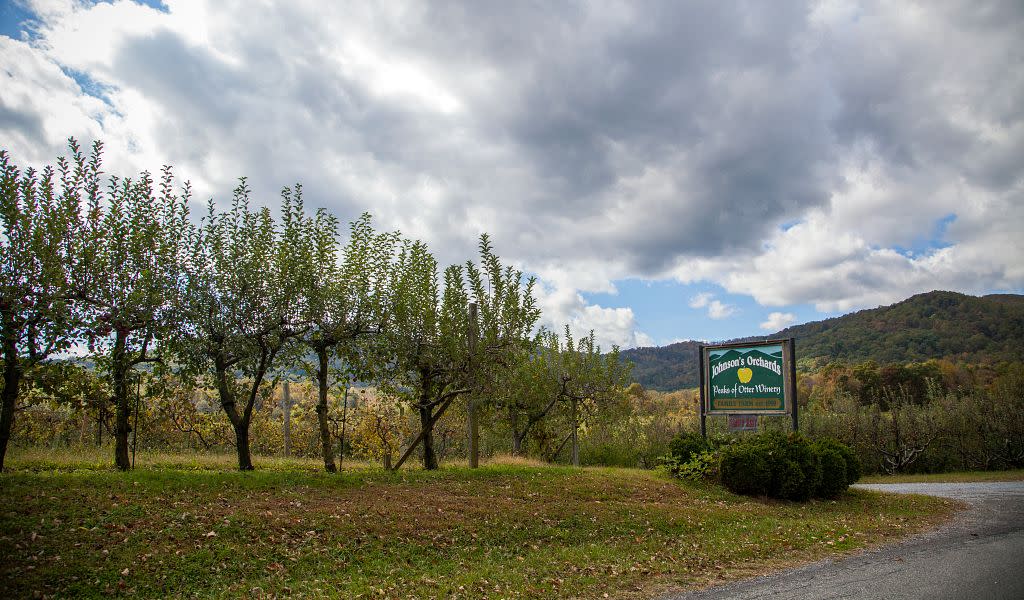 Peaks of Otter Winery and Johnson's Orchards
Enjoy the scenery of the Blue Ridge Mountains and Smith Mountain Lake while visiting six wineries. → LEARN MORE
Blue Ridge Whiskey Wine Loop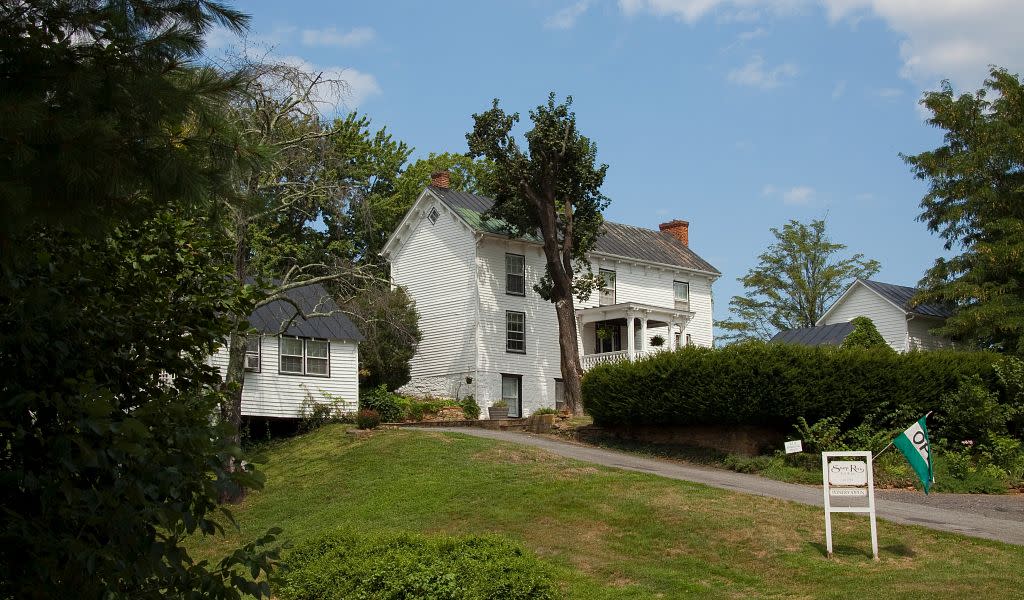 Sharp Rock Vineyard
Convenient and intriguing trips for Virginia wineries, distilleries, and great places to eat. → LEARN MORE
Chesapeake Bay Wine Trail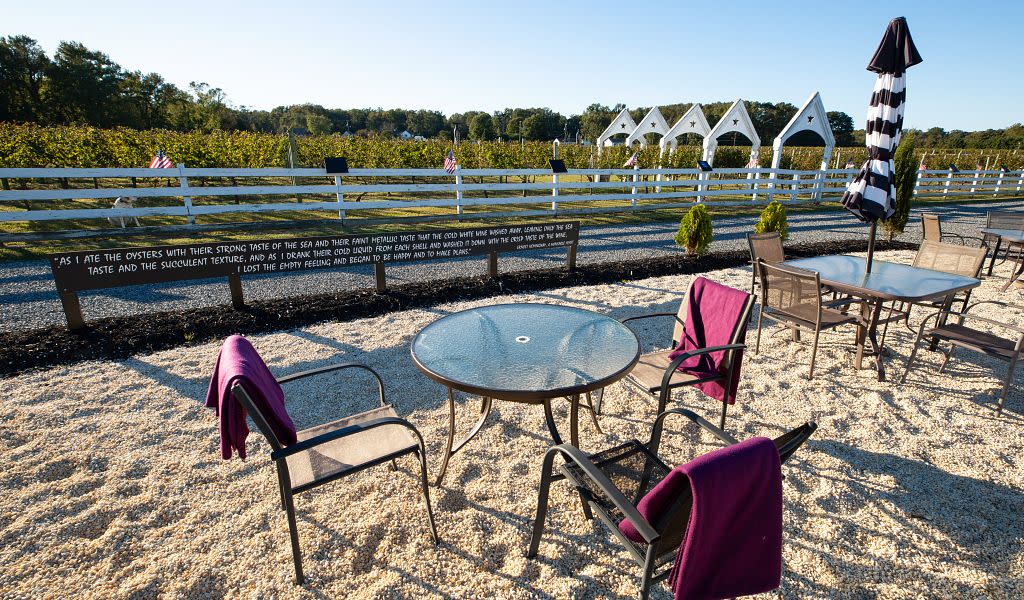 Dog & Oyster Vineyard
Offering a captivating trip highlighted by history and waterways. Includes seven premiere wineries. → LEARN MORE.
Fauquier County Wine Trail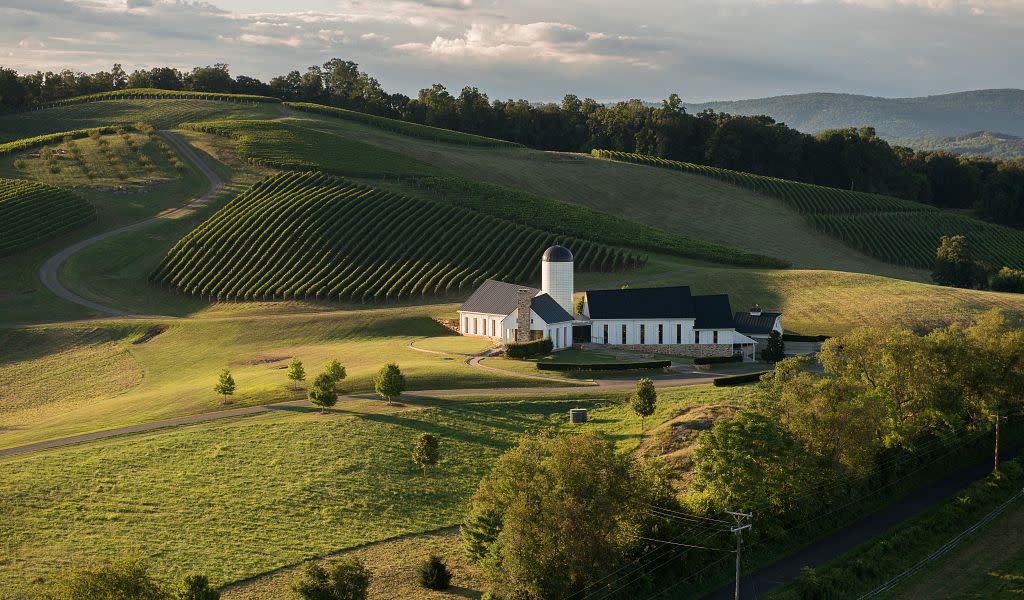 RdV Vineyards
Choose from 26 wineries and vineyards - each with its own unique flavors. → LEARN MORE
Foothills Scenic Wine Trail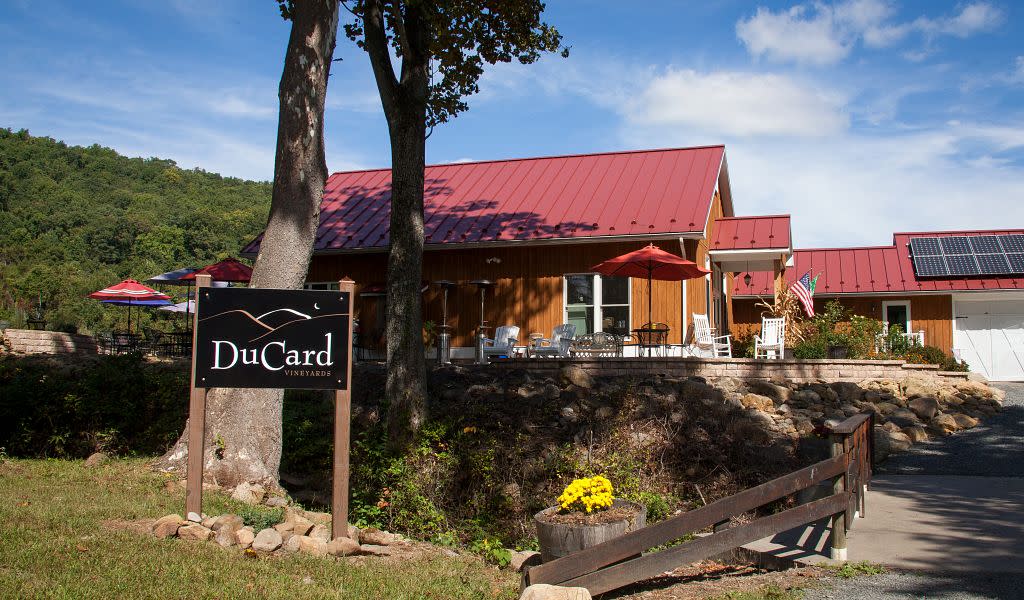 Ducard Vineyards
Nestled between Old Rag Mountain and White Oak Canyon you'll find two family-run wineries. → LEARN MORE.
Grapes & Grains Trail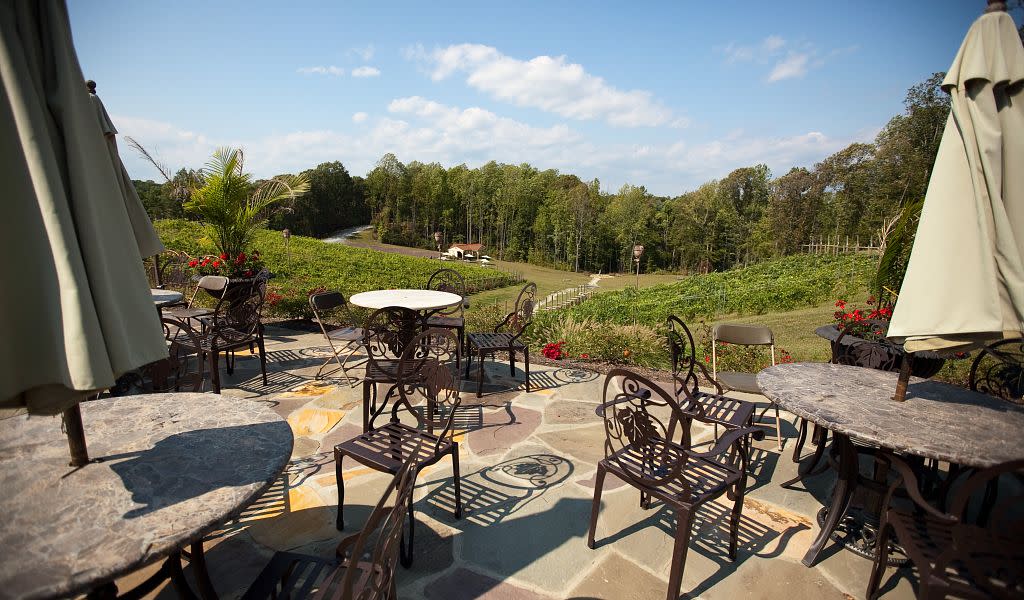 Potomac Point Winery
Enjoy a "spirited" escape on The Grapes & Grains Trail located in Fredericksburg, Stafford and Spotsylvania. The trail includes 5 wineries and a distillery. → LEARN MORE.
Heart of Virginia Wine Trail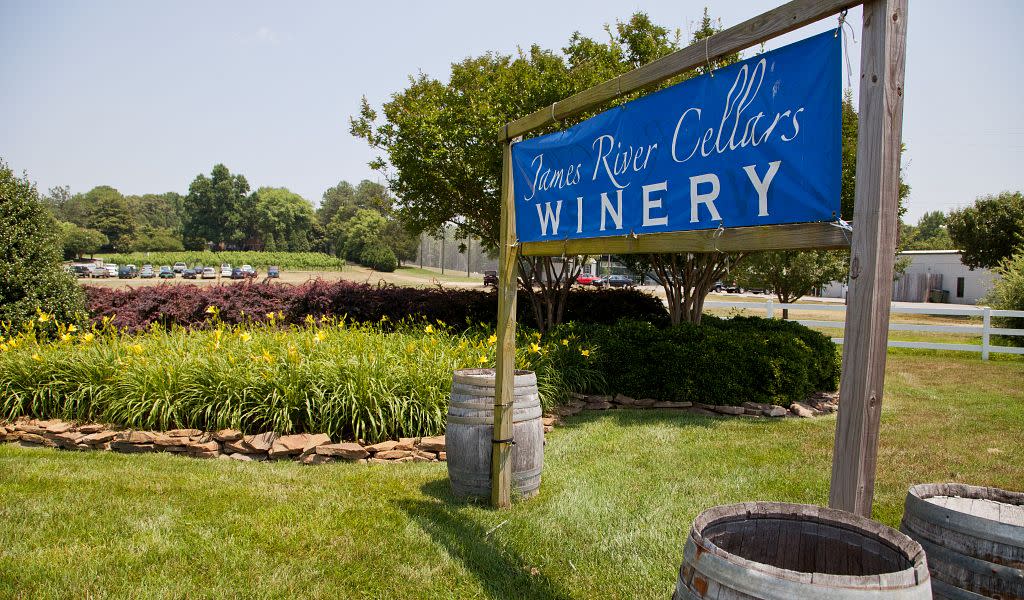 James River Cellars Winery
Seeking great wine near Richmond? These five wineries heartily welcome you! → LEARN MORE.
Loudoun's DC Wine Country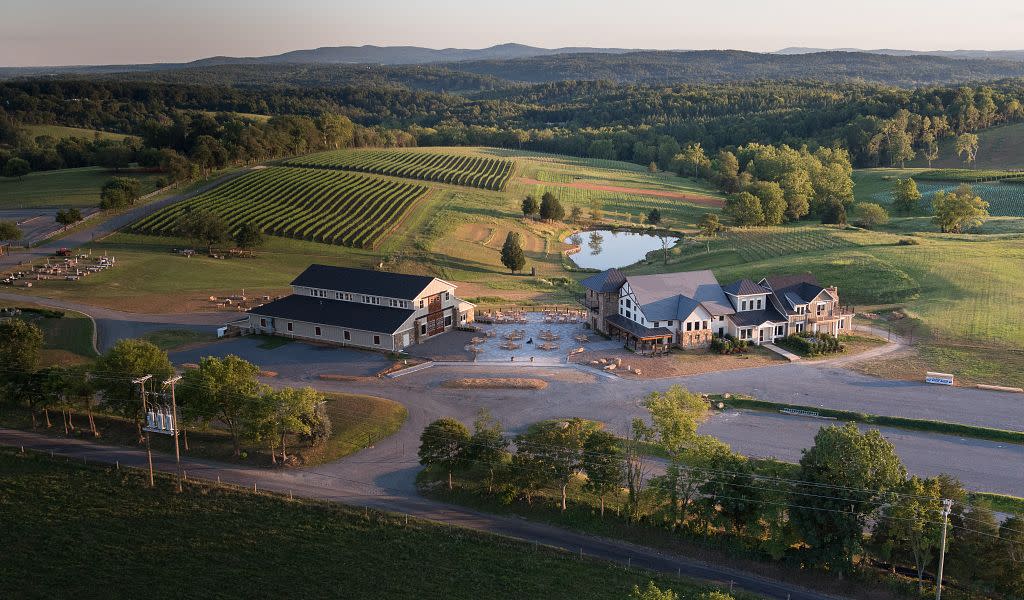 Stone Tower Winery
Four clusters of boutique wineries are sprinkled throughout Loudoun's bucolic countryside. → LEARN MORE
Monticello Wine Trail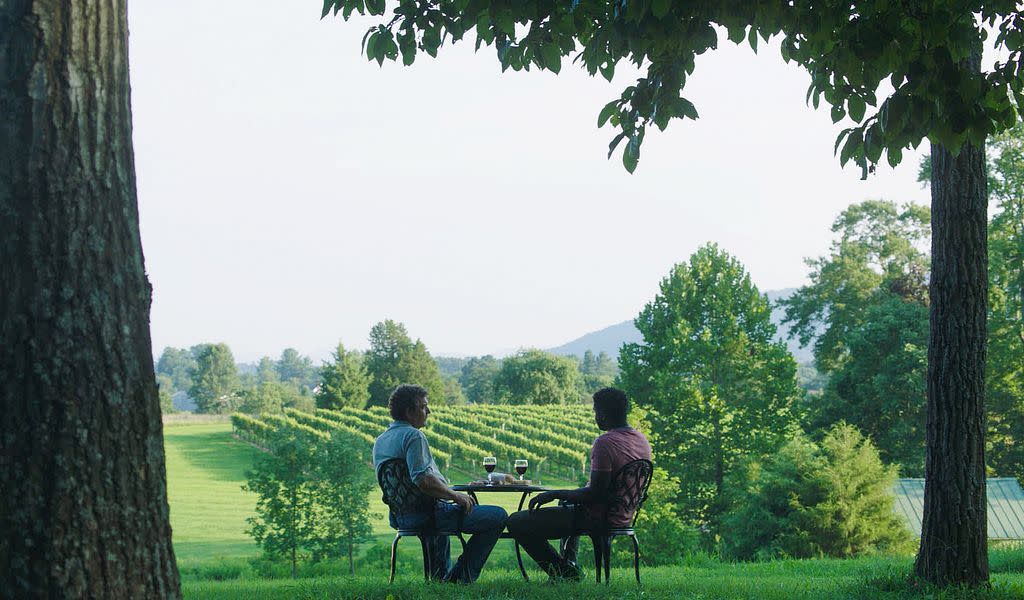 Veritas Vineyard
Over 30 vineyards and wineries await you along five trails within this one. One mini-trail per weekend? → LEARN MORE.
Mountain Road Wine Experience

Château Morrisette Winery
Experience five wineries, a meadery and a cidery with the Blue Ridge Parkway as your scenery. → LEARN MORE
Nelson 151 Trail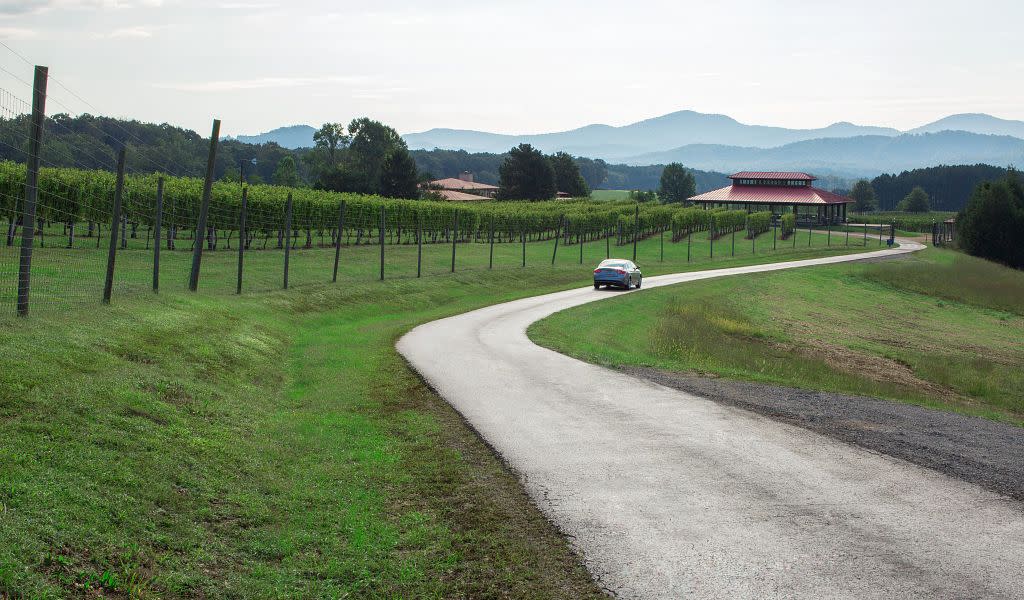 Afton Mountain Vineyards
Nelson 151 Trail is way to sample Nelson County's many wineries and breweries, all along scenic Rt. 151. → LEARN MORE
Shenandoah Spirits Trail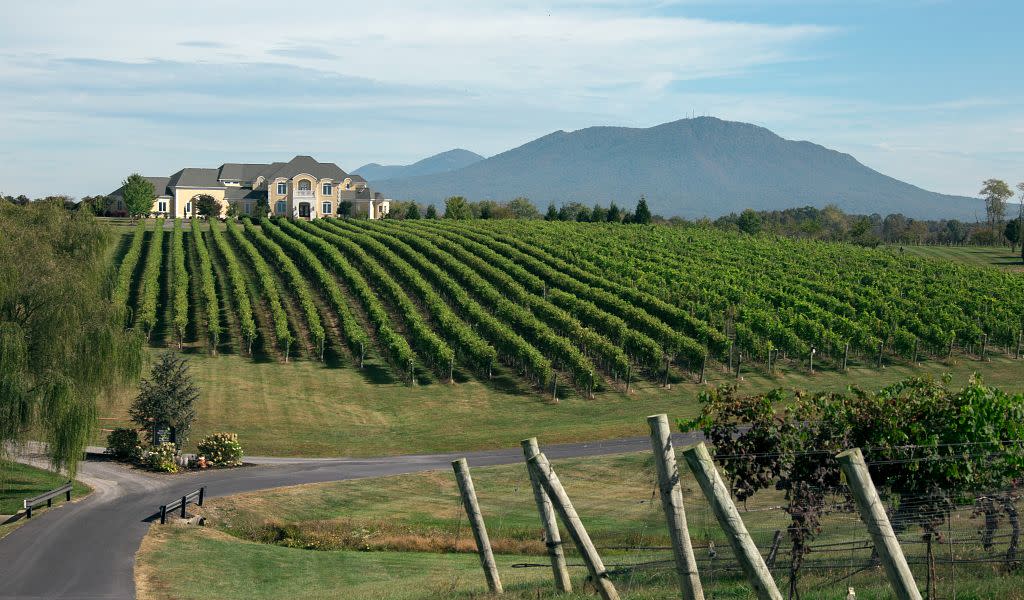 CrossKeys Vineyards
Shenandoah Spirits Trail encourages visitors and locals alike to sip and stay a while in Virginia's Shenandoah Valley! Enjoy many wineries, craft breweries, cideries in the area with incredible mountain views, endless outdoor recreation, historic sites and charming downtowns along the way. → LEARN MORE
Shenandoah County Wine Trail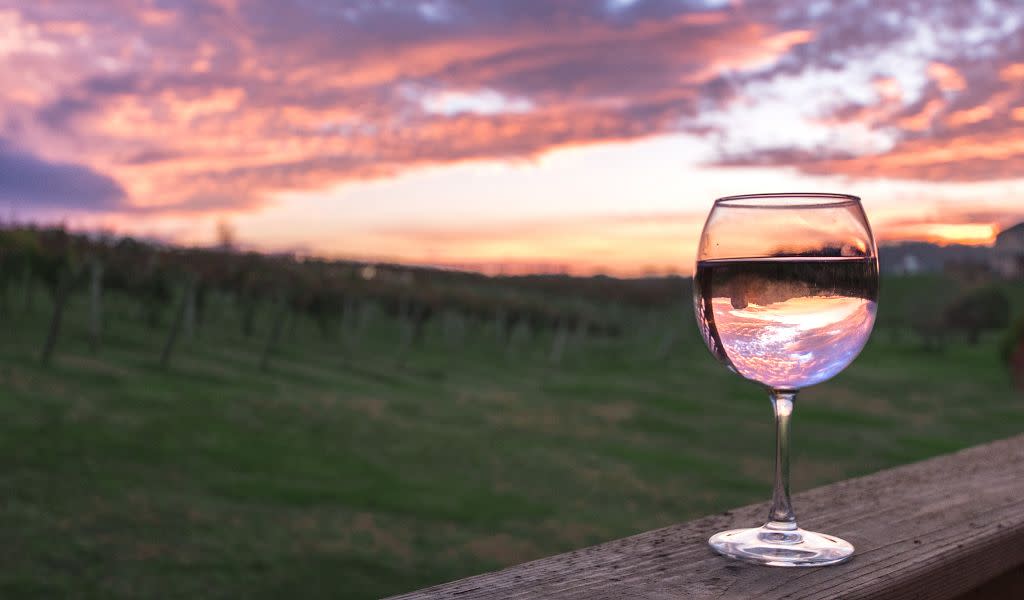 Third Hill Winery at DeMello Vineyard
Breathtaking mountain views are the backdrop for these eight award-winning wineries. → LEARN MORE
Shenandoah Valley Wine Trail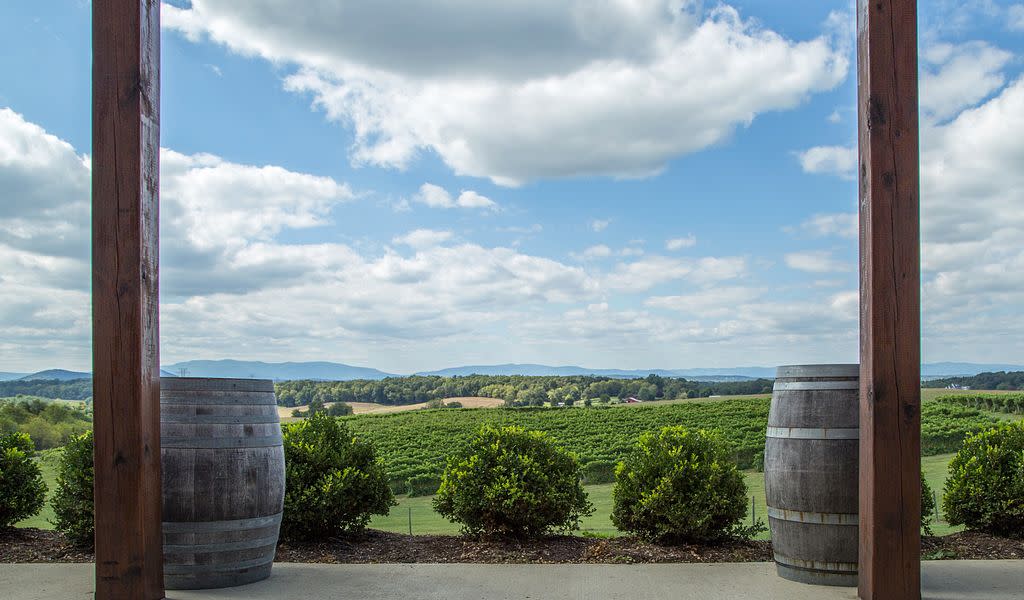 Barren Ridge Vineyards
There are more than 20 wineries and vineyards that make up this trail through the Great Valley of Virginia. → LEARN MORE
SoVA Wine Trail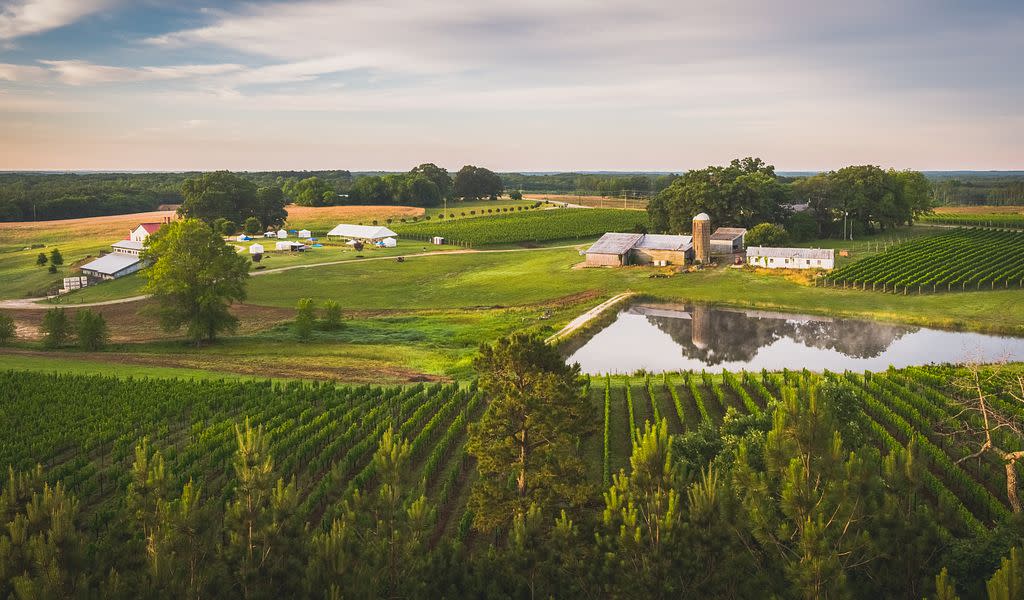 Rosemont Vineyards
Southern Virginia is an up-and-coming grape-growing region. Visit more than a dozen wineries!
2021 Virginia Governor's Cup Gold Medal Trail 
The Gold Medal Wine Trail is a mobile passport that brings award-winning wineries from the 2021 Virginia Governor's Cup Competition right to your fingertips.
Sours: https://www.virginia.org/things-to-do/food-and-drink/wineries/wine-trails/
5 Gorgeous Charlottesville Wineries to Visit
With scenic, gently sloping hills leading to one winery after the next—not to mention historic attractions, lavish accommodations, and fine food—Charlottesville, Virginia, is the ideal destination for those seeking a wine-centric experience.
Nestled between Richmond and Washington, D.C., it's a perfect road trip destination for East Coasters looking for an easy and fun adventure (or for anyone looking to take in Virginia's gorgeous forests and scenery). These five wineries in the Charlottesville region offer exceptional wines, along with vibrant character and rich history.
Early Mountain Vineyards
Once the property of Revolutionary War veteran Lieutenant Joseph Early—who served under General George Washington at Valley Forge—Early Mountain Vineyards stretches across the base of the Blue Ridge Mountains and produces classic, Bordeaux-style varietals like Cabernet Franc and Merlot. The vast tasting room, which was voted #1 in America by USA Today, offers both high-end dining and casual lounging for sampling wines from Early Mountain and other vineyards throughout the Commonwealth of Virginia. Also a premiere wedding venue, Early Mountain can surely turn a dream party into a beautiful reality. Virginia is for lovers, after all.
Early Mountain Vineyards
---
King Family Vineyards
Sitting at the foothills of the Blue Ridge Mountains is the family-owned and -operated King Family Vineyards. The winery specializes in luxurious vinos that showcase the remarkable quality and terroir of the Monticello AVA. Beginning with carefully selected estate grapes, winemaker Matthieu Finot creates wines inspired by old-world offerings that are also well-expressive of Virginia, like Viognier, a staple of the state's white wine bounty. This summer, tasting room visitors are invited to join in fieldside to watch polo, happening every Sunday from Memorial Day weekend to mid-October. Gates at Roseland Polo open at 10 a.m. for folks to tailgate or picnic before the match begins at 1 p.m. In fact, after founders David and Ellen King moved to Virginia from Houston in 1995, their search for a farm had one requirement: Twelve acres of relatively flat ground for a polo field. The thought of wine came later.
King Family Vineyards
---
Stinson Vineyards
Winemaking is a family affair at Stinson Vineyards. The estate winery in Virginia's Blue Ridge Mountains is helmed by father-daughter duo Scott Stinson and Rachel Stinson Vrooman, along with Rachel's husband Nathan. They take inspiration from "garagiste" wineries of France in both their winemaking methods and the winery itself, which is built into an old three-car garage. The small-lot wines carry a distinct French influence, mainly from the Bordeaux and Loire Valley regions, that emphasize subtlety rather than ripeness. Visitors can shop the tasting room that also doubles as a local farm store that sells grass-fed beef, farm-raised pork and chicken, free-range organic eggs, and garden-fresh herbs. Inquire about an overnight stay at Stinson's historic inn that's nestled among the vines, or at The Townsman, a boutique hotel on Charlottesville's Downtown Mall. The Stinson family owns several accommodations to help you customize your summer travel plans.
Stinson Vineyards
---
Veritas Vineyard & Winery
Back in 1999, founders Andrew and Patricia Hodson planted five acres of grapes as a passion project. Today, Veritas occupies more than 50 acres of vineyards and produces classic, Old World wines using modern technology to capture varietal and regional character—from its barrel-fermented Chardonnay to its award-winning seasonal Flying Fox sweet vermouth
Veritas Vineyard & Winery
---
Pippin Hill Farm & Vineyards
Pippin Hill Farm & Vineyards is unique among the growing number of fine wineries in the Charlottesville wine region. It is a culinary vineyard that not only makes distinguished wines, but also pairs them with artisan cuisine from an on-site farm. The six-acre vineyard is situated on a southern-facing hillside, flush with rich soil and a climate suited for varietals such as Sauvignon Blanc and Petit Verdot. Both the vineyard and surrounding gardens are part of Bundoran Farm, a sustainable community dedicated to Virginia's countryside. Pippin Hill encourages guests to roam the gentle grounds and take in the health and beauty of the state.
Pippin Hill Farm & Vineyards
Sours: https://chilledmagazine.com/best-charlottesville-virginia-wineries
Charlottesville Virginia Wineries
Regions
Virginia Winery Map
If the tourism folks are right and Virginia is for lovers, then the Old Dominion is one more proof that where there's love, there's good wine.
"The eastern state that, after New York, offers the most excitement today is unquestionably Virginia," write Hugh Johnson and Jancis Robinson in The World Atlas of Wine. While at least a few Virginia vintners and oenophiles would dispute its placement behind New York, the point is that world-leading wine authorities are taking notice of the growth that Virginia's wine industry is experiencing.
Sometimes it seems like everything in Virginia has historical significance, and its vineyards are no exception. As England established its foothold in North America with the first Virginia colonies, hopes were high that the new land could support grapegrowing and eventually supply wine to the ever-thirsty British. A 1619 law mandated each (male) colonist to cultivate at least ten grapevines.
But the dreams of viticultural glory were slow to be realized--these early attempts were foiled by phylloxera and other harsh conditions that the primitive farming methods of the era couldn't overcome.
Over a century later, despite his great love of wine (not to mention his great wealth) Thomas Jefferson didn't have much better luck. His numerous experiments planting vines near Monticello failed to yield a single bottle, and his compatriot George Washington experienced similar frustrations at Mt. Vernon.
It wasn't until the 1970s when farmers and winemakers truly began to realize the potential of Virginia's terroir. Healthier vineyards and better wines appeared, spurred by emerging research and outside investment--such as the successful Italian wine producer Zonin starting the still-outstanding Barboursville Vineyards.
Today Virginia has risen to an impressive 5th place in the state-by-state count of total operating wineries, with more than 200 wineries. The Charlottesville area (in Monticello AVA) is home to many of the best Virginia wineries, and benefits--both in tourism and cutting-edge research--from its proximity to the University of Virginia.
The quality of Virginia's wines is clearly on the ascent as well, winning praise both inside and outside the Commonwealth. Renowned British critic Oz Clarke is a particular fan, placing Breaux Vineyards' Viognier (produced in Loudoun County, in the northeastern part of the state) on his list of 250 best wines in the world.
Viognier indeed makes the best and most unique white wines in Virginia, at its best producing honeyed, perfumed, substantial juice that has serious aging potential. Chardonnay also does well, and if you tour the state you will find many fun (if few memorable) off-dry whites made from hybrids like Seyval Blanc and Vidal. No one should miss the sparkling wines of Trump Winery (formerly Kluge Estate), which stand with the best in America.
Virginia's red wines are never overripe and at their best combine earthiness and spice with just enough dark fruit character. Cabernet Franc probably has the edge over the other Bordeaux varietals, as its peppery complexity is well-suited to the cool climate. That said, there are many delicious Merlots and Cabernet Sauvignons to be found, not to mention curious and sometimes eye-opening experiments with grapes like Tannat and Petit Verdot.
Regardless of where Virginia in fact stands relative to New York or any other state, no one can deny that it has come a long way since the viticultural failures of America's first English settlers, and that it is making a very strong case for the potential of wine on the East Coast. With over 100 wineries within a two hour drive of Washington, DC, a trip to the nation's capital isn't complete without a visit to a Virginia winery.
Scroll down to find Virginia's best wineries. The "Highest Visitor Ratings" section lists Virginia wineries that have received visitors' highest ratings for service, views, and wine quality. The "Highest Wine Critic Ratings" section lists the producers of Virginia's best wines based on awards won at international wine competitions and ratings from publications such as Wine Spectator, Wine Enthusiast and The Wine Advocate.
The "All Virginia Wineries" section contains a comprehensive, and continuously updated, list of Virginia wineries. Click "map view" to access the advanced winery search to find wineries that provide vineyard lodging, have food available to complement their wines, host vineyard weddings, or produce wines from organic grapes. We make it easy to find the best wine tour and tasting destinations in Virginia wine country.
&nbsp
Wine Lover's Calendar 2017 by Jim Finley - February 13, 2017
20 Most Admired Wine Tasting Rooms and Experiences - November 15, 2016 at Vineyard and Winery Management
AVA Touts Blue Ridge Mountain Wine - October 27, 2016 at High Country Press
10 Beautiful Fall Hikes Near Virginia Wineries - September 23, 2016 at Virginia.org
As wine sales hit record highs, Virginia wineries are in a race for grapes - September 23, 2016 at The Washington Post
Where pinot fans gather, Virginia's own makes a splash - August 06, 2016 at The Washington Post
Virginia Wine Pass Review by Jim Finley - July 03, 2016 at AmericanWineryGuide.com
Virginia's Revolutionaries - June 14, 2016 at Wine Enthusiast
The Future of American Wine Isn't Where You'd Expect - March 11, 2016 at Bloomberg
Big Vines And Cold Injury Shape Vineyard Management In Virginia - February 28, 2016 at Growing Produce
Iconic Wineries of the Atlantic Coast - February 01, 2016 at Palate Press
Vintage reflections: Hang your hat on 2015 Virginia white wines - December 08, 2015 at C-Ville
The petit manseng grape adds unique flair to local wine - September 30, 2015 at C-Ville
Bubbly wine in Virginia and beyond - September 29, 2015 at C-Ville
America's Unsung Wine Region Comes of Age - September 23, 2015 at Travel+Leisure
Ten Family-Friendly Virginia Wineries - August 04, 2015 at The Virginia Grape
101 Best Wineries in America for 2015 - July 23, 2015 at The Daily Meal
Virginia Wine, by the numbers - July 21, 2015 at rvanews
Local Vines Yield Big Dreams - July 15, 2015 at Edible DC
Highlights on the Virginia Wine Trail 6/15 - July 01, 2015 at Richard Leahy's Wine Report
Clash of the titans - Fauquier vs. Napa - April 25, 2015 at Hagarty on Wine
Escape to Virginia Wine Country - April 17, 2015 at Tineey
High-quality Virginia wine may surprise some, but it shouldn't - April 11, 2015 at The Washington Post
February Food Pairings at some of our Favorite Northern Virginia Destinations! - February 06, 2015 at Virginia Winos
A sparkling wine that has shed locavore light on some of Virginia's finest vineyards - December 12, 2014 at Washington Post
The Politics of Vineyards - December 11, 2014 at VA Wine Notebook
2014 Vintage Report: American Wine Harvest - November 18, 2014 at Wine Spectator
2014 Mid-Atlantic wine harvest a 'classic' - November 10, 2014 at The Washington Post
Virginia producing 'seriously astonishing wines,' says Food & Wine editor - November 05, 2014 at LoudounTimes.com
D.C. area vintners' pioneering spirit yields a greater variety of grapes - October 02, 2014 at Washington Post
Norton, the Other American Grape - October 01, 2014 at WineSpectator.com
Virginia Wine Country Has a Chef Mega-Fan - September 19, 2014 at Food & Wine
Virginia wineries: Our top picks by category - September 15, 2014 at Washington Post
Virginia Wine Guide: Tips From the Experts - August 19, 2014 at ZAGAT
Eight Vineyard Views: Northern Virginia by Brian Yost - August 11, 2014 at The Virginia Grape
5 Great Winery Views in the Shenandoah Valley - June 16, 2014 at The Virginia Grape
Virginia Rising - May 27, 2014 at Grape Collective
Virginia Wine: Right Century, Right Season - May 05, 2014 at c-ville
What's the Deal with: Virginia Wine - April 04, 2014 at YAHOO! FOOD
Virginia's First Organic Winery Opens in North Garden - April 04, 2014 at Crozet Gazette
25 Beautiful B&Bs with a Winery Just a Mile Away - April 02, 2014 at Virginia.org
America's Most Dog Friendly Wineries by Jim Finley - March 20, 2014
Virginia Wineries Proudly Going to the Dogs - March 13, 2014 at VA Wine Notebook
Virginia's Wine Renaissance - March 11, 2014 at Grape Collective
Va. Governor's Cup packed with red blends - March 04, 2014 at The Washington Post
Top Virginia Wineries by Jim Finley - January 05, 2014
The Virginia Grape's Best of 2013 - December 30, 2013 at The Virginia Grape
Vineyards that are putting Virginia on the fine-wine map - November 21, 2013 at Washington Post
2013 Vintage Report: United States - November 21, 2013 at Wine Spectator
2013 Rising Star of the Year: Eric Trump - November 13, 2013 at Wine Enthusiast
Award-Winning Virginia Wines by Jim Finley - November 03, 2013
8 Wineries With Fabulous Food - October 09, 2013 at Zagat
Some of My Favorite (Small) Wineries in the Monticello AVA - October 09, 2013 at Richard Leahy's Wine Report
Four Wedding Wineries (VA) - October 05, 2013 at Virginia Wine Notebook
Norton - The "Original" Virginia Grape - August 22, 2013 at The Virginia Grape
Is Virginia Wine Country Poised To Be The East Coast Napa? - August 15, 2013 at Forbes.com
Three Great Views: Looking Up - August 13, 2013 at Virginia Wine Notebook
Virginia: America's Old World - July 26, 2013 at Decanter.com
Virginia's Top Tourist and Wine Destinations by Jim Finley - July 16, 2013
Virginia Wines: In the Old Dominion, a New Terroir - July 06, 2013 at New York Times
A Nation of Wineries - July 05, 2013 at New York Times
Virginia Wine Country [Infographic] by Jim Finley - June 23, 2013
Winery Map of the Day – Virginia Red Bordeaux Blends by Jim Finley - June 14, 2013
Embracing Virginia's Terroir - June 02, 2013 at Appellation America
A Taste of France in Virginia Wine Country - May 29, 2013 at The Huffington Post
Visit Virginia's Cabernet Franc and Viognier Leaders by Jim Finley - April 04, 2013
Virginia wine: Meet Norton - March 04, 2013 at RVANews
The Old Dominion's Upswing - February 15, 2013 at Wine Enthusiast Magazine
The past and future vision in up-and-coming Virginia - February 14, 2013 at Napa Valley Register
A Visit To Middleburg Virginia AVA - February 05, 2013 at Appellation America
Welcome Middleburg Virginia AVA - January 04, 2013 at Appellation America
Virginia Rising by Kris Chislett - December 02, 2012
Virginia Vintners Seek Quality Amid Growth Spurt - August 23, 2012 at MarketWatch
Six Great American Wine Country Harvest Getaways - August 21, 2012 at Fodor's
&nbsp
• Blue Ridge Wine Way
• Drink What You Like
• Fauquier Wine Trail
• Hagarty on Wine
• Loudoun Wine Growers Association
• Monticello Wine Trail
• Richard Leahy's Wine Report
• Shenandoah Valley Wine Growers Association
• SoVA Wine Trail
• The Virginia Grape
• VA Wine Notebook
• VA Wine Princess
• Vines of Virginia
• Virginia Pour House
• Virginia Vineyards Association
• Virginia Wine In My Pocket
• Virginia Wine Pass
• Virginia Wine Time
• Virginia Wine: History Uncorked
• Virginia Wineries Association
• VirginiaWine.org
• Wine About Virginia

=


View All
Sours: http://www.americanwineryguide.com/regions/virginia-wineries/
Charlottesville and wineries richmond between
.
Charlottesville Winery Tour
.
Now discussing:
.
769
770
771
772
773